Wouldn't it be amazing if you could sweep, mop, and vacuum your floor in one go? It's possible now with the double roller brush-enabled UWANT X100 Vacuum Cleaner. It is a cordless wet-dry vacuum cleaner that comes with various digital functionalities to provide you smart cleaning experience.
UWANT X100 wet-dry vacuum cleaner features patented double roller technology and long battery life. Due to its smart dry-wet cleaning features, it handles all domestic cleaning tasks with ease. Since it is a powerful dry-wet floor cleaner, it's ideal for keeping solid flooring spick and span. The vacuum cleaner even comes with patented hair-cutting technology to ensure pet or human hair do not tangle while cleaning.
Thanks to the built-in 600ml water tank, you would have lesser time messing around with water and more time for cleaning. Of course, it has many more features that make it a good-quality home appliance.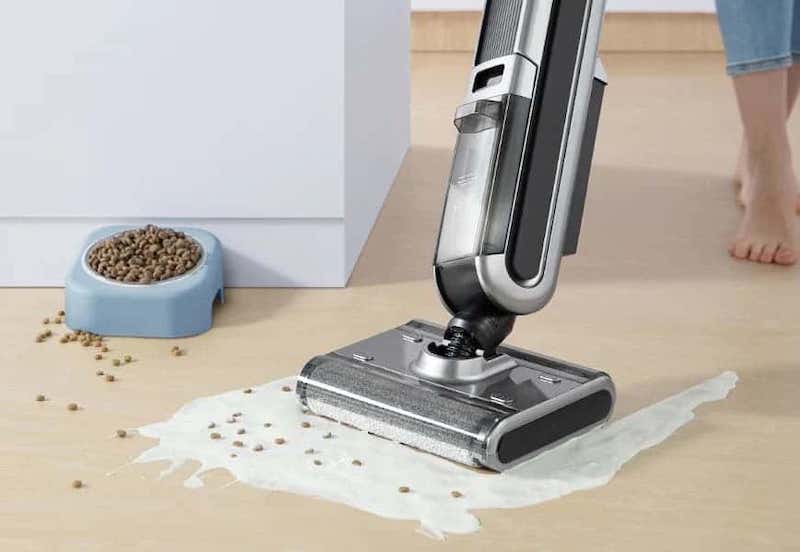 Continue reading to know about its cleaning and motor power and how its cleaning process works. We will also discuss its battery life and other essential features. Then, you can have a complete picture and decide whether you invest in it or not.
UWANT X100 Vacuum Cleaner Key Features
Double roller brushes
The UWANT X100 cordless wet-dry vacuum cleaner comes with a double brush system for better cleanliness than other similar devices with just one brush. The two brushes within the extra-wide base of this vacuum work well on stubborn dirt.
While the front brush helps with damp mopping, the rear one dries up the floor immediately. It makes it an all-in-one wet-dry vacuum cleaner that's ideal for all sorts of floorings, including laminate and even sensitive parquet floors. The best part is that you won't see any water spots on your tiles. Hence, you get spotless cleaning in just one go.
Built-in HEPA filter
It even has a replaceable, built-in HEPA filter that effectively binds house dust mites, pollen, and other triggers causing breathing issues, like asthmatics or allergies.
Automated hair chopping
After cleaning, you need to press the one-touch self-cleaning button to help the device clean itself. The front brush and the suction tubes underneath the vacuum cleaner are easy to clean under running water. However, the automated pet hair cutting functions cut off the annoying pet hair tangled around the brush during the self-cleaning process. It means the brushes will be completely clean without any tangled hair with least human intervention.
Long battery life
This vacuum cleaner comes with a long battery life that runs for around 44 minutes after three-hour charging. It means, the appliance can vacuum and mop around 300-square-meters on a single charge.
Easy controls and ergonomic grip
The UWANT X100 comes with a backward-swept, ergonomic handle. We like its open cutout design that's easy to hold, thanks to its shape. Due to better controls and sturdy grip, you can prevent yourself from banging your knuckles on things around. The power button is just by your thumb for easier management. Since the grip is attached to this metal handle, it feels comfortable while cleaning. Overall, its design appears well-engineered and aesthetically pleasing.
Easy one-touch start
It starts with just one touch without the need to use your feet. The wide body design of the device enables you to easily leave it upright and even pause it whenever you want while cleaning.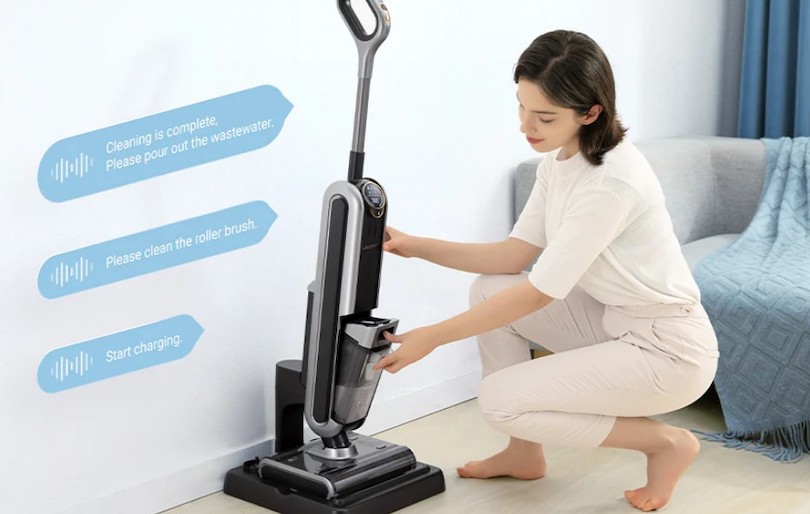 Clean and waste water tanks
This device comes integrated with a 600ml clean water tank and another 600ml waste water tank. So, there is no need to pour waste water out and add clean water in during the course of cleaning.
Intelligent dirt sensing
It comes integrated with intelligent infrared sensors for detecting real-time dirt levels. It further automatically adjusts its water volume and offers better suction for better cleaning.
Voice Assistant and 360-degree flexibility
UWANT X100 enables you to know whenever it's all set to work. Its voice assistant prompts you with what is happening at every step of the cleaning process from start to finish. And its dual-shaft, free-twisting design offers 360-degree flexibility making it easier to clean hard-to-reach corners and places, such as under chairs and around the table legs.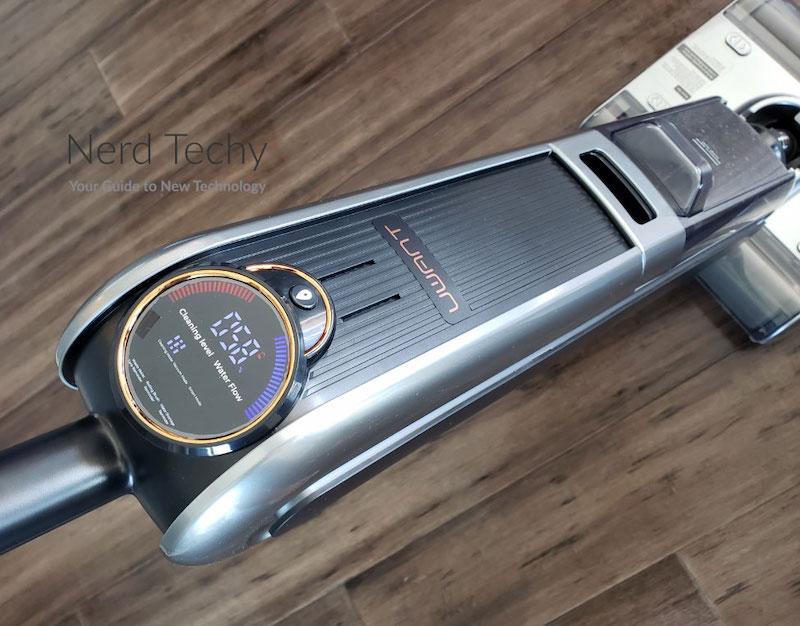 LED screen and certification
You can even easily check the cleaning status with the device's high-definition LED smart screen onboard. This screen can intuitively display the cleaning mode, as well as other settings. So, you can see all the vital information on the LED display. Since the display can rotate 90 degrees, the user can easily read the given information during usage.
UWANT X100 has GS certification by TÜV Rheinland. It indicates that the product is more secure and safer for the customers using it.
UWANT X100 Vacuum Cleaner Price
The actual price of the UWANT X100 vacuum cleaner is $499. But on the company's official website, you can now get on $100 discount, so you can get it for $399.
What We Like About the UWANT X100
Here are some things that we love about this vacuum cleaner:
It provides wet-dry cleaning to almost every type of floor: wooden, laminate, or any other material
It boasts a dual-roller design for convenient cleaning without the need for constant to and fro action
It comes with large 600ml clean water and waste water tanks. You do not need to keep changing the water while cleaning
It has plenty of battery life to offer complete cleaning all at once
The overall design of the vacuum cleaner is very comfortable and easy to use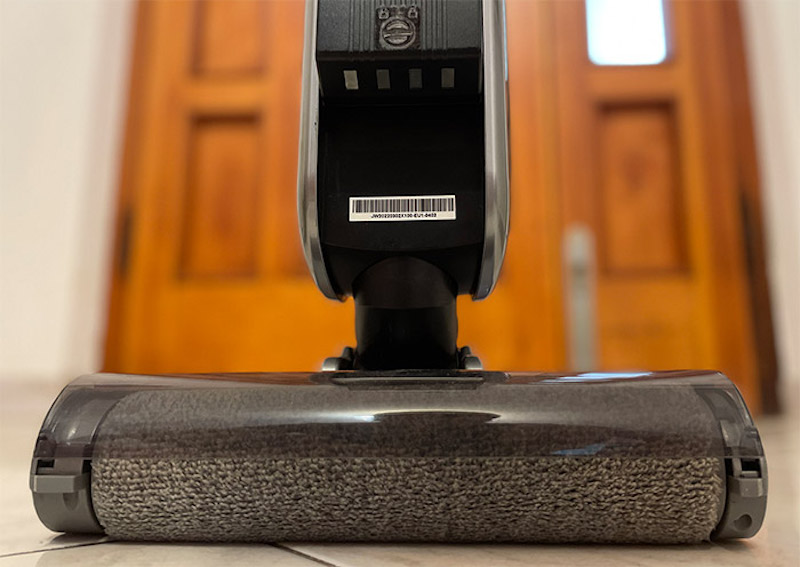 What We Don't Like About the UWANT X100
This wet-dry cleaner is not suitable for carpet cleaning. You may need another device for cleaning your carpets
It's slightly pricer for its functionality. There are plenty of other devices on the market that offers both floor and carpet cleaning at a similar or lesser price.