Before its broadcast on France 3, the TV movie "Meurtres sur les îles du Frioul", with Francis Huster ("Here everything begins") and Jérémy Banster ("Un Si Grand Soleil") will be presented on June 21 at the Monte-Carlo Festival in the presence of the actors.
Expected soon on France 3, the police telefilm Murders on the Frioul Islands, carried by Francis Huster, seen recently in Here everything begins, and Jérémy Banster (Un Si Grand Soleil), will be presented in preview on Monday, June 21 in the part of the Monte-Carlo Television Festival, which will be held in the Principality from June 18 to June 22.
Directed by Sylvie Ayme (Les Ondes du souvenir, Cassandre), and written by David Crozier and Camille Guichard, this new opus from the successful collection "Meurtres à …" sees the two actors playing a father-son cop duo. The plot begins when a famous Marseille publisher is found dead on the islands of Frioul, in the midst of a theatrical performance of the Count of Monte Cristo.
In charge of the investigation, Victor Mariani, a young captain of the Marseille SRPJ, is surprised to find at the scene of the crime his father, Pierre Mariani, legendary retired Lyonnais commissioner. The victim being a former comrade of military service whom he had not seen for 50 years, Pierre decided to be named consultant on the investigation.
Which is not to the taste of Victor who had done everything to get away from this too intrusive father. But above all, Victor is far from imagining the tragic secret which links his father to the victim, as well as to his own origins …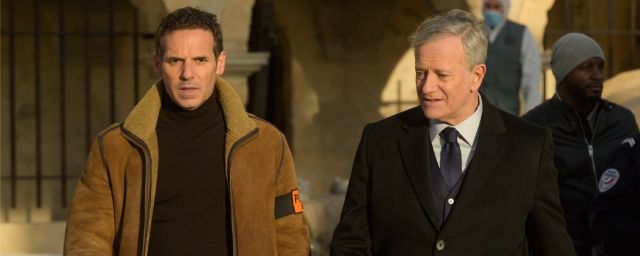 Avy Marciano (Plus belle la vie), Myra Bitout, Nathalie Roussel (I promise you), Moussa Maaskri, and Diane Robert complete the cast of Murders on the Frioul Islands, which will therefore be presented in Monte-Carlo on Monday, June 21 at 11am during an exceptional screening free and open to the public, in the presence of Francis Huster, Jérémy Banster, director Sylvie Ayme, and the producers of the TV movie.
This screening will be one of the events of the Festival, which will also offer the world premiere of the South African series Reyka, with Iain Glen (Game of Thrones), dedications from the comedians of Tomorrow belongs to us and Here everything. begins, or an exchange around the series Engrenages with Audrey Fleurot, Caroline Proust, and Thierry Godard. Find the festival guest list here.
A first exclusive extract from Murders on the Frioul Islands, soon to be broadcast on France 3: