Russia appoints new ground commander for Ukraine
Russia has named General Aleksandr Dvornikov as its new ground commander in Ukraine, according to a US official and a Western official.
The Western official said he was unaware that Russia had a single commander on the ground to coordinate the entire military campaign across Ukraine so far. Instead, regional commanders had been in place.
The two officials who identified the new commander were not authorized to be identified and spoke on condition of anonymity.
But White House national security adviser Jake Sullivan told CNN's 'State of the Union' that the general would 'just be another perpetrator of crimes and brutality against Ukrainian civilians'. .
Dvornikov rose to prominence while leading Russia's group of forces in Syria, where Moscow has been waging a military campaign since 2015 to bolster President Bashar al-Assad's regime during a devastating civil war.
Dvornikov is a career military officer and has steadily risen through the ranks after starting as a platoon commander in 1982. He fought in the second war in Chechnya and held several high-level positions before being appointed in charge of Russian troops in Syria in 2015.
In 2016, Russian President Vladimir Putin awarded him the Hero of Russia Medal, one of the country's highest honors. Dvornikov has been the commander of Russia's Southern Military District since 2016.
Provide arms, 'so you don't have to step in and fight' Putin: Ukraine Foreign Minister
In an exclusive interview with Meet the Press, Ukrainian Foreign Minister Dmytro Kuleba talks about Western support for Ukraine and what the battle for eastern Ukraine will require.
NATO working on plans for permanent military presence at borders, says secretary general
NATO is working on plans for a permanent large-scale military force on its borders in a bid to prevent future Russian aggression, according to the organization's secretary general, Jens Stoltenberg.
NATO was "in the midst of a very fundamental transformation", which will reflect "the long-term consequences" of Russian President Vladimir Putin's actions, Stoltenberg said in an exclusive interview with Britain's The Sunday Telegraph newspaper.
"What we see now is a new reality, a new normal for European security," he added. "Therefore, we have now asked our military commanders to come up with options for what we call a reset, a longer term adaptation of NATO."
Stoltenberg added that decisions on the reset would be taken at a NATO summit to be held in Madrid in June.
Pope calls for Easter truce in Ukraine leading to peace talks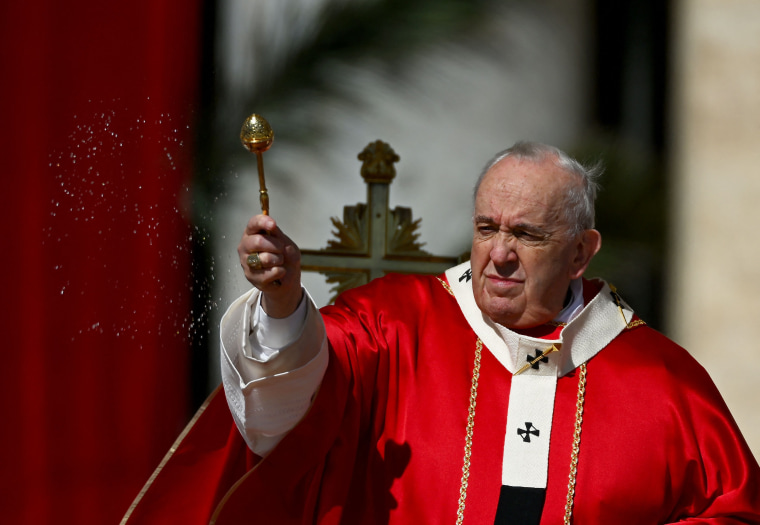 Pope Francis on Sunday called for an Easter truce in Ukraine, leading to negotiations and peace.
"Lower your arms! he said at the end of a Palm Sunday service in front of tens of thousands of people in St. Peter's Square.
"Let the Easter truce begin. But not to rearm and resume fighting but a truce to achieve peace through real negotiations," he said.
Earlier in the morning, Pope Francis condemned the "madness of war" as he led Palm Sunday services in St. Peter's Square, saying in a reference to Ukraine that those who bring tears mothers and kill soldiers know nothing about God.
7.1 million people displaced by war in Ukraine, says UN
The number of internally displaced people in Ukraine rose to 7.1 million on Wednesday, the United Nations High Commissioner for Refugees said on Sunday.
The preliminary estimate of internally displaced people was between 6.5 and 6.7 million.
Russia seeks to bolster forces as casualties mount, UK says
Russia's armed forces had been looking to bolster its troop strength with personnel discharged from military service since 2012 in response to mounting casualties during its invasion of Ukraine, Sundy told a UK Ministry of Defense briefing.
Efforts by Russian forces to boost their combat power also include trying to recruit from the unrecognized region of Transnistria in Moldova, he said in a bulletin posted on Twitter.
Russia's goal is 'the whole European project', says Zelenskyy
Ukrainian President Volodymyr Zelenskyy called for more pressure to be exerted on Russia in a speech late on Saturday, calling it a "moral duty" of all democratic countries to support his country and limit Moscow's threat to the rest of the world. Europe.
"Russian aggression was not intended to be confined to Ukraine alone, to ruin only our freedom and our lives," Zelenskyy said in his daily address. "The whole European project – this is the goal of the Russian Federation."
His comments came after British Prime Minister Boris Johnson and Austrian Chancellor Karl Nehammer visited kyiv on Saturday.
Zelenskyy also called for a full oil and gas embargo against Russia, calling them "the two sources of Russian self-confidence and their sense of impunity".
"The oil embargo must be the first step, at the level of all democratic countries, of all civilized world", declared the Ukrainian leader. "So Russia will feel it, it will be a reason for them to seek peace, to stop unnecessary violence."
Russian-speakers in Estonia live in a standoff between Russia and the West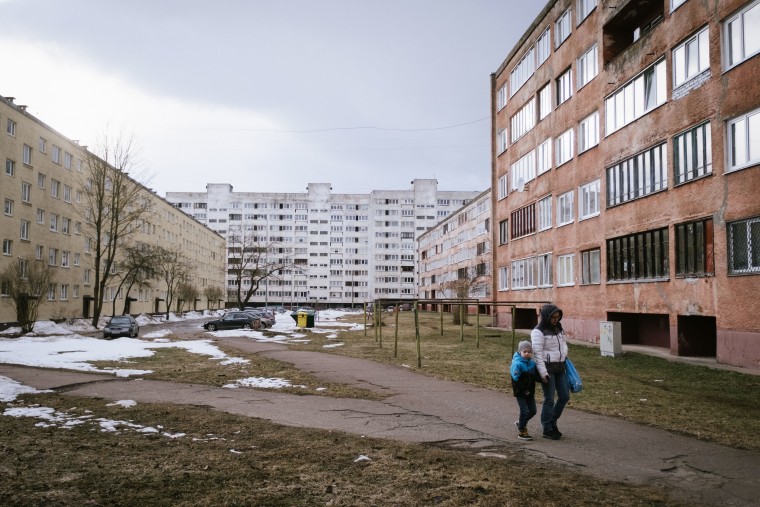 This city of around 55,000 people on the border with Russia could find itself on the edge of a new iron curtain created by the Russian invasion of Ukraine. It is a place between two worlds, where Russia and Russian identity meet Estonia and the West.
It even shows in the architecture: Brutalist buildings with harsh Soviet-era outlines house or sit between sushi restaurants, a German grocer and a startup incubator. A curvaceous new mall that houses stores like H&M contrasts with a well-guarded and bustling border checkpoint less than a mile away. About 3,000 people cross daily. Russians come to Estonia to buy cheese they cannot buy at home or other western products, and Estonians sometimes go to Russia for cheap fuel and building materials.
Estonia, along with the neighboring Baltic countries of Latvia and Lithuania, have populations that reflect this mix and the tense geopolitics. Many here describe three camps among Russian speakers. About a third are totally opposed to Russia's war in Ukraine, while a middle group say they want peace but express a sense of confusion amid wavering reports from Western media and Russian propaganda sources. A small minority supports the Russian invasion.
Read the full story here.
9 humanitarian corridors will open on Sunday
Nine humanitarian corridors will be set up to evacuate Ukrainian civilians on Sunday, the country's Deputy Prime Minister Iryna Vereshchuk said in a statement posted on her Telegram channel.
The majority will open up in the east of the country where Russia is expected to refocus its attack in the near future.
Vereshchuk said people could use their own transport to leave the beleaguered southern city of Mariupol and head for the city of Zaporizhzhia.
Evacuations to Zaporizhzhia by bus and private transport would also be allowed from the cities of Berdiansk, Tokmak and Enerhodar, she added.
In the Luhank region, she said residents of the towns of Sievierodonetsk, Lysychansk, Popasna, Rubizhne and the village of Hirs'ke would be allowed to travel to the town of Bakhmut in neighboring Donetsk region.
Global donors pledge nearly $10 billion to support Ukrainian refugees
Donors including the Canadian government and the European Commission on Saturday pledged nearly $10 billion in donations, loans and grants to support refugees fleeing war after the Russian invasion.
The fundraising event in Warsaw, Poland, raised nearly $2 billion to support those internally displaced in Ukraine, and nearly $8 billion for refugees who fled the country to neighboring states.
Governments, companies and individuals have together pledged $4.5 billion in donations, which will be distributed largely through Ukrainian authorities or the United Nations.
Zelenskyy thanks Boris Johnson for Kyiv meeting as UK offers more help
Ukrainian President Volodymyr Zelenskyy thanked British Prime Minister Boris Johnson for his visit to kyiv on Saturday where he briefed him on the ongoing war with Russia.
For his part, Johnson said the UK would provide Ukraine with additional financial and military aid.
"This visit is a demonstration of the UK's strong, significant and ongoing support for Ukraine. We appreciate it and we will remember it," Zelenskyy said in a press release.
He added: "I am grateful to the UK for continuing these powerful sanctions, constantly increasing its packages and also helping Ukraine by strengthening our defense capabilities."
Zelenskyy said other Western democracies should follow Britain's example, saying it was time "to impose a complete embargo on Russian energy, to increase the supply of all weapons for us ".
Boris Johnson in kyiv: "Putin must fail"
KYIV, Ukraine – British Prime Minister Boris Johnson's surprise visit with Ukrainian President Volodymyr Zelenskyy to Kyiv included a pledge of 120 armored vehicles and new anti-ship missile systems, part of another £100 million (130 million) worth of high quality military equipment. Johnson also confirmed an additional $500 million loan from the World Bank, bringing Britain's total loan guarantee to $1 billion.
Johnson said Ukraine had defied all odds to push Russian forces "from the gates of kyiv, achieving the greatest feat of arms of the 21st century."
Johnson also outlined a vision for a future Ukraine so fortified and protected by the equipment, technology and know-how of Britain and its partners that it can never again be threatened in the same way. In the meantime, Johnson said, "there's a huge amount to do to make sure Ukraine succeeds, Ukraine wins and Putin fails."