19:13
Bobbi Sternheim, Maxwell's lead defence lawyer, just said outside the court: "We firmly believe in Ghislaine's innocence, obviously."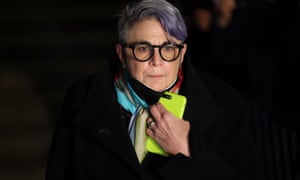 It had been expected that Maxwell will appeal the verdict. She was convicted a few hours ago on five of the six charges she faced relating to sex trafficking and conspiracy, for which she could face 40 years in prison.
Sternheim continued: "We are very disappointed with the verdict. We have already started working on the appeal and we are confident she will be vindicated."
19:10
Maxwell's family has given a statement following the verdict:



We believe firmly in our sister's innocence— we are very disappointed with the verdict. We have already started the appeal tonight and we believe that she will ultimately be vindicated".
19:07
Ghislaine Maxwell's lawyers Laura Menninger and Jeffrey Pagliuca have left court without making any comment.
Maxwell's lead attorney Bobbi Sternheim did however give a very short statement wishing the crowd a Happy News Year.
The Telegraph's US Correspondent Josie Ensor was at the scene and took a quick snap of the lawyers leaving court.
Updated

19:06
Ghislaine Maxwell turned 60 in jail on Christmas Day, where she was back in custody after it became clear at the end of deliberations last Wednesday that the jury was not going to reach a verdict before their festive break.
It was her second consecutive Christmas behind bars after being arrested in July, 2020, while hiding away on a secluded luxury estate in New Hampshire.
She had been held in custody in what her lawyers said were "horrific" conditions in the Metropolitan detention center in the New York City borough of Brooklyn.
Maxwell will surely appeal against her conviction in Manhattan today, but assuming she is unsuccessful in that venture, she can expect to spend many years behind bars after being found guilty of federal sex trafficking and related crimes, possibly even spending the rest of her life in prison.
Former federal prosecutor Mitchell Epner has done some scribbling on the back of an envelope and forecasts that Maxwell could get 12+ to 15+ years in a best case scenario. His tweet on this was retweeted by former federal prosecutor Moira Penza, who led the NXIVM cult's investigation and trial.
18:50
Four women testified as witnesses for the prosecution in Maxwell's trial in New York, accusing her of being an integral part of Jeffrey Epstein's sexual abuse crimes.
For example, one woman testifying simply under the name of Jane testified that she was 14 in 1994 when Epstein started to sexually abuse her – and that sometimes Maxwell was present during this abuse.
Also, at times, Maxwell participated in the abuse, Jane said. "There were hands everywhere," Jane recalled of an encounter with Epstein and Maxwell. The abuse continued when she was 15 and 16.
Ghislaine Maxwell was convicted on five of the six charges she faced.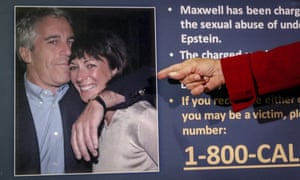 In addition to sex-trafficking, Maxwell was found guilty of conspiracy to entice individuals under the age of 17 to travel in interstate commerce with intent to engage in illegal sexual activity and conspiracy to transport individuals under the age of 17 to travel in interstate commerce with intent to engage in illegal sexual activity.
She was also convicted of transportation of an individual under the age of 17 with intent to engage in illegal sexual activity; and conspiracy to commit sex trafficking of individuals under the age of 18.
Maxwell was found not guilty of one count: enticement of an individual under the age of 17 to travel with intent to engage in illegal sexual activity. Jurors reached their verdict after 40 hours of deliberations over the course of six days.
Updated

18:24
Virginia Giuffre, alleged victim of Epstein and Maxwell, comments
Virginia Giuffre was not a witness at Ghislaine Maxwell's criminal trial but has long accused her of being involved in Jeffrey Epstein's abuse of her, via a long-running civil case.
Giuffre lives in Australia, where it is early Thursday, and she has just reacted on Twitter to Maxwell's guilty verdict.
Giuffre calls for others to be held accountable, too.
Giuffre has said she was coerced by Epstein and Maxwell into having sex with Britain's Prince Andrew when she was 17, an allegation Andrew, Duke of York, has repeatedly denied. Giuffre has sued, accusing Andrew of sexually abusing her at Epstein's mansion in Manhattan and at other locations in 2001.
She has sued Andrew and her legal claim alleges she "was compelled by express or implied threats by Epstein, [Ghislaine] Maxwell, and/or Prince Andrew to engage in sexual acts with Prince Andrew, and feared death or physical injury to herself or another and other repercussions for disobeying Epstein, Maxwell, and Prince Andrew due to their powerful connections, wealth and authority."
So while she was not involved in this criminal trial of Ghislaine Maxwell, Giuffre was on many people's minds as the case unfolded. Andrew is seeking to have Giuffre's civil case against him thrown out.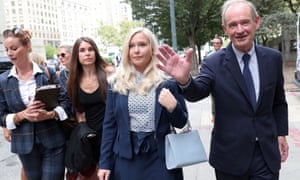 The Guardian points out that Andrew was a mere footnote in the Maxwell trial.
Updated

18:19
Dave Aronberg, state attorney in Palm Beach county, Florida, where Jeffrey Epstein had a luxury mansion that Ghislaine Maxwell effectively ran for him, just told CNN that Maxwell "just got what was coming to her" with today's guilty verdict in her New York trial.
Aronberg pointed out how crucial Maxwell was in luring underage girls into Epstein's life of sexualized massages and abuse, saying that if it had been just him, trolling around the streets as "a creepy middle-aged guy" who drove up to them in his car and asked them to come with him "they would have told him where to go", but he had Maxwell to operate for him.
Shan Wu, defense attorney told the cable network Maxwell "played an integral role".
He said it was crucial that victims of sexual abuse are taken seriously, as they were in this case, and that abusers and those around them are held accountable.
"This kind of crime doesn't happen in the dark, with only the victims' word, other people know about it," he said.
Wu said he hoped that the verdicts against Maxwell and, recently, R Kelly, were signs of progress for sexual assault victims.
18:04
Edward Helmore is outside court in New York. He writes:
As the verdict was reached, a crowd of around 200 gathered at the grand steps of the federal court house in lower Manhattan, waiting for statements from prosecutors, defence lawyers and members of Maxwell's family who attended the trial.
Some members of the public told the Guardian they were surprised by the verdict, which had been slow in coming, indicating to some that Maxwell might have been heading for a less sweeping verdict of guilt.
Many seasoned journalists who covered the trial, however, were not surprised, judging by chit-chat in the business and some on Twitter, either by the verdict or the length of time the jury deliberated. In fact, it was not that long given that there were six charges to carefully consider, with the knowledge that a guilty verdict could put Maxwell behind bars for decades. And crimes such as trafficking and conspiracy are complex. The jury deliberated for about 40 hours over six days.
Outside the court house, which adjoins by bridge the detention center where Jeffrey Epstein took his life, the street had been quiet for days as deliberations dragged on with jurors sending sometimes cryptic notes to Judge Nathan for witness transcripts and clarification on jury instructions.
But in the hours before the jury returned, stray protesters and activists were replaced by a sense of anticipation as TV crews began setting up lights and awnings to break into scheduled broadcasts with news of a verdict.
Updated

17:46
Miami Herald journalist Julie K Brown was tireless in her work to expose much about the crimes of Jeffrey Epstein that prosecutors had effectively let slide and she was on to the criminal behind the posh demeanor of Ghislaine Maxwell, too.
As Brown just pointed out on Twitter, Maxwell faces up to 40 years in prison. She was found guilty on the most serious charge, sex trafficking of minors, and that crime alone carries a sentence of up to 40 years .
Although Maxwell said nothing after the verdicts on each charge were read out, she struggled to stand.
New York journalist Victoria Bekiempis is in court for Guardian US and here's just one of her takes on the case this evening.
Updated

17:36
Federal prosecutor hails guilty verdict for 'one of the worst crimes imaginable'
US attorney for the southern district of New York, Damien Williams, has put out a statement hailing the unanimous verdict against Maxwell, guilty on five charges, not guilty on one.
He said: "A unanimous jury has found Ghislaine Maxwell guilty of one of the worst crimes imaginable, facilitating and participating in the sexual abuse of children. Crimes that she committed with her long-time partner and co-conspirator Jeffrey Epstein.
"The road to justice has been far too long, but today justice has been done. I want to commend the bravery of the girls, now grown women, who stepped out of the shadows and into the courtroom.
"Their courage and willingness to face their abuser made today's result in this case possible. I also want to thank the career prosecutors of the SDNY who embraced the victims' quest for justice and have worked tirelessly day and day out to ensure Maxwell was held accountable for her crimes. This office will always stand with victims, will always follow the facts wherever they lead, and will always fight to ensure that no-one, no matter how powerful or well-connected is above the law."
Updated

17:25
The jury rejected Ghislaine Maxwell's claims that her accusers were making allegations against her as a form of exploitation of her position and wealth, for money, and were lying about her being involved in any their abuse.
The judge had also rejected Maxwell's claims that she was being prosecuted as a scapegoat for the late Jeffrey Epstein's sexual abuse and told her team not to focus on that in closing arguments.
Epstein was a convicted sex offender who was awaiting trial in New York on further sex trafficking and sexual abuse crimes in 2019 when he killed himself in prison.
17:11
Ghislaine Maxwell found guilty in sex-trafficking trial
The jury has returned its verdict and it is guilty.
Read our full story below, and we'll have more coming up on how the specific charges broke down.
Updated

17:07
Jury reaches verdict in sex-trafficking trial of Ghislaine Maxwell
The jury is returning to the courtroom in New York after deliberating over the fate of Ghislaine Maxwell, the British socialite accused of abusing young girls alongside her late boyfriend and business associate, the disgraced financier Jeffrey Epstein.
We'll bring you all the developments from court in our breaking news live blog, as they happen, as well as reactions online and both inside and outside the federal courthouse in Manhattan.
Here's what's at stake:
Maxwell, 60, had denied allegations that she, according to the prosecution, criminally preyed on vulnerable young girls as young as 14, "manipulated them and served them up to be sexually abused by Epstein", also taking part in some of the abuse herself, between 1994 and 2004.
Testimony began on November 29. The trial was originally expected to take six weeks, but after the federal prosecution case lasted for two weeks, with four alleged victims giving evidence, the defense was over in two days. Maxwell chose not to testify.
Her lawyers portrayed her as a charismatic and generous boss whom younger women working for her and Epstein looked up to, and that women claiming to be victims have false memories or are just not telling the truth.
Ghislaine Maxwell is the daughter of the late British press baron Robert Maxwell, who owned the UK's Mirror newspapers and the New York Daily News. She met Epstein after moving to New York following her father's sudden death in 1991.
She was arrested at a secluded luxury estate in New Hampshire last year and had been in custody in New York ever since, with the charges against her brought by federal prosecutors in New York. She has previously been sued in civil court but this was the first time she was charged with crimes.
Epstein, a sex offender previously convicted in Florida, whose rich and famous friends have included former US presidents Donald Trump and Bill Clinton, as well as Prince Andrew, killed himself in a New York City jail in 2019, while waiting on his own sex-trafficking trial on federal charges.
Maxwell had pleaded not guilty to six charges relating to: conspiracy to entice minors to travel to engage in illegal sex acts; enticement of a minor for same; conspiracy to transport minors with intent to engage in criminal sexual activity; transportation of a minor for same; sex trafficking conspiracy; sex trafficking of a minor.
Regardless of the outcome of this trial, Maxwell still faces two charges of perjury, accused of lying under oath in 2016 during a civil lawsuit brought by Virginia Giuffre, who says Epstein abused her. Giuffre alleged Maxwell had defamed her by saying she lied about Epstein. Giuffre was not a witness in this trial.