22:17
A controversial New Zealand scheme that offers visas to wealthy foreign investors has resumed operating after a year's hiatus due to the pandemic, prompting concern from overseas New Zealanders who fear it will place additional strain on the country's overburdened managed isolation and quarantine (MIQ) system.
Martin Newell, a spokesperson for the advocacy group Grounded Kiwis, said the scheme's resumption would prompt "disbelief" among New Zealanders overseas, who may lose out on MIQ spots to the investors.
"The government is abandoning the needs of its citizens in favour of those who have enough money to be able to buy their way into the country."
Read the full story from our reporter Pete McKenzie in Wellington here.
21:41
Hundreds of US Christmas Eve flights cancelled
United Airlines and Delta Air Lines say they have been forced to cancel dozens of Christmas Eve flights due to Covid's toll on its flight crews and other workers.
United cancelled 120 flights for Friday, while Atlanta-based Delta said it has cancelled about 90 flights, Reuters reports.
Both said they were working to contact passengers so they would not be stranded at airports.
United said:



The nationwide spike in Omicron cases this week has had a direct impact on our flight crews and the people who run our operation. As a result, we've unfortunately had to cancel some flights and are notifying impacted customers in advance of them coming to the airport."
Delta said it has "exhausted all options and resources – including rerouting and substitutions of aircraft and crews to cover scheduled flying – before cancelling around 90 flights for Friday.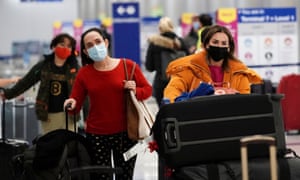 Delta cited potential inclement weather and the impact of the Omicron variant for the cancellations.
On Tuesday, Delta Chief Executive Ed Bastian asked the head of the US Centers for Disease Control and Prevention (CDC) to shrink quarantine guidelines for fully vaccinated individuals who experience breakthrough Covid-19 infections, citing the impact on the carrier's workforce. Bastian asked that the isolation period be cut to five days from the current 10.
That request was echoed both by Airlines for America, a trade group representing major cargo and passenger carriers, which wrote to the CDC on Thursday, and by JetBlue on Wednesday.
20:37
China is reporting 87 new confirmed coronavirus cases for Thursday, 23 December.
The figure is a slight decrease from 100 reported a day earlier, its health authority said on Friday.
Of the new infections, 55 were locally transmitted, including 49 in the northern city of Xi'an currently under lockdown, according to a statement by the National Health Commission, compared with 71 from a day earlier.
China reported 26 new asymptomatic cases, which it classifies separately from confirmed cases, up from 19 a day earlier.
There were no new deaths, leaving the death toll at 4,636. Mainland China had 100,731 confirmed cases as of 23 December.
20:17
Ecuador to make Covid vaccination mandatory
Ecuador has declared Covid vaccination will be mandatory after a marked rise of infections and the arrival of new variants of the disease.
The government said Thursday that only Ecuadorians with a medical condition that could be complicated by vaccination will be exempt. Those people must provide documentation.
Officials say the order comes because of an increase in coronavirus infections and the circulation of new variants such as omicron.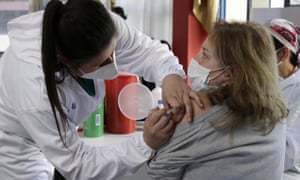 Ecuador says it has enough vaccines to immunise the entire population.
As of Tuesday, about 77% of Ecuador's 17.3 million people had been vaccinated. About 33,600 people in Ecuador have died from Covid.
Earlier this week, the body overseeing health policies to combat the pandemic decreed that vaccination certificates must be shown to enter restaurants, cinemas and other public areas.
20:04
New York City scales back New Year's Eve celebrations
New York mayor Bill de Blasio has announced new restrictions for the city's planned New Year's Eve event in Times Square.
Viewing areas that normally accommodate about 58,000 people will be limited to about 15,000 to allow for more distancing, and everyone in attendance must show proof of vaccination and wear a mask.
"There is a lot to celebrate and these additional safety measures will keep the fully vaccinated crowd safe and healthy as we ring in the New Year," de Blasio said.
On Wednesday, the city set another record with 22,808 new Covid cases, though a true comparison is difficult due to discrepancies in tests available.
19:53
Hello it's Samantha Lock back with you on the blog this Christmas Eve.
I'll be bringing you all the latest Covid developments from across the world.
Let's start with the news that New Year's Eve plans in New York will be scaled back amid fears of a surge in Covid cases. The annual celebration will still go ahead as planned although the number of attendees has been slashed. Several countries including Greece, Italy and Malta have also scrapped planned New Year's Eve events.
An Oxford University lab study on AstraZeneca's vaccine, Vaxzevria, showed that after a three-dose course of the vaccine, neutralising levels against Omicron were broadly similar to those against the Delta variant after two doses.
"As we better understand Omicron, we believe we will find that T-cell response provides durable protection against severe disease and hospitalisations," Mene Pangalos, the head of AstraZeneca's biopharmaceuticals R&D said, referring to a critical component of the immune system that respond to fight infection.