21:56
Thailand is reporting another 2,940 new coronavirus cases and 30 deaths.
This is an increase on the 2,532 new coronavirus cases and 31 deaths on Wednesday, according to the ministry of health.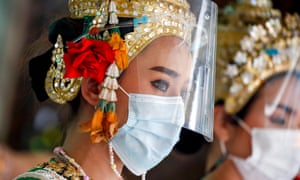 Thailand has also reinstated mandatory Covid quarantine for foreign visitors and scrapped a quarantine waiver. The move was confirmed by the government, which said the action was being taken due to concerns over the spread of the Omicron variant.
Malaysia is also reporting another 3,419 locally-transmitted Covid cases and 29 deaths, according to the ministry of health.
Updated

21:11
South Korea reports new high in critical Covid patients
South Korea has just released its daily Covid report.
The east Asian nation reported another 6,919 new coronavirus cases for Wednesday and 109 deaths, according to data released by the Korea Disease Control and Prevention Agency.
A record number of 1,083 people have been admitted to hospital with serious symptoms and in critical condition.
The previous record high of critically ill patients was 1,063 recorded earlier this week.
The number of deaths has also just surpassed 5,000 with 5,015 cumulative deaths reported.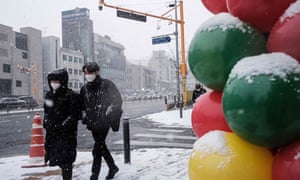 South Korea is struggling to contain a surge in Covid-19 cases that is placing intense pressure on medical services, prompting the prime minister, Kim Boo-kyum, to commit to securing an additional 10,000 hospital beds for patients with moderate to serious symptoms by the middle of next month, the Yonhap news agency reported.
South Korea now requires citizens over 18 to present a quarantine pass, proof of Covid vaccination or negative PCR test to access indoor sports events, cinemas and concert halls. Other new restrictions include social distancing measures that will last until at least 2 January, limiting gatherings to no more than four people and forcing restaurants, cafes and bars to close by 9pm.
20:48
Emergency Covid testing sites are being set up in hard-hit areas across the US.
The first site opened in New York City on Wednesday, with more set to open next week.
Sites such as the one just opened in NYC hopes to provide 25,000 free PCR tests a week.
The new testing sites follow criticism of a widespread Covid testing shortage before the holidays. A surging demand for tests, driven by the new variant and the winter holidays, has led to long lines and shortages around the country.
Pressed about US testing shortages amid the Omicron surge, US president Joe Biden conceded in an interview with ABC that "nothing's been good enough".
"We're nearly two years into the pandemic and a year into your presidency. Empty shelves and no test kits in some places, three days before Christmas … is that good enough?" asked ABC's David Muir.
"No, nothing's been good enough," said Biden. "I wish I had thought about ordering" the 500m at-home tests two months ago, the president later added.
20:34
Fauci advises Americans against large holiday gatherings
Americans vaccinated and boosted who choose to attend large gatherings over the holidays may not be safe, even for those who received a booster dose, top US infectious disease expert Dr Anthony Fauci said on Wednesday.
Fauci told a White House briefing:



There are many of these parties that have 30, 40, 50 people in which you do not know the vaccination status of individuals. Those are the kind of functions in the context of Omicron that you do not want to go to."
The seven-day average of Covid-19 cases in the United States rose 25% from the previous week to about 149,300 cases per day, said US Centers for Disease Control and Prevention Director Rochelle Walensky, with average daily deaths up 3.5% at 1,200.
20:18
Over in Canada, Quebec's premier has just announced that beginning the day after Christmas, gatherings inside homes will be limited to six people or two family bubbles.
Restaurants are already operating at half capacity and need to close their doors at 10pm. Now they will also have to limit groups at tables to six people or two families from 26 December.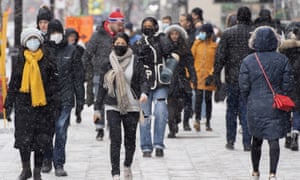 Premier Francois Legault said the "exponential" increase in coronavirus infections over the past week is continuing. He said Quebec will report about 9,000 news cases for Wednesday.
"For the past week, the number of cases has increased very rapidly," Legault said.
Earlier this week, the French-speaking Canadian province abruptly closed bars, gyms and schools and warned that further restrictions could be coming while awaiting projections on the spread of the virus and its impact on hospitalisations.
20:01
Omicron carries lower hospitalisation risk, studies suggest
If you missed our earlier stories detailing the results of two recent studies out of the UK and South Africa, here's a brief run-down on what it all means.
An Imperial College study analysed hospitalisations and vaccine records among both Omicron and Delta Covid cases in England between 1 and 14 December.
Researchers found the Omicron variant appears to be milder, with a 20%-25% reduced chance of a hospital visit and at least a 40% lower risk of being admitted overnight.