00:05
Over in Australia, Western Australia will become the first Australian state to mandate vaccine booster shots.
Premier Mark McGowan just announced that more than one million workers will now have to get booster shots under an expanded mandate. It is the first time boosters have been mandated.



Specifically in relation to third doses. A third dose of the Covid-19 vaccine will now be mandatory for all eligible workers in industries covered by a vaccine mandate.

Under the mandate workers will now be called to have a third dose within one month of becoming eligible.

Currently more than 266,000 people are eligible for a third dose. And so far 89,900 people have received their dose.

Everyone is strongly urged to receive a third dose when eligible, even if they're not covered by this policy."
23:50
Singapore will freeze the sale of tickets for arriving flights and buses under its quarantine-free travel programme for four weeks from Thursday, the government said, citing the risk from the fast-spreading Omicron Covid-19 variant, Reuters reports.
Under the vaccinated travel lane (VTL) programme, Singapore allows quarantine-free entry for fully vaccinated travellers arriving from certain countries on designated flights or buses. The travellers have to undergo regular testing.
About two dozen countries are listed in the programme including Australia, India, Malaysia, Britain and the United States.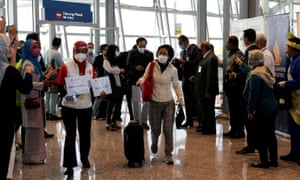 However, no new tickets will be issued for people hoping to arrive from any of those countries from Thursday to Jan. 20, the government said on Wednesday.
The health ministry said in a statement:



Our border measures will help to buy us time to study and understand the Omicron variant, and to strengthen our defences, including enhancing our healthcare capacity, and getting more people vaccinated and boosted."
The government said it would also reduce the VTL quotas and ticket sales for travel after 20 January. For flights, the total number of VTL tickets would be capped at 50% of the previously allocated quota.
Travellers already holding tickets on VTL flights or buses and who meet all other requirements can still travel under the programme.
The government also urged people arriving in Singapore to minimise their social interactions, avoid large gatherings and eating out for seven days even if their tests, which they have to take every day for the week, are negative.
23:23
New York City mayor Bill de Blasio vows there will be "no more shutdowns" in America's most populous city.
The Democrat said Tuesday that New York can't see schools and businesses close again like they did when Covid-19 first hit.
De Blasio faced questions about whether he would reinstate closures as the Omicron variant surges in the city.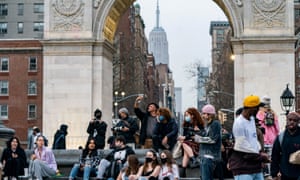 At a virtual news conference on Tuesday, he said:



Adamantly I feel this: No more shutdowns. We've been through them," de Blasio said at a virtual news conference Tuesday.

They were devastating. We can't go through it again."
It is still undecided whether the city's annual New Year's Eve celebration in Times Square will continue as planned.
The event was small and socially distanced last year but de Blasio had hoped to hold it this year at "full strength."
De Blasio's successor Eric Adams annoucened he would be postponing his inauguration ceremony, scheduled for 1 January indoors at Brooklyn's Kings Theatre.
22:56
Researchers in Melbourne, Australia, have turned one of the world's most-used blood-thinning drugs into a nasal spray which they hope could prevent Covid-19 transmission.
Northern Health medical divisional director Don Campbell and researchers at Melbourne, Monash and Oxford Universities found that heparin can block the transmission of Covid-19 and prevent infection.
The nasal spray, which has so far received $4.2m from the Victorian government to undergo clinical trials, coats the nose but does not go down into the lungs.
Professor Campbell told ABC news:



It won't matter if a new variant comes along, this drug will block that protein from infecting the cells.

I'm very confident that we can demonstrate that it will work, and people will be using this before they go to the shops and before they go to school."
Over the next six months, 340 Victorian households will be given the heparin nasal spray or a placebo, within hours of their household contact testing positive, to reduce transmission.
"When [Covid] first gets into the nose it binds to a molecule called heparan and if it mutates that binding site it can't bind," he said.
"Heparin is so close in structure to heparan that it binds on and paralyses the virus, so it stops it infecting and also stops it spreading to others," professor Campbell added.
22:38
Masks in Japan might be in oversupply but McDonald's fries certainly are not.
A new kind of chip shortage has hit Japanese supply chains, with McDonald's forced to ration fries as Covid-19 and floods in Canada squeeze potato imports.
McDonald's Japan said it would only sell small-sized french fries for a week from Friday to avoid shortages.



Due to large-scale flooding near the Port of Vancouver … and the global supply chain crunch caused by the coronavirus pandemic, there are delays in the supply of potatoes."
The company said it had taken the measure to ensure that customers could still order fries, even though the "stable procurement of resource materials" was proving difficult.
Read the full story here.
Updated

22:33
Some interesting news from Japan has just emerged.
Prime minister Fumio Kishida has said 80 million unused "Abenomasks" will be thrown away after criticism that it was costing ¥600 million ($5.2m or £4m to keep them in storage. The government also found that 11 million of the masks were "defective" after inspections that cost more than ¥2 billion.
"I have instructed (officials) to dispose of the government's stock of cloth masks by the end of the current fiscal year (through March) after distributing them to those in need," Kishida told a press conference.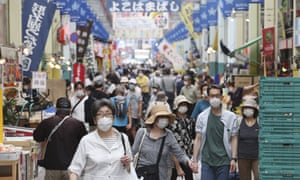 "Worries about mask shortages have been completely eliminated due to a recovery in manufacturing and supply, and the intended purpose (of the cloth masks) has been achieved," the premier said.
Kishida also said that Japan will continue to ban foreigners (apart from residents) entering the country "for the time being" to prevent the spread of the Omicron variant.
Updated

22:07
Finland to close bars and restaurants by 10pm on Christmas Eve
Finland will significantly scale up Covid restrictions on the hospitality industry from Christmas Eve.
Prime minister Sanna Marin said restaurants will be required to stop serving alcohol by 9pm and close their doors by 10pm as of Christmas Eve during a press briefing on Tuesday night.
"We must take this situation seriously and react accordingly," Marin said.
The restrictions will be further tightened from 28 December with restaurants to stop drinking at 5pm with doors closing at 6pm.
The restrictions will be in effect for three weeks. The government will begin preparing a support package to compensate hospitality businesses affected by the restrictions, Marin said.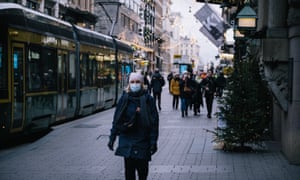 Health chiefs announced over 23,000 new coronavirus infections in the past two weeks, an all-time record in the Nordic nation of 5.5 million people.
EU citizens arriving at the Finnish border will be required to show a negative Covid test under the new rules.
Further details on the restrictions are set to be announced on Wednesday.
Updated

21:06
China has reported 77 new confirmed coronavirus cases for Tuesday 21 December, down from 81 a day earlier, its health authority said on Wednesday.
Of the new infections, 57 were locally transmitted, according to a statement by the National Health Commission, unchanged from a day earlier. Most of the new local cases were in the northwestern province of Shaanxi.
China reported 19 new asymptomatic cases, which it classifies separately from confirmed cases, also unchanged from a day earlier.
There were no new deaths, leaving the death toll at 4,636.
20:59
Covid self-isolation cut to seven days with negative test in England
If you missed the story we reported earlier on England cutting Covid self-isolation to seven days with a negative test here's a quick run-down.
From Tuesday, new guidance will enable the 10-day self-isolation period for vaccinated people in England who have tested positive for coronavirus to be reduced by three days if they get the all-clear from lateral flow tests.
People who receive negative results from tests taken 24 hours apart on day six and day seven of their self-isolation period will no longer have to self-isolate for the full 10 days, the UK Health Security Agency (UKHSA) said.
Those who leave self-isolation on or after day seven are "strongly advised" to limit close contact with other people in crowded or poorly ventilated spaces, work from home and minimise contact with anyone who is at higher risk of severe illness if infected with Covid-19, the agency added.
There is no change to the guidance for unvaccinated positive cases, or unvaccinated contacts of positive cases, who are still required to self-isolate for the 10 full days after their date of exposure to the virus.
Read the full story from the Guardian's health editor, Andrew Gregory, here.
20:42
Biden announces half a billion free home Covid tests to fight Omicron

David Smith
Half a billion at-home coronavirus tests will be sent free to the American public in the fight against Omicron, Joe Biden announced on Tuesday, while pushing back against resistance to vaccine mandates by saying they are intended "not to control your life, but to save your life".
The move is part of a renewed White House effort that includes the Pentagon calling up 1,000 troops to deploy to hard-hit hospitals and the Federal Emergency Management Agency (Fema) working to expand medical capacity.
But as Covid-19 once again rages across America via the new Omicron variant, the president, speaking from the White House, did not discourage Christmas gatherings, impose vaccine mandates for domestic air travel or seek a new round of lockdowns.
"I know some Americans are wondering if you can safely celebrate the holidays with your family and friends – the answer is yes, you can, if you and those you celebrate with are vaccinated, particularly if you've gotten your booster shot," Biden said.
Read the full story from our Washington correspondent, David Smith, here.
Updated

20:15
British Columbia, Canada, to close bars, nightclubs and weddings
The Canadian Pacific Coast province of British Columbia is closing bars, nightclubs and gyms amid concerns over the Omicron variant.
Starting at 11:59pm on Wednesday 22 December, bars, nightclubs, gyms, fitness centres and dance studios will close, and all seated events will be reduced to 50% capacity.
Indoor gatherings, including weddings, are also being cancelled, the Associated Press reports.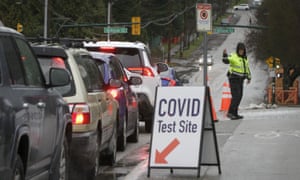 The new public health measures will be in place until the end of the day Tuesday, 18 January.
Provincial health officer Dr Bonnie Henry said Tuesday the risk posed by Omicron is "fundamentally different" than other variants and it more easily infects those who are vaccinated or have had Covid-19.
She said the province is seeing "explosive outbreaks," with a large number of people being exposed at the same time. There's also been a spike in cases among those aged 18 to 35.
The French-speaking province of Quebec announced Monday that it is closing bars, cinemas, gyms and spas because of a record number of coronavirus cases.
19:54
WHO warns Europe of 'significant surge' in Covid cases
The World Health Organization's European chief has warned countries to brace for a "significant surge" in cases as Omicron spreads across the continent.
Speaking at a press conference in Vienna, Dr Hans Kluge said Omicron is now the dominant variant in a number of European countries, including the UK, Denmark and Portugal. He said:



We can see another storm coming.

Within weeks, omicron will dominate in more countries of the region, pushing already stretched health systems further to the brink.
Last week, 27,000 people died from Covid in the region and an additional 2.6m cases were reported, he said. Although these cases include all variants, he noted this figure is 40% higher than during the same period last year. He added:



The sheer volume of new Covid-19 infections could lead to more hospitalisations and widespread disruption to health systems and other critical services.

Governments and authorities need to prepare our response systems for a significant surge.
Read the full story here.
Updated

19:43
Hello it's Samantha Lock back with you on the blog bringing you all the latest Covid developments from across the world.
Let's start with the news that Israelis over the age of 60 and medical teams will be eligible for a fourth Covid vaccination to protect against the fast-spreading omicron variant, prime minister Naftali Bennett announced.
"The citizens of Israel were the first in the world to receive the third dose of the Covid-19 vaccine and we are continuing to pioneer with the fourth dose as well," he said on Tuesday, calling on those who meet the criteria to "go and get vaccinated."
Bennett's remarks came after a meeting of the country's ministerial coronavirus cabinet which convened amid growing concern over the spread of the Omicron variant.
The World Health Organization's European chief has warned countries to brace for a "significant surge" in cases as Omicron spreads across the continent. Dr Hans Kluge said Omicron is now the dominant variant in a number of European countries, including the UK, Denmark and Portugal.
"We can see another storm coming," said Kluge. "Within weeks, Omicron will dominate in more countries of the region, pushing already stretched health systems further to the brink."
UK prime minister Boris Johnson has confirmed no further Covid restrictions will be put in place in England before Christmas however curbs could be imposed after 25 December.
Edinburgh's annual Hogmanay street party has been cancelled, while in Wales employees face £60 fines for failing to work from home as governments tightened rules to limit the spread of the Omicron variant. The Scottish and Welsh governments also imposed limits on sporting events from Boxing Day.
People over the age of 60 in Israel will be eligible for a fourth Covid vaccination, the country's prime minister, Naftali Bennett, announced. His remarks came the country recorded its first death from the Omicron variant.
The next mayor of New York City, Eric Adams, said on Tuesday he would postpone his inauguration ceremony, which was set for 1 January, due to the rise in cases of the Omicron variant of Covid-19. He did so shortly after the current mayor, Bill de Blasio, announced that residents who get a Covid-19 booster shot by the end of the year will receive $100.
Germany has announced a string of new measures that are to take effect from 28 December "at the latest", in a bid to get a rampant surge in new infections under control. Chancellor Olaf Scholz said the fourth wave of infections was now under control, but warned that the fifth wave was just around the corner.
Portugal's government ordered nightclubs and bars to shut doors and told people to work from home from 26 December to at least 9 January to control the spread of Covid-19 over the holiday period. A negative coronavirus test will also be required to stay at Portuguese hotels and outdoor gatherings will be limited to 10 people per group on New Year's Eve.
The archbishop of Canterbury has said that people will have felt "sorrow and sadness" seeing the photograph of Downing Street staff drinking together last May because it will have reminded them of what they sacrificed. In an interview, Justin Welby hinted at his disapproval over the gathering, saying that leadership involved setting an example.
A bailout package worth about £1bn for businesses losing trade because of the Omicron surge was announced by the UK's chancellor, Rishi Sunak. The funding will primarily help firms in the leisure and hospitality sectors, and follows concerns that they have faced cancelled bookings.