05:44
Omicron is spreading rapidly in countries with high levels of population immunity, but it is unclear if this is due to the virus' ability to evade immunity, its inherent increased transmissibility or a combination of both, the World Health Organization has said.
In its latest technical update on the coronavirus pandemic, the UN health agency said data on the clinical severity of Omicron remains limited.
"More data are needed to understand the severity profile and how severity is impacted by vaccination and pre-existing immunity," the WHO said.
It added, "There are still limited available data, and no peer-reviewed evidence, on vaccine efficacy or effectiveness to date for Omicron".
With cases rising so rapidly, hospitals could be overwhelmed in some places. "Hospitalisations in the UK and South Africa continue to rise, and given rapidly increasing case counts, it is possible that many healthcare systems may become quickly overwhelmed."
05:25
Omicron spreads significantly faster than Delta, says WHO
The Omicron variant of the coronavirus is spreading significantly faster than the Delta strain in countries with documented community transmission, with a doubling time of 1.5- to 3 days, the World Health Organization has said.
The Omicron variant, which was designated as a variant of concern on 26 November, has been identified in 89 countries across all six WHO regions as of 16 December, Reuters quoted the WHO as saying.
Updated

05:13
An announcement on a strict Christmas lockdown is expected in the Netherlands, with the government expected to close everything but essential shops.
The government is meeting on Saturday with its health experts who have recommended the closure of all non-essential shops, schools, bars, restaurants and other public venues.
The Dutch national broadcaster, NOS, and the news agency ANP cited government sources saying a press conference announcing the new measures would be held at 7pm. However, a spokesman for the health ministry, Axel Dees, declined to comment on any proposed measures or the timing of any press conference.
It is only days since the government ordered that the 5pm to 5am closure of bars, restaurants and most stores, introduced in late November, would continue until 14 January.
Updated

04:47
More than 1.18bn people in China have been fully vaccinated against Covid-19, a spokesperson for the country's national health commission has said.
Mi Feng told a press conference on Saturday that more than 2.66bn Covid-19 vaccine doses had been administered.
"China is meeting the growing pressures of guarding against inbound cases, with a total of 77 countries and regions having reported cases of the Omicron variant of Covid-19," Mi was quoted as saying by China's state-run Xinhua news agency.
Updated

04:20
Portugal became the latest country to widen distribution of Covid vaccines to children over five on Saturday.
More than 60,000 children aged between five and 11 were set to receive their first jab of the Pfizer Covid-19 vaccine this weekend in the country, which already has 88.9% vaccine coverage in older groups.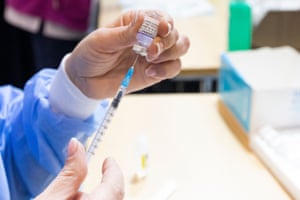 France is set to follow suit next week.
The EU's medicines watchdog last month approved a lower-dosage Pfizer-BioNTech vaccine for five to 11-year-olds, an age group experiencing high coronavirus infection rates across the continent.
Denmark, where there has been a surge in cases attributed to the new Omicron variant, and some Austrian regions began offering vaccines to younger children in November.
The US was the first large country to widen access to young children and has so far vaccinated more than 5m in the five-to-11 age bracket.
Updated

04:07
Plans are being formulated for a two-week "circuit breaker" lockdown in England after Christmas, although a final decision on new restrictions is yet to be taken, the Times reports.
The draft regulations would return England to similar restrictions as those seen in spring, with indoor mixing banned except for work purposes and pubs and restaurants limited to table service outdoors.
Schools and shops would remain open, but the "rule of six" would be reimposed for meetings with friends and family, weddings and funerals would be limited to 15 to 30 people, and the most-vulnerable would once again be advised to "shield".
According to the Times, some sources said planning was under way to recall parliament next week to debate the restrictions. They could prove politically difficult for the prime minister, after a rebellion by 100 of his MPs against the plan B restrictions, including Covid passes for public events, earlier this week.
03:46
The football grounds Anfield, Stamford Bridge and Wembley and the racecourses, Sandown Park, Bath and Chelmsford are among the almost 3,000 sites taken over by vaccination centres in England this weekend.
Other venues open this weekend include the Christmas Market at Chester Cathedral, the Liverpool Christmas Ice Festival, Bluewater shopping centre in Kent and London's Oxford Street, where there will be a vaccine bus.
More than 21 million booster jabs have been delivered by the NHS in England so far, NHS England said. On Monday Boris Johnson announced that the government would aim to offer a booster to every single adult in the UK by the end of December.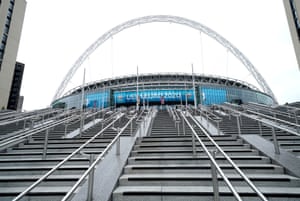 Many vaccination sites across the country are working 12 hours a day, seven days a week, the NHS told the PA Media news agency, adding that in every community there should be slots available at least 16 hours a day.
NHS national medical director, Prof Stephen Powis, said: "From stadiums to racecourses and mobile buses to Christmas markets, NHS Covid vaccination programme, the biggest and most successful in our history, is pulling out all the stops to make it easier than ever.
"Thanks to the hard work of our health service staff and brilliant volunteers we have already delivered record boosters so far this week but we want to keep up the momentum so if you haven't taken up the offer yet get boosted now."
Updated

03:40
Olivier Veran, France's health minister, has said the spread of the Omicron variant is the main reason behind plans for stricter vaccine pass measures.
Under the current regulations, a recent negative Covid test is sufficient for entering many indoor public places, but a new health pass set to be introduced early next year will require people to show proof of vaccination to enter restaurants and long-distance public transport.
Veran, speaking on France Inter radio, also said that he expected that early next week the French health authority will give the green light to start offering coronavirus vaccinations to children aged 5 to 11.
03:31
Seven to 10% of new confirmed coronavirus cases in France are suspected to be of the Omicron variant, the country's health minister, Olivier Veran, said on Saturday, as a ban on travellers from the UK comes into force.
From Saturday morning, travellers will only be allowed to enter France from the UK if they are travelling for "compelling reasons", unless they are French nationals, residents or hauliers.
Even then, those wanting to travel will have to show a negative Covid test and self-isolate for two days after arriving in the country.
On Saturday, Veran said the rapid spread of the new variant was the main reason for the planned introduction of a new vaccination pass early next year, which will require that people show proof of vaccination to enter restaurants and long-distance public transport.
Under the current health pass regulation, a recent negative Covid test is sufficient for entering public places.
03:31
Stricter Covid restrictions must be introduced "very soon" in England to prevent hospital admissions rising to 3,000 a day, according to leaked minutes from the Scientific Advisory Group for Emergencies, seen by BBC News.
The leaked minutes, from a meeting of government scientific experts held on Thursday, warn that any delay in imposing new restrictions "would greatly reduce the effectiveness".
So far the government has taken a relatively light touch despite fears of the rapid spread of the Omicron variant, with the UK setting new records for lab-confirmed cases of Covid-19 for two days in a row this week.
The Sage minutes say: "If the aim is to reduce the levels of infection in the population and prevent hospitalisations reaching these levels, more stringent measures would need to be implemented very soon."
"The timing of such measures is crucial," say the Sage minutes. "Delaying until 2022 would greatly reduce the effectiveness of such interventions and make it less likely that these would prevent considerable pressure on health and care settings."
This is Damien Gayle kicking off the Guardian's coronavirus live blog coverage this morning. All day I will be bringing you the latest Covid-related updates and headlines.
Seen a story you think we should be covering? Drop me a line on my Twitter profile @damiengayle, or via email to damien.gayle@theguardian.com