22:21
Apple has closed all of its 12 stores in New York City to indoor shopping as cases of the Omicron variant surge across the United States. Customers will be able to pick up online orders at the stores, an Apple spokesperson said.
"We regularly monitor conditions and we will adjust both our health measures and store services to support the wellbeing of customers and employees," the company said in a statement.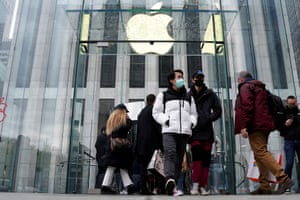 22:14
Germany has reported another 21,080 cases bringing the country's total to 7,026,369. The Robert Koch Institute also reported another 372 deaths which means that Germany has now seen 110,805 people die of Covid-19.
21:48
More from the US where the Centers for Disease Control and Prevention said on Monday it was shortening the recommended time for isolation for Americans with Covid to five days from its previous guidance of 10 days, given they are asymptomatic.
It is hoped the move will help airlines and other businesses mitigate staff shortages from the disease.
CDC director Rochelle Walensky said it was "vital people stay home and test when sick and adhere to recommended masking in order to mitigate the spread of Covid, especially as we continue to see more of the Omicron variant".
21:32
France speeds up booster scheme – but no new year curbs
France has reduced the waiting time for a third booster shot to three months from four in response to the rapid spread of Omicron.
Jean Castex, the French prime minister, also said that from Monday and for the next three weeks all public gatherings would be limited to 2,000 people for indoor events, and to 5,000 people for outdoor events.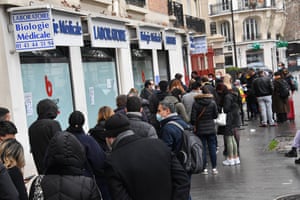 Masks will be mandatory in city centres and people must work from home three days a week if possible, Castex said, as the country's infection rate hit a record level of more than 700 per 100,000 people.
However, there will be no curfew on New Year's Eve celebrations and schools will reopen after the festiv season as planned on 4 January.
21:16
China cases rise again
China's coronavirus cases rose for a fourth consecutive day on Monday, with Xi'an city reporting more infections in a flare up that has put 13 million residents under lockdown.
Xi'an reported 175 cases, up from the previous day's 150, official data showed on Tuesday. None of them are of the Omicron variant. China has reported only a handful of Omicron infections among international travellers and in its south.
Mainland China detected 182 local symptomatic cases for Monday, the health commission said, compared with 162 a day earlier.
Xi'an is experiencing China's biggest community outbreak since 2020. Read our correspondent Rhoda Kwan's report on how the city is responding, including a disinfection campaign, with staffers spraying pathogen-killing solutions on surfaces of roads and buildings:
21:09
Government should consider flight vaccine mandate, says Fauci
Dr Anthony Fauci has suggested that the federal government should consider a vaccine mandate for domestic air travel.
"That is just another one of the requirements that I think is reasonable to consider," America's leading infectious disease expert told MSNBC in an interview.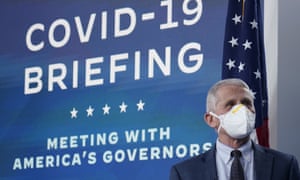 The Biden administration has thought about this move before , or one requiring either vaccination or proof of negative test. But given the resistance to vaccine mandates for health workers and other categories in the US, such a requirement could face legal challenges.
Here's how we reported the pushback against mandates in the US earlier this year:
21:01
An illustration of the airline problem comes in the travel saga of two brothers from the US Pacific North-west.
Harley Garner, a 27-year-old creative strategist from Portland, and his brother, who lives in Seattle, were staying with their parents in Pahrump, Nevada, over the holidays and had planned to fly home on Sunday evening, Reuters reports.
Both brothers' respective flights from Las Vegas – to Portland via Alaska Airlines and to Seattle via Allegiant Airlines – were cancelled on Sunday afternoon. Both managed to book seats on later flights.
When their second flights were cancelled, they decided at 3am on Monday to start driving. Their father took them to Bakersfield, California, where they planned to rent a car and then drive up to Portland and Seattle, totalling some 17 hours on the road.
Garner said the most frustrating part of the travel nightmare, which Alaska Airlines said was weather-related, although Portland was not experiencing severe weather on Monday, was the last-minute notification of cancellations.
20:54
Thousands more flights scrapped
More than 3,500 flights have been cancelled on Monday and Tuesday causing widespread disruptions for travellers all over the world as airlines crews succumb to the Omicron Covid strain.
According to flight tracker FlightAware, 2,700 flights have been cancelled on Monday and 860 more on Tuesday.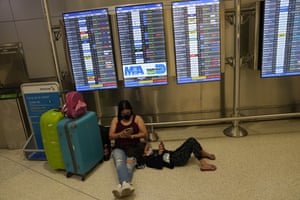 In total, 11,000 flights have been cancelled since Friday thanks to the impact on crews, although bad weather has also played a part in cancellations in the US.
In more travel misery, the US Centers for Disease Control and Prevention said on Monday it was investigating 68 cruise ships after reports of Covid-19 cases on board.
Updated

20:39
Good morning/afternoon/evening to you wherever you might be and welcome to our rolling coverage of the coronavirus pandemic.
Here's a summary of the main developments:
Thousands more flights have been cancelled by airlines around the world, causing chaotic scenes at airports at one of the busiest times of the year for travel. Carriers scrapped 2,700 flights on Monday and a further 800 have already been dropped from Tuesday's schedules. Dr Anthony Fauci said a vaccine mandate should be considered for all passengers in the US.
Boris Johnson will not introduce further Covid restrictions in England before 2022, giving mass events the go-ahead and leaving nightclubs open for New Year's Eve – in contrast with devolved governments in Scotland, Wales and Northern Ireland. Scientists said it was "the greatest divergence between scientific advice and legislation" seen since the start of the pandemic.
The US Centre for Disease Control has reduced the recommended isolation time for people recording a positive test from 10 days to five. The CDC said these changes reflect the latest data on when the virus is most contagious.
Joe Biden said the dramatic surge in US Covid cases caused by the Omicron variant "should be a source of concern but it should not be a source of panic".
France has narrowed the delay for a third booster shot to three months from four in response to the rapid spread of Omicron but there will be no curfew for New Year's Eve. From Monday, all indoor gatherings will be limited to 2,000 people, and to 5,000 people for outdoor events. Consumption of drinks and food will be banned in long-distance transport and home working will become mandatory for at least three days per week where possible.
Denmark and Iceland reported record daily Covid cases on Monday. Denmark now has the world's highest infection rate, with 1,612 cases per 100,000 people.
The number of patients in England admitted into hospital with Covid-19 has reached its highest level since mid-February after a 74% rise in a week. In London, hospital admissions have increased by 73%. A total of 8,474 people were in hospital in England with Covid-19 as of 8am today – the highest number since 5 March.
Scotland has recorded a record number of Covid cases over the Christmas weekend, hitting a high of 11,030 new cases on Boxing Day, the Scottish government has said. Nicola Sturgeon, Scotland's first minister, is due to update a specially-reconvened sitting of the Scottish parliament on Wednesday about the spread of the virus and the impact on hospitals.
Paraguay has confirmed the country's first Omicron cases, health officials said. The cases were detected in people who had travelled outside the country this month but the government has not taken immediate action on travel. Argentina reported its highest daily tally for six months with 20,263 cases.
Greece has announced further restrictions effective between 3 and 16 January to contain a further surge in Covid infections. Bars and restaurants will have to close at midnight and no standing customers at entertainment venues will be allowed. There will also be a maximum limit of six people per table.