We have featured a number of stories about school buses being turned into mobile homes and Airbnb rentals, but I doubt we ever came across a fire engine converted into a motorhome. Well, at least I didn't. However, Netherlands-based Collectief Soepel has repurposed a decommissioned Swiss fire engine into a livable home on wheels that will leave you in absolute awe.
Collectief Soepel is a small company run by six Dutchmen who collectively transformed a 4×4 Mercedes Vario into a stylish and functional motorhome. There is a small ladder that guides to the main door, allowing the entry inside.
Once in, the inhabitants are graced by a beautiful kitchen featuring birch plywood cabinetry with an ash wood worktop. The porthole window above the cooktop allows natural light to pass in and also adds to the beauty of the kitchen. In addition, there is a built-in oven and a sink catering to cooking needs.
Opposite the kitchen is the washroom which features a door with curvy edges. It is not just the bathroom door that boasts curvy elements, the wall cabinet in the kitchen also exhibits a curvy design. All the doors are made of GOGO plastics, 100-percent recycled materials, Collectief Soepel claims.
The makers have showcased creative liberty to add plenty of storage sections inside the house. For instance, you can spot multiple shelves on the bathroom door which are being used to keep planters and other small items.
Adjacent to the kitchen is the living room featuring a small table and built-in seating, where one can just relax and enjoy meals. Accessible via climbing handles, there are two alcoves on both ends of the motorhome that can sleep a family of five.
Also Read: Nine Best Luxury Motorhomes With Built-in Garages For Cars and More
While the interiors were done by the Collectief Soepel, the technology and the construction aspect was taken care by the motorhome modifier Doncamp. The motorhome seems to be quite spacious but the clever use of storage steals the limelight.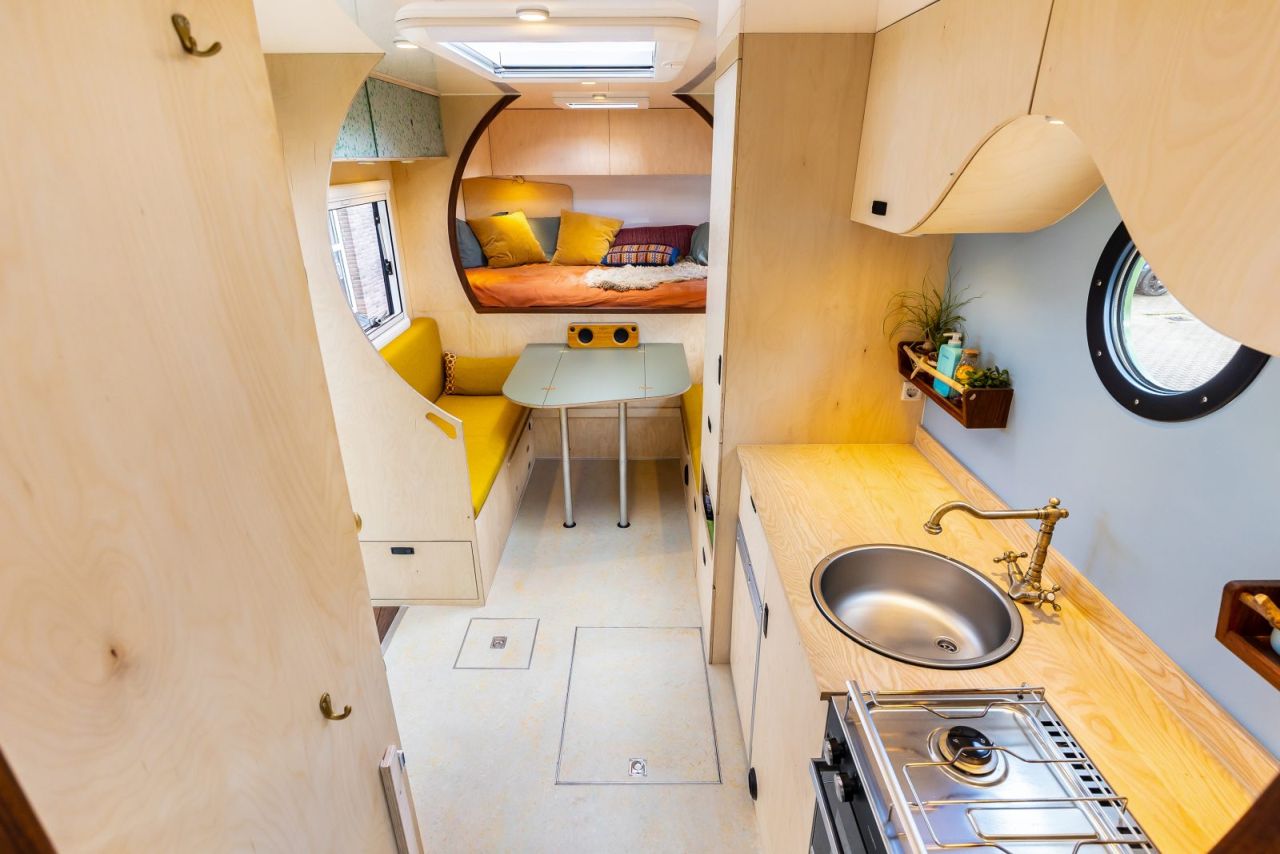 Image: Collective Flexible