Celebrities especially actors, music composers and directors find multiple ways to stay relevant in the public domain. The actors especially rely on their on-screen performance to cement their place in the heart of the audience. If it's not the performance that brings them the limelight, they heavily rely on their wardrobe collection. The more unconventional their costume is, the more headlines it will garner in the bulletin.
However, if it's neither the on-screen magic nor the costume bagging them the spotlight, they have an arsenal in their armour that nobody could possibly ignore. We are talking of pets here. Celebrity pets are as famous as their pet parent. Media go frenzy over covering stories related to celebrity pets and don't miss a single chance to snap them. If it's sheer love for the pet or just bait to stay relevant, artists know what's best for the business.
With Halloween approaching, these connoisseur companions of celebs will have more relevance than ever, because both public and media go gaga over the costume their pets wear during the All Hallows Eve. Here we bring to you a list of the best celebrity pet Halloween costumes that these canines and felines wore in the past and could don this season as well.
Justin Bieber and Hailey Bieber's pet dog Oscar's outfit will melt your soul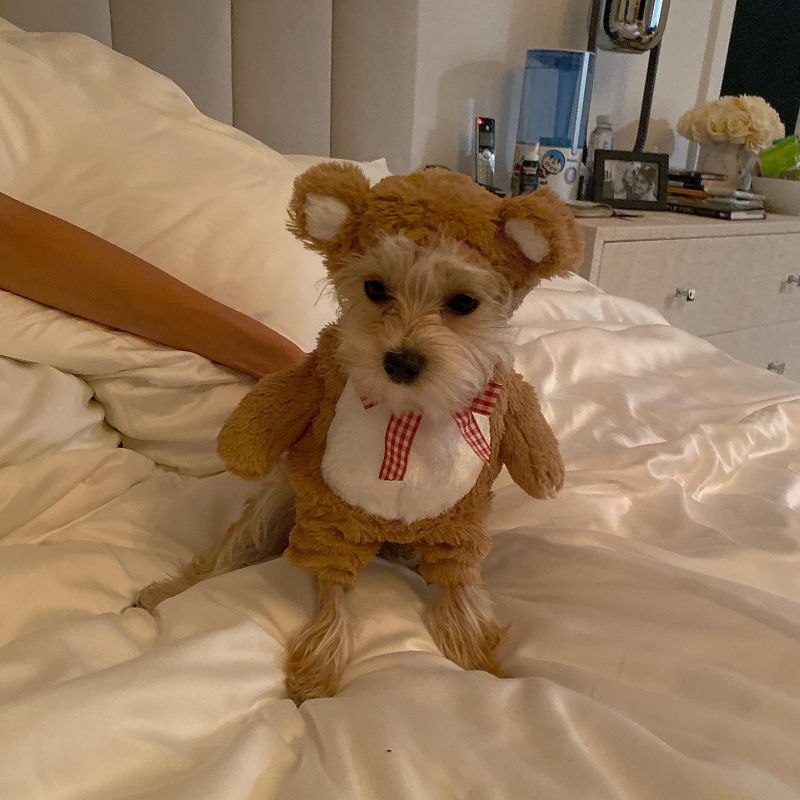 Justin and Hailey Bieber are power couple, but more than that, both are dog lovers. The duo owns a dog named Oscar which they dressed in a cute-looking teddy attire with a bow strung around its neck in 2019 Halloween. Hailey posted on her Instagram, "Someone's ready for Halloween." We are expecting the pair to adorn their Maltese Yorkie in something similar this year too.
Paris Hilton Chihuahua looks dope as ever in hoodie
Interestingly, Paris Hilton's Instagram page Hilton Pets posted a picture of her dog on Instagram a week after the Hailey Bieber posted one too. Hilton female dog Diamond was seen wearing an orange hoodie, during 2019 road to Halloween. Hilton Pets wrote with the post, "Mom I hate this outfit! Help mommy pick the perfect Halloween costume for me." It would have been interesting to see what outfit Diamond would have donned this Halloween season, but unfortunately, the dog is missing since September, 14 and Hilton has hired a pet detective, a dog whisperer, and a pet psychic.
Amanda Michelle Seyfried makes her dog Finn Seyfried look like a gentleman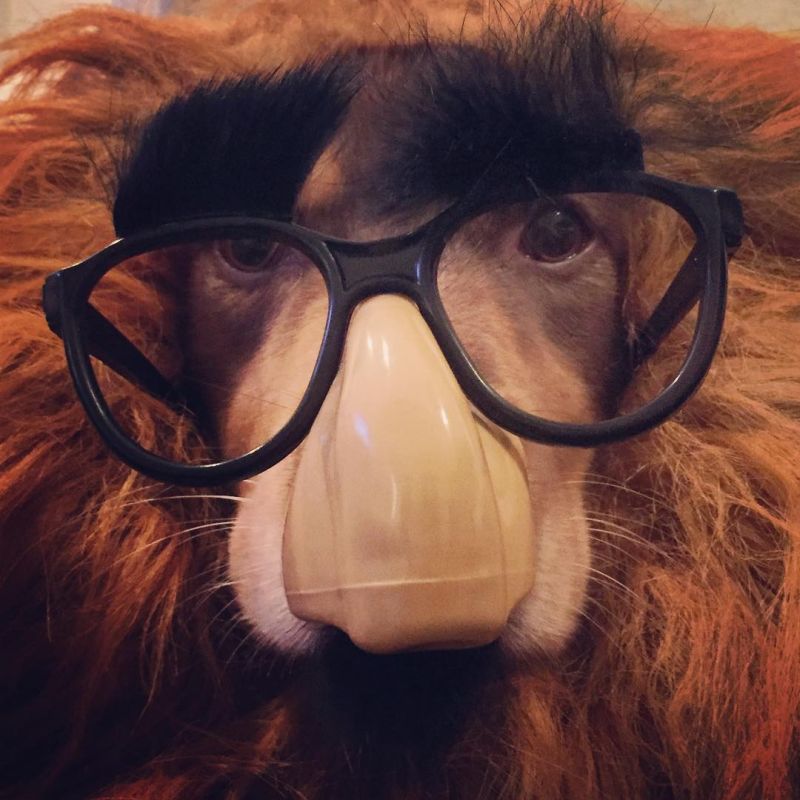 Finn Seyfried is one of the cutest dog you'd see on the internet. Thanks to a caring mother, Amanda Michelle Seyfried who makes sure the dog is always looking handsome. She once posted a picture with Finn where we can spot the dog wearing a faux nose and eyebrows while carrying glasses. This look is something that you can plan on stealing too.
Lily Collins' Dog Redford looks adorable in its pet suit and cap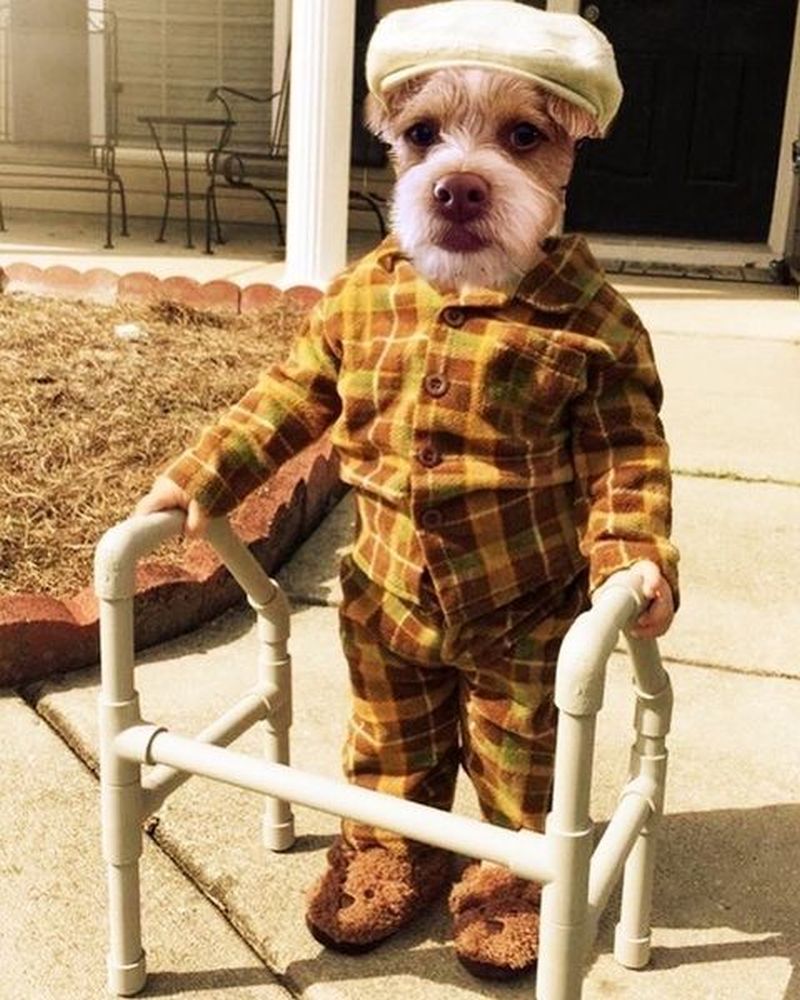 Cuteness overloaded is the only comment I could think, when I saw Lily Collins dress her rescue dog in a suit. It is not a traditional Halloween attire but lot better than donning your pets in some spooky skeleton costume. Redford is a mixture of few different breeds. Being a cross terrier, the pooch looks really cute and even cuter when dons the suit.
Megan Thee Stallion is proud mother of a British Bulldog, and no it's not named Rock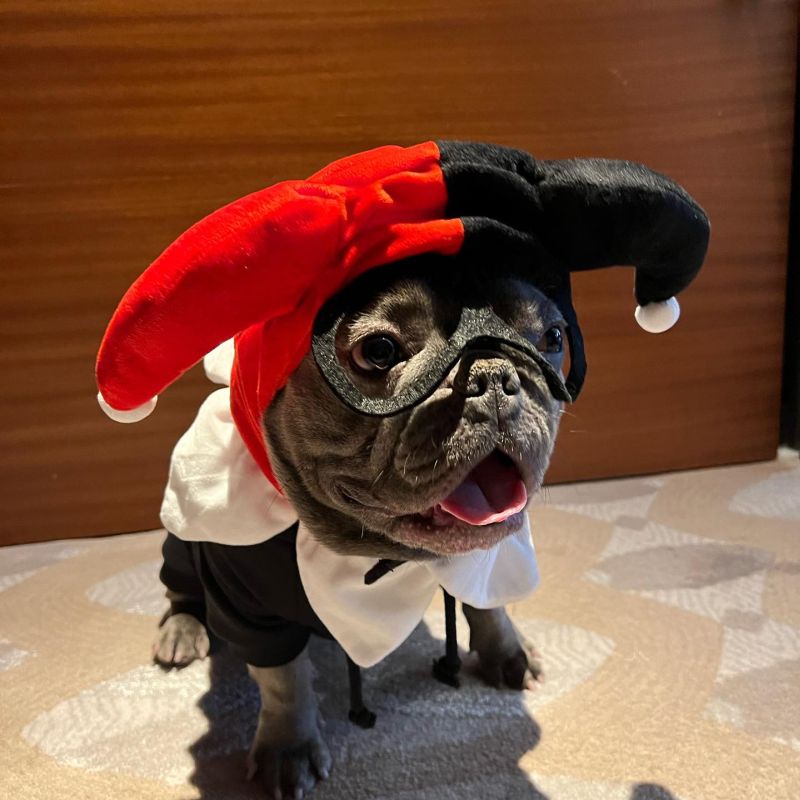 Megan Thee Stallion was in news when Hollywood star and former WWE wrester Dwayne Johnson commented about wanting to be her pet. Well, it was a joke on his part and the rapper took it friendly. But Megan is indeed a proud mother of three Bull dogs and one Pitt Bull. We caught the sight of one of her dog on Instagram last Halloween. Foe Thee Frenchie was dressed in a unique attire that looks similar to that of a joker, with petals like outfit and hat featuring black, white and red colors.
Trey Songz's pooch is what every pet parent should dress their dog like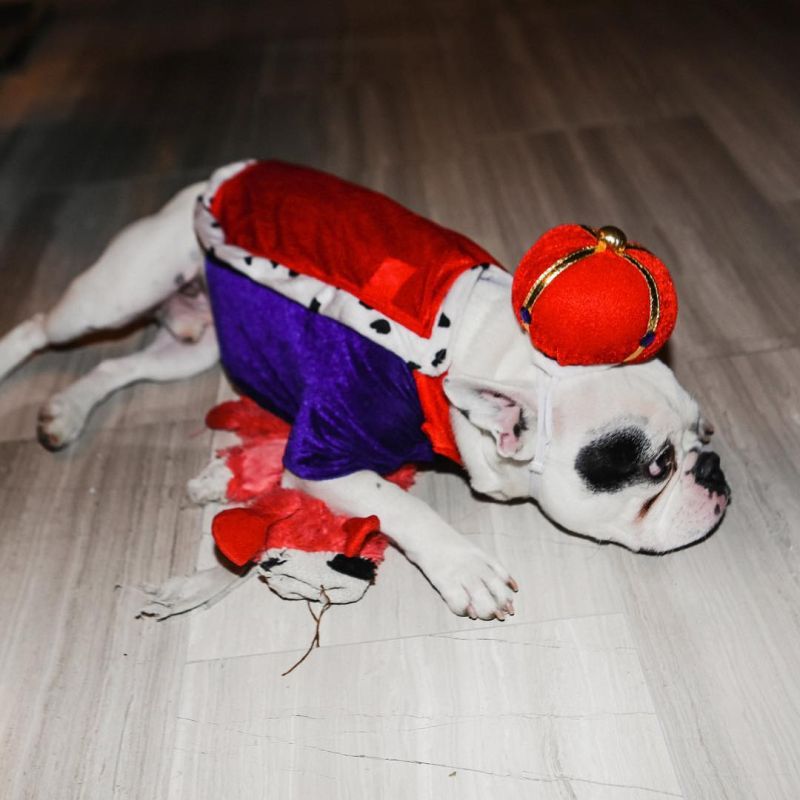 Let me be very honest here. I didn't even knew who Trey Songz was until I came across the picture of his pooch that went viral on social media. The celebrity rapper Instagram feed is flooded with comments like 'Kane the king.' The pooch is dressed in colorful attire and dons a pumpkin shaped crown on his head. The color choice looks superb and is indeed a great celebrity pet costume for Halloween that you can steal this fall.
Nina Dobrev's female dog Mrs. Maverick looks the nicest in Robin outfit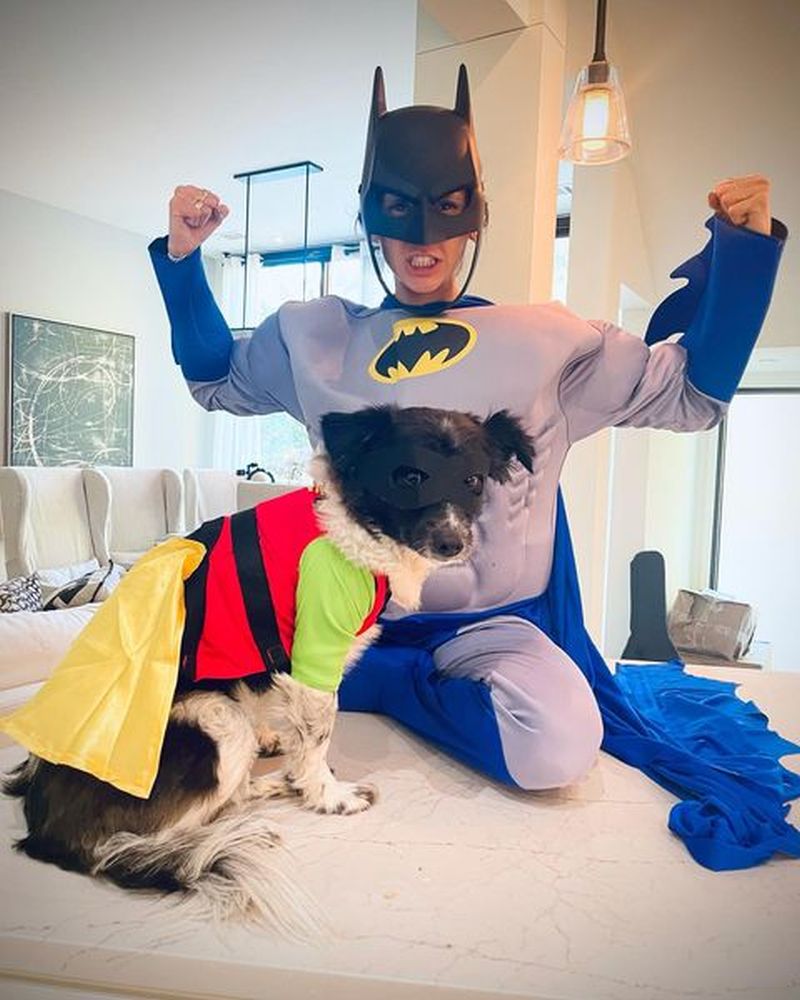 If you are a fan of Vampire Diaries, I am sure you'd find Nina Dobrev hot as hell. However, a cuter version of the Canadian actress can be seen on her Instagram handle where she dresses herself as Batman and her pet pooch Mrs. Maverick as Robin. Captaining, 'pretty sure the real Robin hated wearing spandex too,' the post went viral and people couldn't stop themselves from adoring the canine that looked adorable in small domino mask and red vest with green sleeves, just like Robin.
Rosanna Pansino's Coconut is the cutest Pikachu ever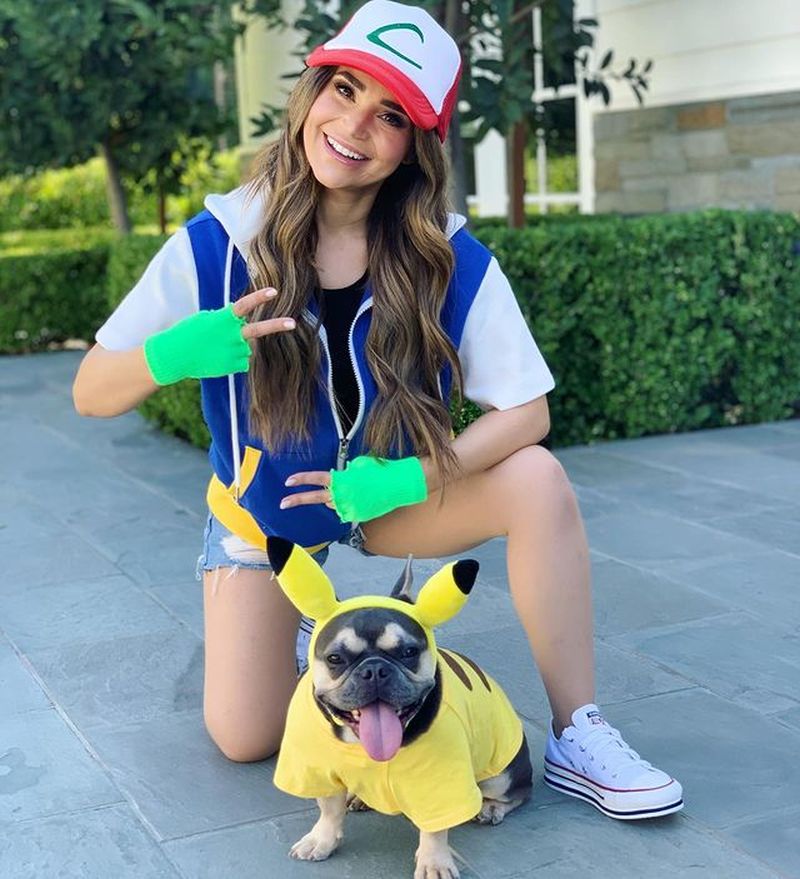 I have barely seen a man dress like Pikachu or Charizard even during Halloween. However, the American YouTube actress Rosanna Pansino went against the grain and dressed her cute dog coconut in Pikachu's attire. The dog can be seen wearing a yellow costume that looks appealing and the dog itself looks really lovable. The picture is from last year's Halloween and I am pretty sure the YouTuber has some off-the-wall costume planned in her mind for this year's event too.
Lady Gaga gives her dogs a tribal touch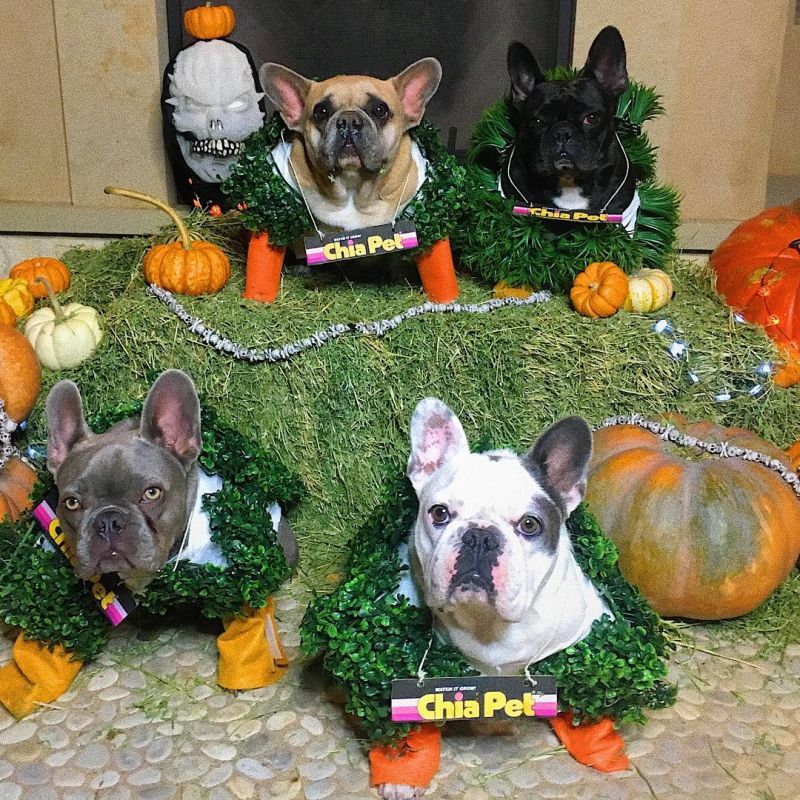 It is kind of difficult to search for a word that describe what these costumes actually are. From the very look of it, I am assuming it to be a costume made of indigenous and organic material. The green leaves are obviously the highlight of the picture. Though the picture dates back to 2018 Halloween, it will be interesting to see what she brings on the table at this year's event.
Chrissy Teigen dresses her dog as a bacon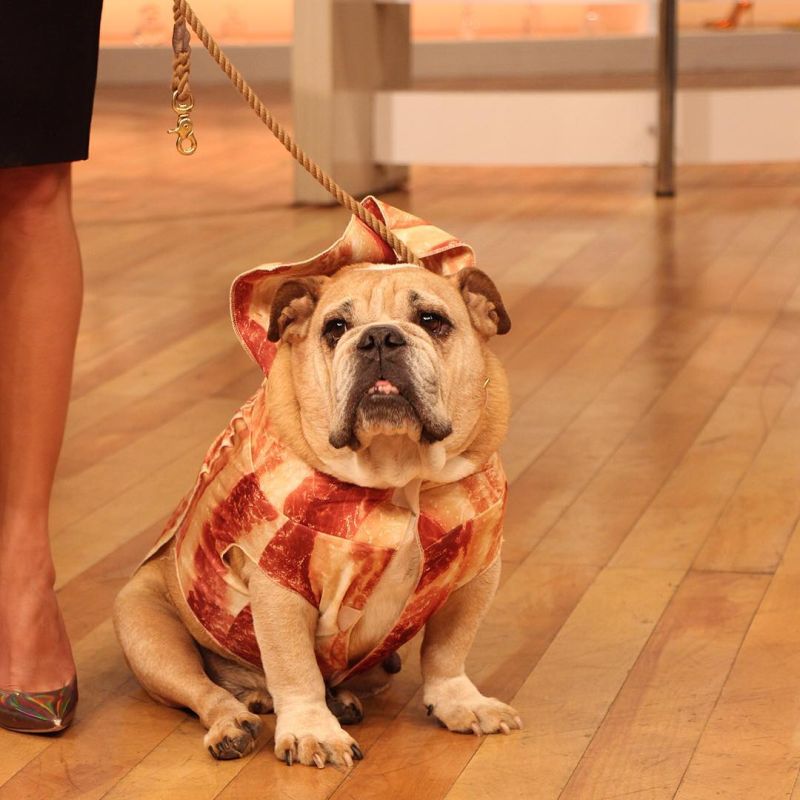 Not many people used Instagram when, Chrissy Teigen dressed her dog as Bacon for the Halloween party in 2015. The dog looks super adorable and seem to love the outfit. The bacon strip costume for this year's Halloween looks a cool idea that you can plan on dressing your dog with.
Dwayne 'The Rock' Johnson adorns his Frenchie Baby in a violet colored costume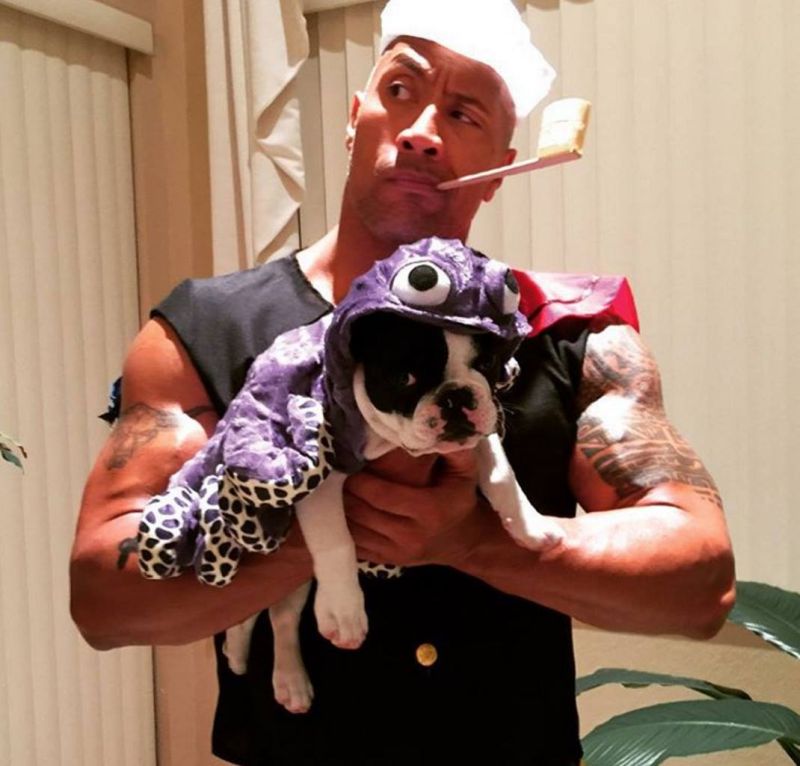 Though, the post dates back to 2015, but is still a cool idea to dress your pet in some shade of violet color. I am pretty sure that the dog would feel warm and cozy inside the costume.