00:42
68th over: England 135-6 (Buttler 16, Woakes 21)
A tame edge from a soft-handed Buttler doesn't carry to Smith at slip, with Richardson bowling wide of the crease. It's otherwise fairly comfortable for England, the wicket seems to have become quite slow. Richardson tumbles upon delivering his last – other than that everything else looked the same. Bowl, defend.
00:38
67th over: England 135-6 (Buttler 16, Woakes 21)
It's Lyon, and Woakes moves into the twenties with a smothered drive square of the wicket for four. He's batting well. In response, Gareth Lyon comes around the wicket, and the angle looks good for Lyon. Gaz tosses one up and Woakes is back, defending, watching. One then pops up off the thigh pad and Marnus stretches back to take it – there is momentary excitement, but there was no bat or glove.
00:34
66th over: England 131-6 (Buttler 16, Woakes 17)
Richardson is angling in to Buttler – Buttler goes back and defends, he then leaves, he then comes forward to defend, and the remainder is the same in a different order. Richardson manages another no-ball there, too. England have something small building here. The pitch isn't offering too much for the quicks.
00:31
65th over: England 130-6 (Buttler 16, Woakes 17)
Lyon to Woakes, four around the bat. Woakes is watchful, then skips down the wicket and whips Lyon uppishly past mid wicket for two. That's enough for him; he defends the remainder.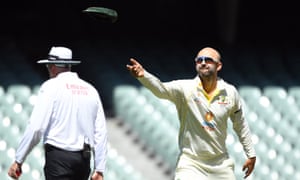 00:27
64th over: England 128-6 (Buttler 16, Woakes 15)
Richardson is on for Neser, eliciting more bounce than his team mate straight away. He bangs the next in ever shorter, and Buttler produces a beautiful back foot flourish for four. It's a no-ball too. The pitch looks a bit more docile now – very little for the quicks in terms of bounce. Carey is taking most of them just above his knees. Buttler then runs one past gully for two, all feeling a little more comfortable for England.
00:23
63rd over: England 121-6 (Buttler 10, Woakes 15)
Buttler sweeps early and crisply for one, before Green cut it off to save the boundary, sliding and throwing in one motion. Woakes is then dancing down the wicket, misses, and Harris under the lid on the offside nearly scoops it back for a runout as Woakes attempts to make his ground. If Harris hits, Woakes is out. But he didn't, and Woakes survives.
00:20
62nd over: England 120-6 (Buttler 9, Woakes 15)
Neser is retained, and Woakes finds the boundary again, this time a little less controlled – a loose drive off the outside half of his bat, skewing away past gully. There's one slip, a gully, shortish backward point, two catching short covers, essentially an umbrella field on the offside. Woakes is fine, he drives past mid-off for two more. Two drop back behind square but it's a double bluff – I don't think Neser was getting it up to Woakes' chest, let alone above the shoulders.
00:16
61st over: England 114-6 (Buttler 9, Woakes 9)
Buttler seems to play Lyon with a different defensive shot every ball. There's the prod, the leave, the back foot bunt, the jammed yorker. He's surrounded by four, he turns it with the spin comfortably to short leg. He's faced 54 balls.
00:13
60th over: England 114-6 (Buttler 9, Woakes 9)
Woakes is confident here, he drives Neser through cover point on consecutive deliveries, the first for two, the second for four. I then get a droll text saying "Woakes strokes a four so Mark Waugh starts talking about his lack of wickets". To underscore it all, Woakes drives again for two. Neser looks a little benign here, ball barely getting up. Carey taking them at his knees. A change is coming.
00:10
59th over: England 106-6 (Buttler 9, Woakes 1)
Apart from silly mid-off, Lyon is bowling to Woakes with no mid-off. Conditions are fantastic for him. Nevertheless Woakes wrist flicks one to that vacant region. After that, lots of lunging, lots of crease use, all in defence. "We need to be clinical", said Lyon to spidercam at the break. Sure.
Julian King is in:
"Morning Pezzylad,
It seems England's travails have coincided with attempts to make the game more egalitarian. The bowlers still have that comforting air of the working class, but maybe our batsmen just aren't posh enough?
Perhaps we just need to start selecting direct from the annual Eton v Harrow match, or find a minor Indian prince?
Is the natural confidence of the ruling class what's lacking?
Keep up the good work,
Jules"
Being from Australia, it's not for me to say!
00:03
58th over: England 105-6 (Buttler 9, Woakes 0)
Neser to Buttler, two slips, funky short mid-on, all defended.
Drinks.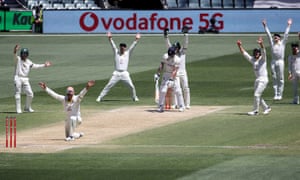 23:59
57th over: England 105-6 (Buttler 9, Woakes 0)
Lyon gets the big dog. Stokes came with a plan and he executed with typical conviction, but the risk one might get past him came to fruition. Lyon almost jags Woakes caught behind, but RTS showed no noise.
Updated

23:58
REVIEW: Woakes caught behind
Original call not out, Lyon didn't like it, Smith alpha's him – BANG, he's going upstairs. There's nothing on the bat, not out.
23:56
WICKET! Stokes LBW Lyon 12 (England 105-6)
Stokes had been crabbing so far across the crease, and finally Lyon gets one to beat him on the inside. It looked a bit high, but he was so far back that the ball didn't have far to travel. Lyon knew it was hitting leg. Great review. England in bits.
23:54
REVIEW: Stokes LBW to Lyon, originally given not out
Stokes so far across, given not out, height will be the issue…
23:52
56th over: England 105-5 (Stokes 12, Buttler 9)
So that's Starc done, and Michae Neser enters the attack. Lots of chat about who gets that third bowling spot if Hazlewood isn't fit for Boxing Day. What does everyone think? I tend to think Richardson brings a bit more weaponry, but Neser seems to have the hot hand, and he won't let you down on a (usually) flat Melbourne surface. He beats Buttler's edge second ball, arms pumping and hair flying on delivery. He then gets the edge but it's low and drops short of Smith, who's standing at 1-and-a-half slip.
23:47
55th over: England 105-5 (Stokes 12, Buttler 9)
Early single behind square causes fractional hesitation but Stokes and Buttler scamper through. It brings Stokes on strike, and he flat-bat brooms Lyon in front of mid wicket for four. It plugs a little, but there's no one out there and it trickles to the boundary. Stokes then finds a single to deep point, Buttler then pushes forward of point for one, all very fluent and free! Stokes has four men around the bat now. Perhaps it's safer to swing.
23:44
54th over: England 98-5 (Stokes 7, Buttler 7)
Starc gets another, Smith is backing him and Starc must feel fit! The first is a no-ball, which doesn't really help Buttler – there's six more. Commentary team wondering whether Carey's missed catch might be a sliding doors moment in his career. It's defence, defence, defence here. Rare for Buttler. How long can they maintain the vigil? Starc then targets his ribs and Buttler tucks it tightly past short leg, and gets one.
On nurries ethics, Rowan writes: "I feel that we can consider the permissibility of laughing of someone being Out BBW (as my dad calls it) by paraphrasing Oscar Wilde – One hit to the nurries is a tragedy, two… Comedy."
Fair!
23:38
53rd over: England 96-5 (Stokes 7, Buttler 6)
"Bowled Gareth/Gaz/Nathan", we hear through the stump mic. Stokes is back and comfortable enough. He opens the face on one and it takes the outside half of the bat, half-edged, half steered one bounce to Smith at first slip. It was an edge, but Stokes sort of rode it. He survives again.
On England selections v systems, Nick offers:
"Hi Sam. Perhaps England's chances would be increased by picking either the side mistakenly selected for the the last test or the one they're ingeniously planning for next one. Or perhaps a combination of the two."
I like it!
Updated

23:35
52nd over: England 96-5 (Stokes 7, Buttler 6)
Starc again – I wonder if this will be his last this spell. Can Buttler see him off? So far, so safe (this over). He's beaten later on in the over. An edge feels a little inevitable, but Starc will soon tire. Two yorkers to finish! Each well played. The yorker might signal the end of Starc, for now.
This from David Griffiths:
"Hi Sam! Who was doing Root's throw downs for his first hit? I'm guessing Leach, who is furious he didn't get selected ahead of other ersatz spinners on a spinning track…so he let fly with one.More amusingly, I started watching a replay of yesterday's play on YouTube before realising it was from the last Ashes test in Adelaide in 2017. Took me quite a bit of time to work it out.Bowie's 'Always crashing in the same car' is surely the perfect theme song for this tour? LOL. Cheers, Davorder"
Wasn't it the spin coach who nailed Root? Same idea, I guess!
Updated

23:30
51st over: England 96-5 (Stokes 7, Buttler 6)
Stokes gets two from Lyon's first ball, working him to leg. It's then back and across defence for the remainder. Lyon is varying his pace and trajectory, but Stokes is unmoved. There's a half shout for LBW from the last ball, but they don't contemplate a review.
23:28
50th over: England 94-5 (Stokes 5, Buttler 6)
Starc continues to Buttler, and so does the plan. Following the bisection there is talk about the positioning and stagger of the cordon. This is where ex-legends make the big bucks. Starc then gets another edge, is squared up, but it bounces a fair way short of Warner at slip. He's then too straight, and Buttler gets himself off strike with a flick to fine leg. They take out second slip to Stokes and move him to leg slip. It's straight, and Stokes works him for one.
I suspect you know what I think about that …
23:23
49th over: England 92-5 (Stokes 4, Buttler 5)
Stokes pushes Lyon to the on-side on ball one, bringing Buttler in strike. Buttler sweeps and it pops up, but evades Marnus under the lid. Replays show it was off his arm. He connects beautifully with the next, for one. Stokes is back on strike and there's a big shout for LBW, or is it an outside edge? It's neither. No review. Chances everywhere here.
23:20
48th over: England 90-5 (Stokes 3, Buttler 4)
Starc to Buttler: it's the same plan from the first innings. Fourth stump, fifth stump – pushing across. The first one beats him. There otherwise doesn't seem to be much swing for Starc. We wait. Buttler pulls out of one delivery as Starc enters his gather. The next, Buttler edges and it bisects Carey and Warner in between first and second slip! Catching height, both could have pouched it. It runs for four. I think it was Carey's, the first blot in his copybook! Big opportunity missed.
Meanwhile, Robert writes in: "Dear Sam. Late night greetings and welcome to the OBO (here in Paris, we call it the Aubéau). Loved your podcast with Ricky Ponting, an absolute knockout. I hadn't realised that he was now a winemaker. I always knew he was up to something during the seeming half hour of spare time he had during that pull shot of his. I used to think he made himself a cup of tea but now I know he was working on his vignerongame. England to win. Woakes is gonna get a double ton and then Malan's gonna get 8 fer eff all (I've been working on my wine game too)."
Cheers, Robert! Very optimistic.
Updated

23:15
47th over: England 86-5 (Stokes 3, Buttler 0)
Lyon to Stokes, around the wicket. He's happy here, just waiting for it. It's comfortable enough!
23:13
46th over: England 86-5 (Stokes 3, Buttler 0)
Starc is around the wicket to Pope, angling in, fifth stump, and Pope is leaving. He changes the angle, and as you saw, nabbed his man immediately. Looking at replays, Pope didn't need to play at that. He flings his head back in dismay – his place is in jeopardy now. Starc continues the plan to Buttler – as he did last time – and Buttler defends.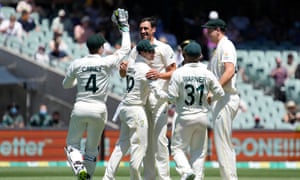 23:10
WICKET! Pope c Smith b Starc 4 (England 86-5)
Starc changed his angle from around to over, and immediately finds Pope's edge. He's caught on the crease to a decent length ball, and the angle takes the edge and carries easily to Smith at second slip. He fished at it … all a little too easy.
23:06
45th over: England 86-4 (Stokes 3, Pope 4)
It's Lyon from the other end, unsurprisingly. The first one grips encouragingly. Stokes is in ultra-defence mode, with all those exaggerated movements. He is extremely deep in his crease. Lyon tries an arm-ball, it beats him, there's a half-shout. Too high. Incredible how deep Stokes is. He does this surrounded by four men: two slips, silly mid off, and a bat-pad.
23:03
44th over: England 86-4 (Stokes 3, Pope 4)
Starc resumes with four balls left. The Barmy Army defiantly sing Jerusalem. Pope defends in the main. He then clips him beautifully through mid wicket for four. It's a big day for Pope. Mike Atherton on SEN is currently talking about him, saying he looks "frenetic at times" when commencing his innings.
Updated

22:59
Players are heading onto the ground.
We'll be away shortly. Before we do, I'd love your views. How much of England's current malaise owes to specific selection/tactical mismanagement versus a broader systemic failure? Is there a team/setup within this squad that could change the fortunes of this series, or is the issue deeper?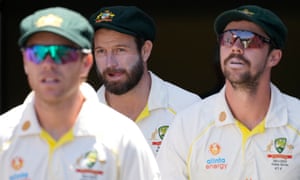 Updated

22:56
Ben asks: "Can we laugh at someone getting hit in the nurries?"
"Hi Sam, I think that after yesterday's play society at large is facing an enormous ethical dilemma. Can we laugh at someone getting hit in the nurries?The TV commentary was all sanctimonious (and completely unbelievable) "I hope he's ok" and "you don't want to see that" while in other quarters there was a deal of wry humour. Starc seemed to stifle a smile, Stokes didn't bother.But a bloke's writhing on the ground with an injury that can presumably have long-term consequences. Can we laugh because he's a Pom? If a female cricket had the misfortune to suffer something similar can we laugh? Do female cricketers laugh? Can't imagine it.Anyhoo, food for thought. Perhaps more Grade Cricketer territory so happy to get a response there, perhaps on TGC Fridays.
Hope you get a long stint on the OBO, would be fun to see this draw out over a few hours. Cheers"
Thanks Ben. Ethics around the hitting of "nurries" is a rich and dynamic area. Personally, I didn't laugh when Root was hit for a second time until it was clear he was (relatively) okay. After that, fill your boots.
Updated

22:52
"All power to you writing this blog today, Pez," says JG. "You can't polish a turd…but you can dip it in glitter!"
We're firmly in the gallows, aren't we?
Updated

22:50
Need a refresh on yesterday? Here's Jonathan Liew on "a sometimes comical" day four in Adelaide (for England).
22:37
Bit going on in the press box yesterday
Here's Geoff Lemon explaining what went down, and what it might mean for the rest of the series.
22:35
Adelaide's weather is fine, fine, fine
I'm trying to conjure reasons for England to be hopeful. Weather isn't one. It's fine and sunny for the entire afternoon, and clear into the evening.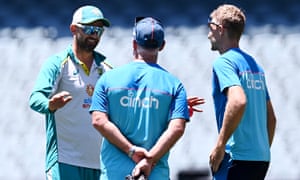 22:22
Preamble
Hello all and salutations. If you're still up in England to savour the final throes of this Test, I don't know what to say. Are you OK? Why?
No, all power to you. Wouldn't it be incredible if by some unbelievable twist England left Adelaide only 1-0 down?
But, that is very unlikely to happen. Instead, we gather today to witness the administering of last rites and all that. Australia needs six wickets, England need to score either infinite runs or bat infinite time. Or at least that's how it feels. Judging from Nathan Lyon's turn last night, life is going to be very difficult indeed for the men who come in after Joe Root.
At the same time, things are starting to feel a little dicey on the Covid front. I'm told a large swathe of print journos and broadcasters have escaped Adelaide for Melbourne. Though the press may enjoy thinking itself critical to the delivery of the game – the point is more important as it underscores growing fear the virus may be about to compromise all.
Anyway, I'm here to parse mainly the former, but as it develops, possibly the latter, too. Is there any hope on either front? Let me know. I'm at sam.perry.freelance@theguardian.com or on Twitter at @sjjperry. First ball is in 40 mins or so. Stokes and Pope … is there any light here?