31st over: England 63-4 (Stokes 22, Bairstow 4) That has put a smile on Stokes's face. He celebrates by having a slog at Green – a miscued two into the covers, and then a lofted four over mid-off. He takes over from Crawley as the top scorer in this rather surreal innings. It doesn't feel as if this is going to last, but they may as well go down fighting.
Updated

Stokes not out!
Nowhere near the pad. The umpire was bamboozled, understandably as there was a deflection – off the stumps!
Stokes given out! (LBW b Green)
He's reviewing. The ball brushed the stumps but didn't dislodge the pink bail. I don't think it hit the pad, so it can't be LBW, can it?
Updated

30th over: England 57-4 (Stokes 16, Bairstow 4) Cummins almost bags Bairstow, fending and edging just short of slip – perhaps saved by the glove. Stokes chips over cover for three, not timing it. "I think he's in trouble here," says Steve Harrison on commentary. "I don't expect him to play cricket again for a while."
29th over: England 53-4 (Stokes 13, Bairstow 3) Cummins gives Boland his eighth over on the trot and pays the price as England help themselves to five runs. Bairstow tucks into the leg side for a single and then Stokes plays another of his crisp drives, between the bowler and mid-on, for another handsome four. That brings up the England fifty – small mercies. even after taking a pounding, Boland has decent figures: 8-5-8-2.
Here's Brian Withington, picking up on my opening remarks (03:13). "If you are really looking for sympathy for getting up at 2:30am to this fiasco," he says, "you might need to wake up a few close relatives – those of us who have stayed up have had all empathy siphoned away like the petrol from an abandoned car on bricks. Always lovely to have your company though, however belated." I wasn't looking for sympathy! I was looking for humour. Sometimes, as Tom Stoppard once said, we need a typeface called ironics.
28th over: England 48-4 (Stokes 9, Bairstow 2) Stokes is dropped! By Cummins, off his own bowling. It was another straight drive, not middled this time, that went back to Cummins just above his knee. He did well to get anything on it as he followed through, but it hit the heel of his hand and bobbled out. There was a wonderful view of it from StumpCam, which managed to capture the drop through Stokes's legs.
27th over: England 48-4 (Stokes 9, Bairstow 2) Bairstow takes the hint from Stokes and pushes the first ball of this over for two, to make it 11 off the past four balls – a tiny feast after the famine. Scott Boland's figures are ruined: the runs (three) now outnumber the wickets (two), though not the overs (seven).
"Just thinking outside the box a little," says Tony McKnight, "but if we start the fifth Test as soon as this one's over, England could all be home by Tuesday, and Ashley Giles could get started on taking the game forward."
26th over: England 46-4 (Stokes 9, Bairstow 0) The drawback to getting a single is that you have to deal with a different bowler. Stokes, facing Cummins for the first time, plays and misses. But at least he doesn't go down the track – and a few balls later he hits a four! With a crisp straight drive, as if the past hour never happened. And then another! A swivel pull – well played, but it seems to have given Stokes some discomfort in that strained side of his. England have reached the point where even a good shot can add to their troubles.
"I just woke up in a cold sweat," says Kim Thonger, "after a nightmare about being trapped in a burning building, caused I suspect by a large doner kebab with chili and garlic sauce for supper, but now I see this batting performance I'm returning to the nightmare, it's preferable. Nanight."
25th over: England 37-4 (Stokes 1, Bairstow 0) The single was the sole excitement in that over. Progress!
And here's Charles Watkins with a question. "Is Djokovic allowed into NSW to play cricket for Europe with a racquet, on compassionate grounds? Regards, Chucky."
A run has been scored!
I don't believe it. Stokes nudges Boland past gully for a single – the first run for 12 overs and 54 minutes.
24th over: England 36-4 (Stokes 0, Bairstow 0) Cameron Green has been taken off – well, he did only take one for none in four overs. Pat Cummins brings himself back and beats Jonny Bairstow outside off, as well as bruising him on the bicep as he misses a rather panicky pull. Cummins has three slips, a gully and a short leg. How bad would England have to be for there to be a fourth slip? Steve Waugh, if he was still captaining Australia, would have at least six.
23rd over: England 36-4 (Stokes 0, Bairstow 0) It's Scott Boland to continue, and why wouldn't it be? Where most Test bowlers make the job look like hard work, Boland just shoots fish in a barrel. Ben Stokes walks down the pitch to him, as if that strategy had been any use to him so far. Mind you, when he stays put, he plays and misses. That's yet another maiden.
"There was a moment of near-excitement there," said David Gower in mid-over. "Almost a run."
Thanks Jonathan and morning everyone. Getting out of bed at 2.30am in London to find England collapsing even more easily than usual – we sportswriters really do live the dream.
Updated


Jonathan Howcroft
That's all I can take. To see you through the remainder of the day, it's over to Tim de Lisle.
"Car crash cricket," emails OBO stalwart Brian Withington. "Compelling but sickly viewing that makes you feel guilty to keep looking. I can't believe Australian cricket lovers are really enjoying this any more? Someone please let Bairstow & Stokes engage 'turbo nutter bastard' mode for ten minutes of light relief before the follow on." I'd settle for a couple of singles to rotate the strike…
There's still 56 overs remaining today, plenty of time for a three-dayer.
"I'm following this match from Vancouver where it's still 6th January," emails Julian Worker. "This is utterly pathetic from England. They couldn't do worse if they reversed the batting order. For the 5th Test are there any one-day players available, so we could at least lose in a quick but entertaining way?" It is absurd that, with the series lost, only one change was made to this XI. It's self-immolation.
"Let's not be too disproportionate here. There's a lot of bad stuff going on in the world at the moment that's far more serious than some guys in Sydney throwing lumps of leather and hitting with blocks of wood. But, yeah, this is pretty awful to see. I really do hope there'll be some kind of inquest at the end of this and something put in place to try and make things better in future. Seeing who's in charge, though, I'm not hopeful." Matthew Lawrenson there summing things up.
"Sitting in the renamed-for-the-day Jane McGrath pavilion, surrounded by jubilant Australians (including my wife). A performance worse than I could have possibly anticipated. This is horrible." Godspeed Tom Goodfellow, let's hope nominative determinism wins out.
"I thought you were being a little sharp with poor old Hameed," emails Robert Wilson, "but I just saw the dismissal. Bloody hell. Devon Malcolm* would have absolutely kicked himself for that one. Is that the second straight one he's missed this series or the third?
*Devon reserved almost all his most beautiful and orthodox strokes for those deliveries where he was clean-bowled. They sometimes looked, no joke, quite elegant. And must have felt great. Because he would hold the pose for just a second as the timber tumbled behind him. How can you not love a cricketer who does that?"
Lunch: England 36-4 (Australia 416-8d)
Unutterably awful from England. Australia bowled well, as they have all series, but the visiting top order crumbled miserably. This match could be over today at this rate.
Updated

WICKET! Malan c Khawaja b Green 3 (England 36-4)
Wow. Four more dots, including Malan getting two separate Green lifters on his gloves for good measure. Then he feathers a nothing delivery on his hip straight to Khawaja at leg gully. This is horrible. I would like someone to make this stop now.
21st over: England 36-3 (Malan 3, Stokes 0) That was the textbook Joe-Root-in-Australia dismissal. Even England's superhero cannot rescue them this time. Boland, unfussy, gets back to the top of his mark and dots up Ben Stokes from over the wicket, then shifts around and immediately beats the outside edge twice with serpentine deliveries. Australia are rampant. Boland is in dreamland. England must long for a mercy rule.
EIGHT maidens in a row.
Updated

WICKET! Root c Smith b Boland 0 (England 36-3)
Dear oh dear oh dear. All those dots. All these wickets. Root is the latest to go, flashing with hard hands outside his off stump and edging Boland to the cordon where Smith takes a good catch above his head. Boland's average down to 6.11.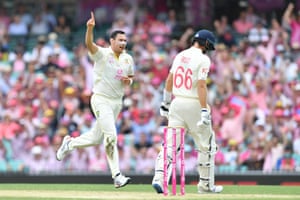 Updated

20th over: England 36-2 (Malan 3, Root 0) SEVEN MAIDENS in a row. Three more dots to begin the set, this time from Green to Malan, then a hearty shout for LBW, declined on-field. It had a lot going for it, other than height, with Green beating Malan's awkward fend from the crease. the final couple are left alone. England are going nowhere fast.
19th over: England 36-2 (Malan 3, Root 0) Make that six maidens on the trot. Boland continues his work and keeps Root honest for three balls. The England skipper then tries to run a single down to third-man but Green – a superb fielder – dives and stops sharply in the gully.
18th over: England 36-2 (Malan 3, Root 0) Once again Joe Root is in the middle at two for not very much. And somehow, Scott Boland's unbelievable Test career gets even better! His bowling average has dropped to 6.88!
Cameron Green's figures almost get a boost when Malan mistimes a pull horribly, only to see it drop short of mid-on after looping over short-leg. Malan puts his cue in the rack thereafter and Australia celebrate a fifth consecutive maiden.
Updated

WICKET! Crawley b Boland 18 (England 36-2)
Boland has settled into a lovely line and length, and he beats Crawley's outside edge with a trademark seamer's delivery. He follows that up with one that nips back off the seam and catches Crawley on his back thigh pad. 23 dots in a row now for England… and Boland joins those dots with a huge W! Line and length, movement in off the seam, Crawley aims a big drive, opens his gate, and he becomes the second opener of the session to be castled unceremoniously. Grim, grim, grim, grim, grim.
17th over: England 36-2 (Malan 3, Root 0)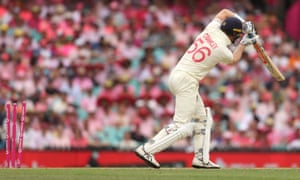 Updated

16th over: England 36-1 (Crawley 18, Malan 3) Double change for Australia with Cameron Green giving Mitchell Starc a spell. There is an expectation the allrounder's height will exploit any uneven bounce on an SCG surface that is beginning to show signs of wear. Not a lot to report from yet another maiden over, beyond Malan again missing with an attempted cut.
15th over: England 36-1 (Crawley 18, Malan 3) Captain Cummins shows he isn't afraid to hook himself when he's below-par, inviting Scott Boland to improve on his Test bowling average of 7.86. The Victorian is soon on a reasonable line and length, and he's almost gifted a wicket when Crawley fails to time a pull that cannons off an edge into his pads. Another maiden, the sixth of the innings.
14th over: England 36-1 (Crawley 18, Malan 3) Starc is hurling down missiles full and straight to Malan, and they're tailing into the left-hander a fraction from over the wicket… until the wider sucker ball that the English batter fails to cut without moving his feet. Maiden.
13th over: England 36-1 (Crawley 18, Malan 3) Cummins hasn't hit a groove quite yet today, and he allows Malan to move off nought with a simple push off his pads. Another leak down the leg-side brings a further run. Uncharacteristic from the skipper.
12th over: England 33-1 (Crawley 18, Malan 0) Starc, with his tail up, in this gloom, is menacing. Crawley is ill at ease, and after allowing a delivery to crash into his thigh guard he is crunched on his left hand by a delivery that spits off a length. His reaction – that instinctive removal of the glove and body movement as though he'd been stung by a bee – is never a good sign. Out comes the physio with some tablets. He also has a good fiddle with the batsman's hand and there doesn't look to be anything broken, so Crawley continues. Not only does he continue, he shows some serious mettle, rocking back and slapping an imperious pull for four over midwicket. That was a thrilling shot.
11th over: England 29-1 (Crawley 14, Malan 0) Is that another drop!? Harris just fails to hold on at short-leg, diving high to his right, after the ball ricochets off Crawley's thigh guard. Everyone is convinced there was an inside edge onto thigh guard, making it a catching opportunity. Cummins has been short or length to Crawley this morning, and as soon as he pitches full the Englishman drives handsomely for four through the covers, then clips neatly through long-on for three.
10th over: England 22-1 (Crawley 7, Malan 0) As I was saying, that drop was unlikely to be costly… Starc is steaming in, his knees lifting a few inches higher off the ground each stride with the adrenaline that comes with such a dramatic dismissal, and it's Dawid Malan that has to face up. His opening ball is a brute that climbs on a length, but thereafter the line leaks down the leg-side.
WICKET! Hameed b Starc 6 (England 22-1)
Ugly for Hameed. The English opener's stumps are a splintered mess. Starc fast and full and straight, and Hameed just missed it. There was some movement off the pitch, turning a good length delivery into a pearler, but even so, that was ghastly batting.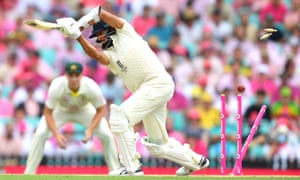 Updated

9th over: England 22-0 (Hameed 6, Crawley 7) Cummins again finds enough movement off the pitch to beat Crawley's outside edge with the English opener committed to a forward defensive. Otherwise it's an over a little on the short side that Crawley is content to watch through to Carey's gloves for a maiden.
8th over: England 22-0 (Hameed 6, Crawley 7) DROP! And a bad one too from Alex Carey. Routine outside edge from Hameed, playing tentatively forward outside his off stump, and the Australian gloveman failed to hold on diving one handed in front of first slip David Warner, who was ready to pouch the effort at waist height. Hameed punishes the error with a well-timed square drive for four. It's unlikely to be costly, but that's the kind of error Australia have done well to avoid this series.
Updated

7th over: England 18-0 (Hameed 2, Crawley 7) Lovely cricket. Pat Cummins's first delivery of the day is over-pitched and Crawley pushes it elegantly down the ground. Marnus Labuschagne gave chase and put in a magnificent sliding dive to prevent the ball touching the rope – but it was to no avail as England ran four anyway. Cummins almost exacted his revenge a couple of balls later but after kissing the seam, his length delivery wobbles just wide of Crawley's outside edge.
"One of the many reasons why England are so poor is second chance runs scored (i.e. runs after a drop or other second chance, such as out off a no-ball) emails David Keech. "I don't have any stats to back it up but it seems like whenever England drop someone they go on to add massive runs. E.g. Khawaja over 100 added after being dropped. In contrast whenever an England batter gets a second chance they get out anyway just a few balls later. Let's see what happens with Crawley after being out off a no-ball. Anybody got any data to back up or disprove my gut feel?" I would also like to see any data available on this gut feel.
6th over: England 14-0 (Hameed 2, Crawley 3) Mitchell Starc begins full and straight to Zak Crawley in murky, floodlit conditions at the SCG. The Englishman is composed, then drags a pull down to fine-leg to open the scoring for the day. Hameed's first delivery is a very tight leave outside off stump, the opener accurately predicting Starc would not generate any in-swing from over the wicket. The crowd is into this early, which is always a nice hubbub to hear.
The two sides are now in their whites, both XIs wearing baggy pink caps, all of which are up for auction.