Green leads Khawaja back out and we go again.
In case you haven't heard, Sam Billings is currently driving from Queensland to Sydney after being called up by England after the injuries to Jos Buttler, Jonny Bairstow and Ben Stokes. Billings, Kent's captain who has been playing in the Big Bash, was supposed to fly home on Friday, ahead of England's T20 tour of the Caribbean. He'll need to rock up with a negative PCR and then isolate before being allowed in the bubble and presumably playing at Hobart.
TEA – Australia lead by 271
48th over: Australia 148-4 (Khawaja 35, Green 25) Joe Root bowls the last over before tea – finishing with a bouncer! Khawaja ducks, Pope takes it with a surprised right glove, Khawaja grins and so does Root. They all saunter off for tea – advantage Australia, but England have been plucky. Time to put the coffee on, back shortly.
47th over: Australia 148-4 (Khawaja 35, Green 25) Green and Khawaja pick up three from Leach, Green looking increasingly at ease.
Updated

46th over: Australia 145-4 (Khawaja 36, Green 23) We've reached the empire building stage of the innings now -as Khawaja picks up a couple through point. The Barmy Army are singing to themselves, and the rest of the ground – not packed – are waiting for the final act. The lead 268.
45th over: Australia 143-4 (Khawaja 32, Green 23) "With Leach bowling so nicely," says Gower… and he is. Everything just has more of a spring to it, from the rhythm of his run-up, to the way he twirls the ball in his hands. Australia pick up three.
44th over: Australia 140-4 (Khawaja 29, Green 23) Anderson replaces Wood, who busted 90mph throughout that quick burst. And, most uncharacteristically, Anderson leaks runs as Green dispatches him for two successive boundaries, one straight back ticking his toes, and another lofted over midwicket.
43rd over: Australia 132-4 (Khawaja 29, Green 15) Overton sprints round the boundary and stops a Green boundary with a launch and a dive. Good 12th man action as Leach wheels through another over.
42nd over: Australia 128-4 (Khawaja 28, Green 12)Wood pounds one into the pitch and it rises up, up, and the diminutive Pope, deputising for Buttler, has no chance of reaching it.The next fizzes past Green's outside edge, and the next, but still no reward. Even the effervescent Wood looks a little doleful. Australia's lead reaches 250 which, realistically, is already too much for this England to chase, especially carrying injuries to Buttler and Bairstow. But might they see a day and a bit of batting out? If it rains a bit? I wonder how much longer Cummins will bat for.
Updated

41st over: Australia 122-4 (Khawaja 26, Green 12) More Leach control.
Updated

40th over: Australia 121-4 (Khawaja 26, Green 12) Khawaja swivels and pulls handsomely as Wood takes over from Broad, away to the rope. Then the ball flies off Green's glove (?) to and then past Stokes at third slip who either can't reach the ball because of his injury, or clutches his side afterwards because the attempt has hurt him. England starting to resemble a field hospital.
39th over: Australia 112-4 (Khawaja 21, Green 8) Leach again, mojo bubbling, floats the ball and Green defends.
38th over: Australia 110-4 (Khawaja 21, Green 6)From the balcony, Bairstow in bearded glory, arms folded, watches. Earlier pictures showed him with a huge splint on his thumb. Khawaja picks up a couple with a punchy push.
An email from yesterday that the guys didn't have time to put up, from Kathy Phillips. "I had the joy of spending yesterday at the SCG with my English friend. We had plenty of time during the rain delays to discuss the current state of English cricket and he had some interesting observations…since he moved to Sydney he's noticed that many of the local parks have cricket nets that are in constant use all year by the local school kids. He seemed to think access to cricket was easier here and played by more people. He also noted that everywhere he goes, the cricket is either on the TV or radio and most people follow it, whereas back home it's not on free to air TV and less visible. He felt there needed to be more done to build back from the grassroots. Food for thought.
"Then Broad started taking wickets and Usman got his century so we just went back to watching the cricket. It was a good day."
37th over: Australia 108-4 (Khawaja 19, Green 6) Leach turns the screw, a maiden, Green has a dart but only edges onto his own leg.
36th over: Australia 108-4 (Khawaja 19, Green 6) The sun bounces off the lovely green pavilion roof as Broad, wearing the air of a man whose been toiling in the pasture, bounds in. Dab, dab.
This is so true:
35th over: Australia 105-4 (Khawaja 19, Green 3) Thanks Sam, great stuff! Well well, and I'm going to say this while I can, but things have looked worse for England. Ben Stokes is breathing down Green's throat at silly point as Leach wheels in. Khawaja reverse-sweeps the last ball down for four.
34th over: Australia 99-4 (Khawaja 15, Green 1)
We think this is the last one before drinks, and Anderson gets the first one to jump markedly, as Green now takes one on the glove. Some "up and down" as the commentators would say now – Green is uncertain in coming forward to Anderson here. Green then digs a yorker out to midwicket, leaving Khawaja to negotiate the remainder. He makes the most of it, driving one past mid off that really should have been fielded. Wood again. Usman picks up another single behind square. That's drinks and that's me done, Tanya Aldred will take over now. Cheers for your company!
33rd over: Australia 95-4 (Khawaja 12, Green 1)
Khawaja reverses Leach for two to begin the over, and is happy to hang out defending on the front foot thereafter. He's getting well outside off stump to do so.
32nd over: Australia 93-4 (Khawaja 10, Green 1)
Anderson continues, he strikes Khawaja on the ribs with one that collects his glove on the way through. So he's short again and Khawaja pulls him for one into the onside, albeit mistimed. Green's on strike and immediately there's a funky short mid-on next to the non-striker. Everything else is defended on the front foot.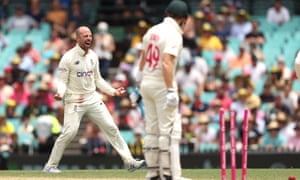 31st over: Australia 92-4 (Khawaja 9, Green 1)
Leach is bowling to Green and Green is ever-tentative in his forward defence. Every movement exaggerated, the hands seem hard. There's two men in close, and a slip. Green comes down the wicket and pushes for one to mid-off, he makes it. They needed him on strike there. Khawaja finds one with a thick outside edge through gully, which is vacant.
30th over: Australia 90-4 (Khawaja 8, Green 0)
It's Anderson, and after some defence Khawaja then plays one of those classic pull shots through mid-wicket for four. Could watch that all day. The rest are let go.
29th over: Australia 86-4 (Khawaja 4, Green 0)
Leach replaces Broad, and Smith flicks the first to deep mid-wicket. Khawaja does the same. Leach is employing the attacking angle of coming around the wicket. Feels like he is finally in the series. He then bowls Smith! Well! England creeping into the game here, Australia will not feel as though their lead is adequate enough to throw caution to the wind. England are only a wicket or two from being right back in it.
Updated

WICKET! Leach b Smith 23 (Australia 86-4)
Leach is around the wicket, Smith went back, it went straight on and took his stumps! Smith looks at the wicket, but he's been beaten there. Leach roars with delight.
28th over: Australia 84-3 (Smith 22, Khawaja 3)
Wood is in rapidly and wide of the crease and bounces Khawaja straight away, but it flies well over his head. Don't get me wrong, it'd still be very scary. Wood is then full and Khawaja is caught on the crease, defending, perhaps anticipating more short stuff. The next is full and Khawaja leans on it, doing enough to gain two down the ground. Wood cranks it up, and Khawaja is back just in time to defend. Khawaja looks uncomfortable there.
27th over: Australia 82-3 (Smith 22, Khawaja 1)
Broad hits Smith on the pad in the same manner he did in the first innings (where he offered no shot). The appeal is not serious but it looked close! There's another half shout for caught behind with one that flicked Smith's pad on the way through. Safe to say Broad is bowling very straight to Smith. He tries something wider and Smith cracks him through extra cover for four. As textbook as Smith can look. That finishes the over.
26th over: Australia 78-3 (Smith 18, Khawaja 1)
Smith is back and across to Wood and pushing him past mid wicket for an easy two. Wood falls over in the process. He hooks the next thunderously behind square for six! It pierced square leg and deep backward. Wow. A punter with liquor in hand offered his left hand to catch it, instead it slammed into his wrist. Not a drop spilled. Smith then finds another single behind square. Khawaja is happy to defend the rest. Australia now lead by 200.
25th over: Australia 69-3 (Smith 9, Khawaja 1)
Khawaja is watchful here, leaving Broad outside off before tentatively ducking a bouncer. Broad returns to the dry line, Khawaja leaves. Little bit of a new complexion here – Cameron Green is next … can England make inroads? Australia won't want to make another mistake. Khawaja's approach reflects it. It's a maiden.
24th over: Australia 69-3 (Smith 9, Khawaja 1)
Wood screams one past Khawaja's bat first up. Pope goes up, more out of happiness than real appeal. Wood could be "on" here. He's 2/17 from 5, every batter looks rushed. Khawaja is late on a pull shot that beats him underneath his bat. He eventually squeezes one past leg gully to long leg.
23rd over: Australia 68-3 (Smith 8, Khawaja 0)
It's Broad to accompany Wood from the Randwick End – Smith drives to drive him past mid on straight away, but it's well stopped. There's a leg gully and one slip, and plenty of space otherwise. Broad pulls his length back and Smith defends accordingly.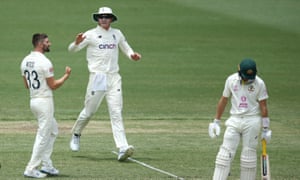 22nd over: Australia 68-3 (Smith 8, Khawaja 0)
Wood starts, and Marnus tucks him around the corner for one. Can England strike? Can England hold Australia? Smith nudges a single of his own to the onside. Wood then removes Labuschagne, bringing Khawaja to the wicket. The first one leaps at him and Khawaja does well to ride it into the ground. Welcome. The next carries high to Pope – a great start to the session for England.
Here's the BOM weather description for tomorrow: Cloudy. High (70%) chance of showers, most likely in the morning and early afternoon. The chance of a thunderstorm. Winds southerly 15 to 25 km/h becoming light in the late evening.
Updated

WICKET! Labuschagne c Pope b Wood 29 (Australia 69/3)
And again! Labuschagne tries to cut Wood, it's perhaps a bit close for it, and he edges him again! Marnus hangs around for a little bit, but it's out of disappointment. He has to go. Similar to previous dismissals.
Updated

Both teams are about to resume
Sydney's apparently bathed in sunshine, but there are storms on the way. Australia will have an hour or two here where they'll be looking for a hundred or so runs. If they're expecting to be rained off this afternoon, how many will they want before it comes?
Has Marcus Harris found his ceiling, and is it high enough?
Moeen doing Moeen things over on BT Sport apparently…
Lunch: Australia 66/2 – Australia lead by 188 runs
England started brightly as Jonny Bairstow picked up where left off, immediately looking for runs in a bid to grab as many as possible before the second new ball. Jack Leach briefly shone before top edging a slog sweep, as did Stuart Broad as England made their way to 294, highlighted by Bairstow's outstanding 113. Scott Boland finished with 4 for the innings and a damaged average.
Somewhat disappointingly, Joe Root assumed a defensive posture just a few overs into Australia's second innings, which has rendered much of the innings an exercise in easy singles and doubles, punctuated by the odd boundary and wicket. Warner succumbed to Wood early, Harris and Labuschagne partnered for 40 comfortable runs, and Smith has taken up the role in the spirit of quick runs. Australia leads by 188 with 8 wickets in hand, and it's now a question of scoring pace, targets, and weather. I'll bring you any odds and ends that pop up during lunch, and will then see you upon the resumption.
21st over: Australia 66-2 (Labuschagne 28, Smith 8)
Marnus gets a single, then Smith demonstrates minimal interest in waiting this one out, he's down the pitch, lofting Leach expansively over his head, one bounce four. Leach is obviously flatter thereafter. Marnus then plays an uppish, flat-batted swipe through cover – it was loose. He gets three in the end.
That's lunch.
20th over: Australia 57-2 (Labuschagne 24, Smith 3)
We're probably two overs from lunch, 12.30pm local time, and Anderson continues. Again, he hangs it outside off-stump, no doubt aiming to stem any potential tide of runs. One before lunch would be extremely handy for the visitors. Last ball of the over sees Anderson attack the stumps, and Marnus clips it confidently out to square leg for one. There's one left before the break.
From Max: "Have we left out one of our best batsmen out, only to the realise he's one of our best keeper-gloveman?"
19th over: Australia 56-2 (Labuschagne 23, Smith 3)
So Smith picks up where Harris departed. He's busy early, whipping Leach through mid wicket for two, punching one to deep cover for one. Marnus returns the favour with one, and Smith defends the rest.
Updated

WICKET! Harris c Pope b Leach 27 (Australia 56-2)
Leach gets Harris! Leach goes wide on the crease, changing the angle, and Harris chases an expansive drive through cover. He nicks it and Pope takes a good catch behind the stumps. Harris fails to convert again.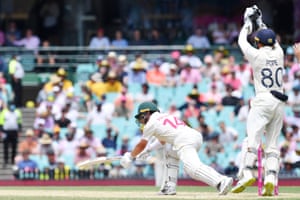 Updated

18th over: Australia 52-1 (Harris 27, Labuschagne 22)
Anderson is dry, and so is Australia. Harris gets one to fine leg.
17th over: Australia 51-1 (Harris 26, Labuschagne 22)
Root is at slip, Hameed is at short leg, and there are few others nearby for Leach's bowling. It's an in-out configuration in the extreme. They are mitigating a risk that Harris has never posed. Why not see if he's prepared to hit over the top? And now Harris is away with one. That's the over.
16th over: Australia 50-1 (Harris 25, Labuschagne 22)
Anderson is hanging it outside off, Marnus is initially happy to leave it. Eventually he strokes him from the back foot through point for two. Labuschagne content to play from the back foot here, and late. These will be 20 of the easiest Test runs he's scored.
From Colum: "England have to attack but the field is so conservative. Too many men in the deep when we have to take wickets. Even the first ball of the Australia innings flew through a vacant second slip. Jack Leach has to step up and help the quicks rotate. At least he's bowling over the wicket to the left-handers which shows more intent."
Indeed.
15th over: Australia 47-1 (Harris 24, Labuschagne 20)
Leach is encouragingly giving it some air to begin here, and Marnus eventually gets one down to deep mid wicket for one. Harris waits in his crease and there's a mini leading edge as a result. Harris corrects, uses his feet and finds another single to long on. Marnus then rocks back and punches to the vacant off-side for two. Four off the over. Zero pressure here. The definition of milking.
14th over: Australia 43-1 (Harris 23, Labuschagne 17)
Wood appears to have left the field – will try and get to the bottom of it. Let's face it, I'll check Twitter, just as you may do. So Anderson replaces him, and the field's much the same, albeit with one extra slip. A miserly start from Anderson here – what's new? Lots of defending, lots of leaving. The pitch, to these eyes, feels docile. Harris drives Anderson down the ground and gets two to finish the over. We're in a new phase of the match here.
13th over: Australia 41-1 (Harris 21, Labuschagne 17)
Leach to Marnus. One. Leach to Harris. One. It's curious that Root has been keen to prevent boundaries before Australia looked to be hitting them. Marnus then goes to back cut one, it takes the outside edge and flies past Root for four. It wasn't catchable. Labuschagne then cuts hard and only Hameeds strong left hand prevents another boundary. One. Leach to Harris. One to long on. Eight from it.
12th over: Australia 33-1 (Harris 19, Labuschagne 11)
Wood continues, and Harris works another to deep square for one. Labuschagne swivels a pull around the corner for two next up. He hits the third even better – also a pull – but it's straight to Hameed on the boundary, so just one. Harris then takes another to deep square. So we can now see that the field has spread, Root has assumed a defensive posture, and there are singles aplenty. Marnus gets another. This over has gone 1, 2, 1, 1, 1, with one to go. I feel England should've gone for more wickets before this approach. Harris defends the last.
11th over: Australia 27-1 (Harris 17, Labuschagne 7)
Root introduces Leach, who starts with the altogether more aggressive left arm around orientation. Leach on in the 11th over is interesting. Marnus gets a single and Leach is over the wicket to Harris. Hameed is under the lid at short leg. Otherwise there are four men out. A hedge-betting field of ever there was one. Harris gets a single himself to deep mid-wicket. His last to Marnus catches him on the crease but his bat is down quickly enough. Two from the over, Leach is away.
10th over: Australia 25-1 (Harris 16, Labuschagne 6)
Wood storms in to Labuschagne, he leaves on the back foot, owing to Wood's pace. He's back and across and punching the next but he can't middle it. Wood's pace seems to have him caught back on the crease at present. Nevertheless Root takes gully out and places a mid wicket…who fields the next ball. I – an internet civilian – would have kept two slips. Marnus takes a single through square leg. Harris then helps himself to a boundary as Wood offers him an over-the-wicket half-volley on leg stump. Thanks, and drinks.
Updated

9th over: Australia 20-1 (Harris 12, Labuschagne 5)
Labuschagne punches his first down the ground, straight to mid off, but he hit it crisply. The next is flicked excellently through mid-wicket for three. Too full from Broad, no doubt he'll pull the length back now. He does so as Harris defends to square leg. Broad is now over the wicket to Harris, and the opener is driving down the ground for two – full again from Broad. It should've been fielded by Wood, fresh from a 40m sprint to save the last shot. He'll need a breather. Harris is solid in defence to finish the over. Australia lead by 142 runs.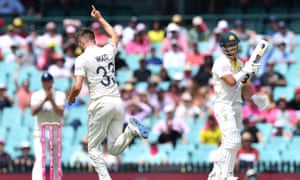 8th over: Australia 15-1 (Harris 10, Labuschagne 2)
So it's Wood to Labuschagne. Wood's managed to remove him cheaply at last few starts, and well he should – Wood's deserved wickets for his enterprise this series. The ball is slapping into Pope's gloves, there's great carry. Labuschagne tucks the next off his hip and it bounces just short of leg gully. There's the plan. Wood goes higher and Labuschagne pulls, controlled enough, out to the man at deep backward square. He gets one.
7th over: Australia 14-1 (Harris 10, Labuschagne 1)
Harris is doing his jump-hop and defending Broad early. A thick outside edge squirts past Hameed at backward point, who should have stopped it cleanly at first opportunity. Labuschagne is on strike now. He pushes a single forward of point straight away, easy as you like. Harris leaves the last, which takes off a little after it pitches.
6th over: Australia 12-1 (Harris 9, Labuschagne 0)
Wood replaces Broad – will we see fireworks? To this author's eye Warner has struggled with Wood's pace, regularly shifting his back foot away upon delivery. The first hits high on Harris' bat, the second worked around the corner for one. It brings Warner on strike. His back foot doesn't move, but he does punch Wood correctly and squarely through point for two. Wood might crank it up now. Warner's high on his toes and defending. The next, he nicks! And that's the end of that.
Email from John: "Going by commentators' view of Ollie Pope's prowess as a keeper, have we perhaps seen the last test of Buttler's career? Injury has done for a lot of players lately." I'd call that an early crow! Will be interesting to see what happens with Buttler's red ball career from here.
WICKET! Warner c Pope b Wood 3
Warner edges and it's taken comfortably by Pope. He's hung his bat out at it, a half/check drive, and you can hear him say "oh no" upon nicking it. Wood was wide of the crease. Simple.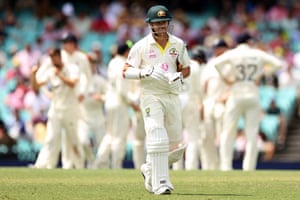 Updated

5th over: Australia 9-0 (Harris 8, Warner 1)
Anderson attacks the channel accurately, who is looking for runs but can't succeed. Anderson stays there, and so does Warner. Maiden. A circumspect start from Australia, so far.
4th over: Australia 9-0 (Harris 8, Warner 1)
Warner's off the mark with a drive down the ground that Broad gets a hand to, preventing more runs. Half shout for one down the leg side, Broad isn't interested and hotspot shows it flicked the thigh pad. He elicits a leading edge from Harris to finish the over, but it runs safely to backward point.