55th over: England 150-3 (Root 23, Stokes 34) Here is a bowling change. Cummins takes Starc off and brings back Scott Boland, the man with the fairytale Test career. He's immaculate as usual: five testing balls to Root in the channel, followed by one that jags away and just evades the outside edge.
54th over: England 150-3 (Root 23, Stokes 34) Still no bowling change from Cummins since the resumption, which isn't like him. Green doesn't repay his faith in this over, repeatedly dropping too short. Root plays a measured cut for two, then a less measured one that would bring four if it wasn't rudely interrupted by a flying save from Nathan Lyon in the gully. Root then plays a watchful pull for a single. He does play at a lot of deliveries, which makes great viewing, but it has got him into trouble on all of his trips to Australia.
53rd over: England 147-3 (Root 20, Stokes 34) Starc continues and it's Root's turn to get a harmless edge, a thick one off the inside of the bat as he pushes to leg. He takes a single, leaving Stokes to help himself to a straight punch for two and a pull for four. These pulls are making him grimace, but he's still playing them. Is he dreaming of a win?
52nd over: England 140-3 (Root 19, Stokes 28) Green overpitches for once and Stokes cashes in with a crunching cover drive for four. He has batted better here, with a side strain, than he did in the first three Tests when fully fit.
Halfway to the draw!
51st over: England 136-3 (Root 19, Stokes 24) Starc finds a sliver of movement, squares Stokes up and draws a leading edge, but it goes down not up. Stokes replies with a rock-solid push to mid-on for a single. And England have made it to halfway in terms of overs – while, of course, reserving the right to collapse at any time.
50th over: England 135-3 (Root 19, Stokes 23) Green to Root: dot, dot, dot… maiden. And England have made it to 50 overs, with another 52 to go if the rain stays away.
49th over: England 135-3 (Root 19, Stokes 23) Stokes, facing Starc for the first time in this spell, gets a short ball and thinks he might as well pull it for six. Say what you like about England, they've won the battle of the sixes in this match – the score is England 8, Australia 5. As yet, though, neither side has managed a seven.
Updated

48th over: England 129-3 (Root 19, Stokes 17) At the other end, Cummins goes with Cameron Green, so it's height at both ends. Three singles and no alarms off his over.
47th over: England 126-3 (Root 17, Stokes 16) It's Mitchell Starc to reopen the proceedings. He's mostly outside off stump, where many batsmen would leave him alone – but not Joe Root, who lives and dies by the glide. He lives by it now, helping himself to a four, nice and controlled.

Sam Perry
46th over: England 126-3 (Root 17, Stokes 16)
Starc begins the second session and he's tight enough until he finally offers Root some width, and the English captain obliges with a boundary.
It will be Tim de Lisle next! Thanks for having me.
Updated

Play to recommence at 2.10pm local
That's in nine minutes
Isla on England's supposed 0% chance of winning via CricViz: Hi Sam, as a mathematician, can I say that's possible, if there's no decimal point and numbers behind the decimal point. That is: a probability of less than 0.5%. Though as a cricket fan I'd give England a slightly higher probability of winning – still remember Butcher's big hundred chasing down 370-odd, and Crawley seems to be in the mood. Cheers, Isla
From Gavin: "The ground PA is now playing "I can see clearly now, the rain has gone". So I think we'll be playing again soon."
Forecast looking good for the next few hours
Covers are coming off!
I'll comb around for information about resumption of play, and any overs lost…
Possibly getting a little better at the SCG
But the big covers are still on…
From James: "Hi Pez, as this match is heading towards a draw, obliterating my excitement about the continuing march towards 5-0, I've just had a random thought hit me in the early stages of a rain delay. Why, when recounting the score of a series, do we omit the draws from the results? Cricket seems unique among the sports in saying that only a game won by either teams is a 'result.' If a draw happened, was it not the result of the game, did the game never happen, is it to be technically legally forgotten? If this match were a draw, couldn't the series be rightfully recorded as being at 3-0-1? I think it's purely an aesthetic thing because upon writing that out it looks yuck."
I think your suspicion is correct, James. It looks yuck. And it's otherwise implicit, provided one knows how many Tests were in the series. On top of that, would we need to delineate between rain-affected draws, abandoned matches, and plain draws?
Then again, maybe cricket needs more numbers?
From Steve Gannon at 1.20pm, via email: "1:20 pm. It's the edge of a shower with clear radar from behind. Shouldn't be long. Steve."
Hope you're right, Steve!
In fact, "so dark the groundsmen or already laying out the hessian," says Adam Collins
LUNCH: England 122-3 (Root 13, Stokes 16)
An even session where both sides will feel in with a shout for their desired result.
We've seen a little bit of variable bounce, but not too much so as to make life unmanageable for the visitors. After the early loss of Hameed, soon followed by Malan, we were treated to some of the most glorious batting from Zak Crawley, who truly looked world beating as he carved Cummins, Starc, Boland and co to all parts. At one point he had 77 from 91 runs, before Cameron Green – it is fair to say – outsmarted him with a yorker. To that point Crawley had been imperious on both front and back foot, but particularly the latter.
Root and Stokes have since steadied proceedings, looking solid enough against Australia's rotating quintet. Mitchell Starc has been held back, while the others have maintained their lines and lengths, anticipating some misbehaviour in the pitch. The ghosts of India last year are still there, most evident when Alex Carey recorded another very take-able dropped chance, which will rightly provoke conversation about his keeping credentials.
Three wickets is a decent return for most sessions of cricket, but there is plenty of hope for England. This one looks like it's going deep. Strap in (or, enjoy it however you like, really).
Updated

45th over: England 122-3 (Root 13, Stokes 16)
Root pushes the second into the gap on the off-side, so Stokes will be left to see it out. Lyon gets one to slide in to Stokes' pads, but he gets enough bat on it to be safe. There's a hold up in play while Lyon brings deep square in. Stokes charges(!) but Lyon drags down and Stokes defends. One to go. It's the straight one, Stokes handles it. Lyon and Root laugh. Lunch!
44th over: England 121-3 (Root 12, Stokes 16)
Root is struck again on the inside thigh. Only just! Root falls forward a little and walks away, talking to himself, crouching over (as you do). Cummins really knows how to find Root's nether areas. The next looks like Root has almost chopped on, but it's stuck between his legs. Root then misses out on tickling one fine – Cummins is very straight to him. I wonder if the wide one will come. It doesn't, it's a fraction short, and Root helps a pull shot down to deep backward square for one. It's a no-ball too. Cummins bounces Stokes, Stokes pulls it hard, and Boland misfields it into the boundary. He's done that a good two or three times. Fifth ball, Stokes clips it to Harris at short leg but Harris drops it! It was straight to him – hit firmly enough – but in, then out. He tried to clutch it into the breadbasket, wrapping his arms and legs around it, but it found its way out. One more 'till lunch.
Damian: "Morning. I agree with Mr. Parker about Mr. Starbuck's coffee, but I'd like to let him know that I always found that the fur round his hood was a poor design choice when it got really damp.Yours etc, Damian"
44th over: England 115-3 (Root 11, Stokes 12)
Lyon v Stokes. There are two dots, so something has to change, doesn't it? No. Stokes defends again. Lyon will want to keep him here. So he's quick and flat, and Stokes defends. This is where Stokes tries something different. Lyon tosses up, and I am wrong, Stokes defends. Was a half-volley. Stokes then misses out on a short and wide one. A maiden. Quick over.
43rd over: England 115-3 (Root 11, Stokes 12)
Root just evades an LBW, squeezing the bottom corner of his bat onto one that would've been plumb otherwise. Cummins is picking things up here, 12 minutes to lunch. It's Stokes now, and he's leaving before receiving a leg bye to deep square. Root then pulls Cummins handsomely, sublimely, over backward square for four. He digs out the last.
42nd over: England 109-3 (Root 6, Stokes 12)
Stokes won't stay in one spot, it's cat and mouse etc. He comes down the wicket and wristily flicks it past Lyon for two. He's down again but Lyon sees it, dragging it down, and Stokes has to lunge to defend. Good from Stokes – he doesn't want Lyon to settle.
From Thomas Bancroft: I am cricket and whisky loving jazz musician who has played a gig at the Bunnahabhain Distillery in the Islay Jazz Festival. It is pronounced Boon-a-Haar-ven with the last 2 syllables rhyming with the name Marvin. After a gig a few of us were taken up to the distillery managers office and given a nip of 40 year old special cask Bunnahabhain. Jazz, test cricket, and single malt – all similar engaging pursuits. Best, Tom Bancroft (he left his number but I have deleted it)
41st over: England 107-3 (Root 6, Stokes 10)
Now to Cummins v Root, there's one that takes the pad down the leg side, Carey falls to his left to collect it, but none of it is real – just a flick of the pad. We're now seeing vistas of a brooding Sydney sky – it looks stormy. The Penrith boy shoots for the yorker but Root is there, just looking a little stuck at the crease. A single would be handy. Always strange when Root is kept quiet. But he is here, and it's a maiden.
40th over: England 107-3 (Root 6, Stokes 10)
Lyon is bowling to Stokes, and that's what he'd want. Actually, who am I to know what Lyon would want? It's a meditation in flight versus forward defence. Stokes then mixes it up and goes back to the same ball. So far, so safe. Then Lyon goes quicker, flatter, straighter – Stokes is onto it. That's the killer ball. Lyon starts the dance again but Stokes is having none of it – he's across and sweeping him over square leg for four. A good waltz.
39th over: England 103-3 (Root 6, Stokes 6)
Cummins is into the attack now. His first comes back a fraction and Root inside edges onto his pad. "Ohh!" exclaim the Australians. Root is more watchful on the next, his head staying down through the stroke that little bit longer. Cummins challenges fourth stump again. Root is half-in, half-out, he open faces it to gully. Root corrects again. Same line, but straighter in defence down the ground. I like this: we had Green v Crawley earlier on the undercard, now Cummins v Root as the headliner. Cummins gets another to seam in and take Root's inside thigh. Hope his has a pad there – I'm sure he does. Cummins making it talk.
38th over: England 103-3 (Root 6, Stokes 6)
Two close-in for Root now, facing Lyon. Root works him to deep mid-wicket. One now close-in for Stokes. Lyon is quick and flat. Stokes can't find a gap.
37th over: England 102-3 (Root 5, Stokes 6)
It's Green – second slip (Smith) moves to leg gully. They want to bowl straight. Green is around the wicket, angling in at Stokes' off stump. Stokes then squeezes one off the inside edge just past the grasp of Harris at short leg. He gets two. Stokes challenged by Green here.
36th over: England 100-3 (Root 5, Stokes 4)
Lyon's back on. He's straight on the money. Root is so far happy to sit back, though one expects he'll use his feet soon. I'm still sad Crawley is out. Lyon's giving it air here, Root is not accepting. It goes like that for the back half of the over.
From Alex Gartland: Hi Sam, Can't help but think that Zak Crawley has bought himself a few more games he maybe doesn't deserve due to that knock. Is it worth persisting with someone who looks fantastic once every 5-10 innings but consistently fails to make scores? It might be a James Vince situation all over again. Cheers
Who else should have his spot? The young man is good enough, his competitors are less so. He needs to remain now. That innings was multiple standard deviations higher than anything any rival for his spot has been able to muster.
35th over: England 100-3 (Root 5, Stokes 4)
Green almost takes Stokes' off stump in much the same way he did in the first innings when the bail failed to move. Stokes replies by straight driving him for four – he is unmoved after the stroke. Always looks better that way. He defends the next and takes one hand off the bat – he looks pained.
From johnstarbuck: Sam, I do understand the point about the so-called coffee shops 'Starbucks'' and their feeble merchandise but would point out that they have nothing to do with my family. It was a significantly weak appropriation of the character Mr Starbuck, First Mate of the Peaquod in 'Moby-Dick' (an American classic) who was something of a Cassandra in that he forecast doom and gloom and was proven right even though no-one believed him. The number of times I've had to point this out …. John Starbuck PS Pity about Crawley but well done for having a go.
Thank you johnstarbuck
34th over: England 96-3 (Root 5, Stokes 0)
Boland looks dangerous again. He's back of a length and Root is watchful. Sorry, but that was a remarkable innings from Crawley – completely at odds with the rhythm of the innings. There's no hundred for him but it deeply underscored his ability. Green v Crawley: we'll probably see that one again. A maiden for Boland, by the way.
33rd over: England 96-3 (Root 5, Stokes 0)
Root moves off a pair courtesy of a leg stump half-volley from Green. Nicely clipped, it's finer than fine leg. Get Root off strike though, I want to watch Crawley. Thank you, Joe – have one to square leg. Can you believe it? He gets a short and wide delivery, but Crawley finds Lyon at point. Is that his first mistake? Possibly, because he makes another, Green yorking him gloriously to remove him. Told you they needed to pitch it up!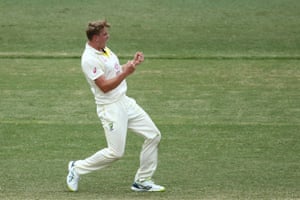 Updated

WICKET! Crawley LBW Green 77 (England 96-3)
Yorker, it gets under his bat, and he's LBW! Crawley reviews extremely unsuccessfully, it's as out as it gets. That was a sensational knock from Crawley, well played young man. Then again, he's probably thrown away a double tonne.
Updated

32nd over: England 91-2 (Crawley 77, Root 0)
Why do they keep bowling on his hip? Who cares? Another flicked boundary for Crawley, this time from Boland's bowling. I'd call that one "caressed". He's 77 from 91 runs. So Australia has a short leg and short square leg. Why would you keep bowling there? Starve him! I'm a guy on the computer.
31st over: England 87-2 (Crawley 73, Root 0)
Green is retained, so Lyon's been removed after a wicket. Interesting. Crawley – you guessed it – whips him through mid wicket for four. He then gets a single ("good cricket!") and Root sees off the rest.