01:09
"Winning the last toss and losing this one already looks like defining England's series (give or take some dropped catches, flakey batting and front foot no-balls)," writes Brian Withington. "Any thoughts on how England can be given some sort of handicapping advantage to even things up more? (Assuming Australia losing their captain and another front line bowler doesn't prove sufficient…)"
01:08
Lunch – Australia 302 for 5
I'm just going to call it lunch, having lunch at 4:30 in the afternoon is perfectly civilised. A better session for England! It started with great frustration as Marnus Labuschagne was given yet more lives and raised his century, but after finally prising him out the session tally was 80 for 3. Relatively even, with the score already past 300, but at least there was some evenness in the contest.
The cheering aspect for Australia will be that SPD Smith is still there, immovable, implacable, coming for the world's tired bowlers.
01:05
116th over: Australia 302-5 (Smith 55, Carey 5) Stokes with the last over before the long break. Around the wicket, bouncing the left-hander, too short to make him do anything but duck. Gets a bit fuller and has Carey fencing, past the inside edge into Buttler's gloves. Short again, pulled hard on the bounce to leg slip, well stopped.
That's lunch, or dinner time for babies, or whatever it is.
01:00
115th over: Australia 302-5 (Smith 55, Carey 5) Root bowling around the wicket to Carey, off-breaks to a left-hander. Conventional field, three either side of the wicket on the single, one slip, boundary riders at point and square leg. Carey drops the ball to point with soft hands and bolts a single. For Smith, the deep point comes up and a second outfielder is added behind square leg.
00:57
114th over: Australia 301-5 (Smith 55, Carey 4) Off the mark with confidence is Carey, hooking Stokes between the two deep fielders behind square, past a tumbling Malan on the rope for four. A leg bye follows. Stokes looks very weary after he bowls the last ball of the over to Smith.
00:53
113th over: Australia 296-5 (Smith 55, Carey 0) Root burns through another over, with a leg slip in place for Smith, who nudges a ball past that man for two.
00:52
112th over: Australia 294-5 (Smith 53, Carey 0) As Ali Martin has just noted next to me, some unconvincing middle-order performances from Australia both here and Brisbane have only underlined the cost of England giving so many chances to Warner and Labuschagne in those matches. It's Alex Carey's turn for a hometown welcome.
00:46
WICKET! Green b Stokes 2, Australia 294-5
He didn't leave it, but he does make another low score! Bowled again! A beauty from Stokes. He finally pitches a ball up. It's on line for middle stump but just shapes away a touch. Enough to beat the edge of a misplaced defensive stroke, and not so much that it beats the outside of off stump. Lovely piece of bowling.
Updated

00:44
111th over: Australia 291-4 (Smith 52, Green 0) It was evident immediately that Head wanted a piece of the part-time spinner. That desire brings him undone. Cameron Green comes to the middle and manages to not leave a ball that hits his stumps first ball.
00:41
WICKET! Head b Root 18, Australia 291-4
Talk about self-inflicted! Head charges at Joe Root and basically yorks himself. He reaches the ball as a full toss, realises it's too full, then has a panicked slog across the line at it. Misses, I think it clips his thigh, and goes back onto the stumps.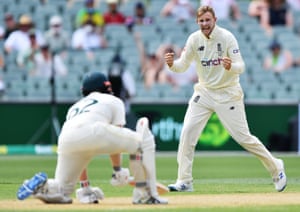 Updated

00:39
Half century! Smith 51 from 135 balls
110th over: Australia 287-3 (Smith 52, Head 14) The bouncer field is: deep third, backward point, extra cover, midwicket, square leg, short leg, deep square leg, deep backward square, long leg. That's six-three in favour of the leg side. Truly bizarre stuff. Stokes goes short, and Smith top-edges over the keeper for four to raise his fifty.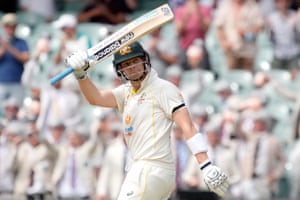 Updated

00:34
109th over: Australia 280-3 (Smith 47, Head 12) Steve Smith is getting into his stride! A touch short from Root, and Smith lashes a cut shot behind point. A bit top-edgy, but there was enough space out there to make it low risk.
The greediest run-scorer in contemporary Test cricket hasn't had much time at the table in the last couple of years, but now he's eyeing another milestone.
00:31
108th over: Australia 274-3 (Smith 42, Head 11) Stokes is the other bowling change, and he's going to try the bombardment tactic like yesterday. Doesn't work, as Smith lashes a wide short one over backward point, then an even higher bouncer gets called wide. Smith pulls a single to follow.
00:28
107th over: Australia 268-3 (Smith 37, Head 11) A couple of stutters from Head, as Root comes on for an over of spin. The batter wants to attack but isn't in the right spot to do so. Interesting. How many runs can Root make if he has to bowl all day?
00:21
106th over: Australia 268-3 (Smith 37, Head 11) Score revision on the previous post, hit refresh if you can't see it. Robinson bowling from the Riverbank End to Smith, who is happy to keep blocking. He gets a thick outside edge from one such shot, past gully along the ground for a couple of runs, then picks off a straighter ball through midwicket for two more. Make that three! Smith really has the foot down, going to the danger end as Broad throws back, and he demands that Head come through as well. Almost got to the non-striker's end before Head had left. Robinson strays down leg with the final ball, off Head's thigh pad for three leg byes.
00:16
105th over: Australia 260-3 (Smith 32, Head 11) Almost a slip catch! Head edges Chris Woakes into the cordon, in front of Burns on the bounce. Only by a few inches as Burns lunges forward. Head escapes strike from the next ball, then Smith immediately rotates it back. Head plays a big shot off the back foot but hits it too straight to mid-off.
Score revision! That last ball is an overstep. From the seventh ball, Head does get his flay away, between point and gully for four!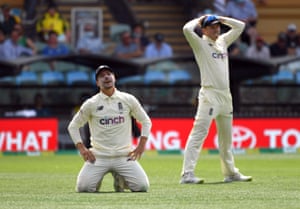 Updated

00:12
104th over: Australia 253-3 (Smith 31, Head 6) Smith is happy to bat out Robinson, leaving him alone and forcing the bowler to go straighter. Nothing from the over, and in this heat, each over is a serious effort.
In the commentary boxes, with the windows open, the heat is blasting through like it's an open fan-forced oven door.

00:08
103rd over: Australia 253-3 (Smith 31, Head 6) Woakes after drinks, bowling around the wicket to Head and largely short of a length. Head punches away a couple of runs through the covers.
00:00
102nd over: Australia 251-3 (Smith 31, Head 4) There's the first false shot from Smith, edging to second slip on the bounce. Rory Burns dives across to stop it, but unsurprisingly fumbles the take. Manages not to give away a run. Robinson has been the most threatening bowler, even with his front foot. Then England go up for an appeal as Smith leaves a ball that clips his thigh pad. Not sure if they wanted lbw or an edge. Anything. No dice.
Good one to follow! Finally pitched up, and Robinson gets a bit of movement past the outside edge. Genuine defensive shot from Smith beaten. Only two slips awaiting a catch. Nothing coming though. Drinks.
23:57
101st over: Australia 251-3 (Smith 31, Head 4) Woakes on to bowl, and as he did to Warner yesterday, he offers short width early to the left-hander. Head crashes it away through point.
23:54
100th over: Australia 247-3 (Smith 31, Head 0) While Labuschagne frustrated England by his reprieves, at least he looked fallible. Smith has been faultless. Robinson's in-ducker? He gets bat behind it. The away-goer? Steps across and watches it. Anything loose he has dispatched. A big score in the offing. Another extra in that over as Robinson bowls another no-ball.
23:50
"Good morning Geoff from icy Piedmont," writes Finbar Anslow. "Confidently expect Australia to get rolled for just over 300 before England's openers knock up half of that for the first wicket. Might just go back to sleep at this point, looking forwards to dreams coming true."
Updated

23:50
99th over: Australia 246-3 (Smith 31, Head 0) A couple of bouncers from Broad to Smith, and Smith takes him on, hooking between the two leg-side boundary riders for four. Broad has a leg slip in now, and while bowling at Smith's hip, gets a deflection that bounces in front of Hameed in that position. Who fumbles it for a leg bye.
23:47
98th over: Australia 241-3 (Smith 27, Head 0) Huge hometown ovation for Travis Head as he comes to the middle.
23:46
WICKET! Labuschagne lbw Robinson 103, Australia 241-3
The torture ends for England. Bad misjudgement from Labuschagne, he leaves a Robinson delivery expecting it to go past his off stump, but instead it cuts back to hit him just about in line. The line of impact doesn't matter because he hasn't offered a shot. Of course he reviews immediately, because he's Marnus. Hoping it might be going over the stumps. It's hitting flush at the top of middle.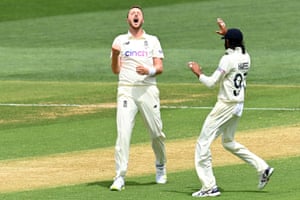 Updated

23:38
97th over: Australia 241-2 (Labuschagne 103, Smith 27) Labuschagne's charmed life continues! Pulls a short ball from Broad through square leg, airborne. The fielder throws out a hand at the ball, which is travelling, and maybe just gets a fingertip to it as it flies by. The fielder, inevitably, is Robinson.
23:33
96th over: Australia 240-2 (Labuschagne 102, Smith 27) I know I wrote last night about luck, and I know it's easy to get stuck into the losing team, but…
these England players don't deserve to win a Test match. They can't do the most fundamental things right. Self-inflicted.

A leg bye follows, meaning two extras are the only scoreboard adjustment resulting from the over.
23:30
You are not going to believe this
I had just written out the post for the wicket. At last, in anticlimactic fashion. Ollie Robinson on to bowl, decent line, Marnus pokes, low edge that Buttler takes falling to his right. At last, something going for England. Labuschagne walks off. All the way to the boundary.
Then gets turned around. NO BALL. Only by a whisker. It takes a zoomed in replay. But there is no part of Robinson's shoe behind the line.
England. What even are you.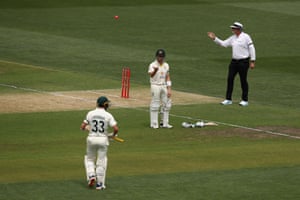 Updated

23:27
95th over: Australia 238-2 (Labuschagne 102, Smith 27) Broad to Smith, no run from the over…
23:23
"Not really sure what todays play will bring," writes Stephen Holliday. "Then again, I'm in Toronto, watching over my washing machine that refuses to drain but I still expect my clothes to be dry before England get to bat. So maybe it's all in the suds."
23:22
Century! Marnus Labuschagne 100 from 287 balls
94th over: Australia 238-2 (Labuschagne 102, Smith 27) Oof! When is the last time James Anderson knocked a bat out of someone's hand? And with a delivery at 127 kph, too. Labuschagne may – outlandish I know – have added some spice to that. A slightly shorter ball that hits up near the gloves and his bat goes flying.
Two balls later though, he opens the face and steers Anderson away, between slip and gully, for four! There it is. A highly patient innings, in between two huge slices of luck. He follows it up with a brace through midwicket.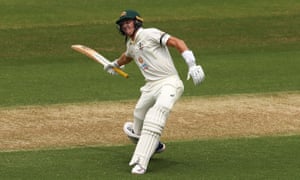 Updated

23:17
93rd over: Australia 232-2 (Labuschagne 96, Smith 27) Broad carries on with his tight line, but as soon as there's an error, Smith leaps on it again. A length floated full, and Smith sends it flowing through the covers for four. Broad gestures to himself in annoyance about where the delivery went wrong.
23:13
92nd over: Australia 228-2 (Labuschagne 96, Smith 23) Anderson tries a couple of short ones early. Smith pulls a single, Labuschagne pulls the bat inside the line. Two slips, a fairly deep gully, cover, mid-off, mid-on, midwicket, square leg, long leg.
23:08
91st over: Australia 227-2 (Labuschagne 96, Smith 22) Stuart Broad from the Cathedral End, with the grass hill and the giant fig trees behind him. (The figs… no wonder Kevin Pietersen liked batting here so much.) He's over the wicket to the right-handed Labuschagne, after spending so much of yesterday around the wicket. And already it doesn't look difficult for Labuschagne to block a couple, glance a single.
This was a brutal toss to lose.
23:04
90th over: Australia 225-2 (Labuschagne 95, Smith 22) A couple of leaves from Smith to begin, one pulling the bat inside the line in a way that draws a vocal response from some of the crowd. Anderson strays wide with one ball, and Smith stands up tall to force off the back foot behind point for four! Decisive shot.
Updated

22:58
Tell you what, the specialist spinner will have a lot to do in these conditions…
Sorry?
22:57
The last bits of warm-up equipment get ferried off the ground. A couple of kids holding flags wait at the end of the players' races. A few uninterested security guards dot the boundary. The big remote-control camera buggy prowls the outfield like a dystopian sentinel. Black Mirror cricket is about to begin.
22:55
The walk down through Adelaide's central city to the ground was slightly more intense today than yesterday. Wouldn't fancy bowling 30 overs of pace in it.
22:54
Weather update: as already mentioned, it's hot – the mercury has now tipped 37C. But there's also some cloud cover today, and it's blustery out there in the middle.
22:51
Think it's fair to say there will be a degree of scrutiny on Jos Buttler today, not least from the Adelaide crowd, who were on his back towards the end of play yesterday after he spilled that late chance to send Labuschagne packing.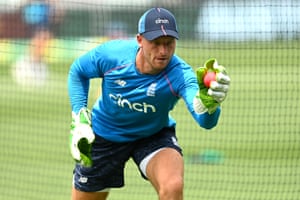 22:45
And excitingly, here is our Guardian Ashes Daily podcast again: a collaboration between Emma, me, and Adam Collins.
22:40
I wrote about Australia largely getting away with losing a captain to Covid restrictions on the first morning.
22:34
Emma John naturally harked back to Bodyline, in 1932-1933. Starring Hugo Weaving as Douglas Jardine.
22:12
Right, what have we got for you from day one at Adelaide? Here's the match wrap from Ali Martin, who was tapping away next to me in the press box.
22:10
Preamble

Geoff Lemon
Good Adelaide afternoon to every other timezone around the world. The very early hours of the morning in the UK, well done if you're awake for this. It was a long slow grind of a day yesterday, with no pink-ball dynamite moments, some very careful Australian batting, and two more dropped catches that drove stakes into the hearts of England.
The only thing is to hope that today might be different, but today is currently 36.3C and it's only early afternoon. England's bowlers have some very tough work ahead of them, and will have to pray that some early exchanges go their way. They have a ball only nine overs old, so that may offer something.
The score is Australia 221-2, with Labuschagne to resume, thanks to dual fortune, on 95, and Smith on 18.