21:17
"Hi Rob," says Steph Cooper. "It's difficult to know quite how county pitches can be improved while the bulk of the county championship matches are played in the Spring. The Summer seems to be given over to the one-day game, including T20 and now the dreadful Hundred."
Yes, it's clearly not a quick fix, but I'd imagine it's something the ECB will change over the next 3-4 years. And if they don't, the hell with them. The closest thing England have to a quick fix is to take Eoin Morgan for dinner and pick his gigantic brain.
21:15
Pat Cummins summed up Australia's performance perfectly: relentless when they needed to be – when it really mattered – and patient with the bat when the going got tough. The result isn't surprising, or even particularly exciting, but it's the manner of it that has so many people smiling.
It's particularly impressive that Australia have demolished England without some key players: Josh Hazlewood missed two Tests and Cummins one, while Steve Smith, who pretty much decided the last two Ashes series off his own bat, missed out in a couple.
When the dust settles, we might remember this series for the subtle evolution of an established Australian team – that and Scott Boland's day in the sun. After only two Tests, Pat Cummins has given bowling captains a good name; Cameron Green already looks like Australia's best top-six allrounder since Keith Miller; Marnus Labuschagne has proven beyond even unreasonable doubt that his form isn't a fluke. It's become a cliche to say this isn't the greatest Australian team, and that's probably true, but it's still full of truly great players.
There are tougher tests to come next year, all of them on the subcontinent, but this has been nigh-on the perfect start for Cummins. The emergence of Green is so valuable with those series in mind, as it allows Australia to play three seamers and two spinners when necessary.
Updated

20:56
"Greentops last April (all in the first round of Championship matches): Kent 455, Northants 434, Essex 490, Worcestershire 475, Lancashire 407, Hampshire 612," writes Gary Naylor. "It's not the pitches that determine batting difficulty, it's whether the sun shines or not. The only thing wrong with the Championship is that they don't play enough matches with the sun out (ask Marnus Labuschagne and Travis Head)."
That's an interesting theory. Either way, I suspect 99.94 per cent of us agree that better batting conditions = better Test teams. It's probably no coincidence that New Zealand made a conscious effort to improve their pitches a few years ago.
20:49
"Totally agree that Root should not be captain," says Ben Skelton, "but who in this team is good enough to merit a guaranteed place and thereby qualify as a potential captain? Surely Anderson is too old. The only possible contender seems to be Stokes, but would he want the job?"
Of course he would, and he'll get it by default if Root resigns at the end of the series. Root, Stokes and maybe Robinson are the only players who are near certainties to be in the team throughout next summer. The Botham/Flintoff precedent isn't so disturbing now that he is an occasional bowler, and you'd expect him to be more inspirational than Root. But he's no Eoin Morgan – and even if he was, the system would still need fixing.
20:44
"My England team for the next Test," says William Vincent.
Laurel
Hardy
Morecambe
Root (c)
Wise
Little
Large
Marx G (w)
Robinson
Wood
Anderson
"Except, of course, that Robinson, Wood and Anderson will be rested for the more important fifth test and replaced by Marx H, French and Saunders."
20:38
"Here's a question: is there a moment/decision in recent years that led us here?" says Max Williams. "In less than a decade we've fallen from the world's number 1 team to, well, this. We celebrate the decisions that brought about eventual success – Morgan's impact on the ODI team post 2015 World Cup or the introduction of central contracts that helped create the 2005 Ashes side. Is there an inverse of those sliding door moments that resulted in this nadir (both series and 2021 as a whole)? Off the top of my head I'd say not giving the Test captaincy to Morgan after Cook resigned."
I'm not as clued up as some but I think this precedes 2015. Rob Key, who is really good on the subject, says that pitches in county cricket were getting much worse towards the end of his career. I have a feeling, though I'd need to LOOK AT THE GODDAMN DATA, that the system was already in decline when England were No1 in the world. That said, it certainly got worse once they made that Faustian pact to win the World Cup.
England are still the fourth or fifth best team in the world, which doesn't really compute after what we've seen in the last nine months. But they need a new captain, probably a new coach and certainly a change in the county system, especially the pitches.
Updated

20:30
Chris Silverwood, the England coach, has his say
"It's disappointing for us all, but I've got to give some credit to the Australian attack. That said, we have to find of competing and pushing back against them. We want to take something away from this series."
To be honest he's just spouting cliches, same as Joe Root in his post-match interviews. It's understandable in the circumstances – they both look a bit shell-shocked – but doesn't make for a great interview.
Updated

20:27
And here's an even happier Scott Boland
"[Can you believe what's happened?] Ha, no, not really. Coming here today, we thought we had a good chance of winning, but I didn't think it was gonna happen that quickly!
"I found out I'd be playing on Christmas Eve at about 5.30pm. Since then I've had great support from family, friends and teammates. I thought it would be really tough – it's a big step-up from anything I've played before, so I was just hoping to make a little bit of an impact.
"I'd like to thank the crowd so much for their support, I really appreciate it. [You've picked up the Mullagh Medal – what does this mean for indigenous Australia?] There was about 17 of us that went away a couple of years ago to commemorate the tour from 1868. We got to learn so much about that tour and what went on. My family would be very proud and I'm very proud to win this award."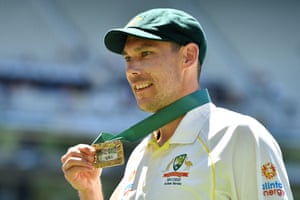 Updated

20:18
And here's a very happy Pat Cummins
"It's pretty insane [to be an Ashes-winning captain]. Just an awesome few weeks… I'm so proud of the group. Everything's clicked. I'm so happy for Scotty in front of his home crowd today. It's an amazing feeling.
"I think we've been relentless with bat and ball when we've had to be. The bowlers have turned up and owned that good area around the top of off stump. The batters have really earned their runs. They've left well and when the opportunity has presented itself, they've been brave and taken the game on.
"It's a great sign of the health of Australian cricket that we've got so many players to choose from. We were really confident Scotty would do well – maybe not six-for in four overs!"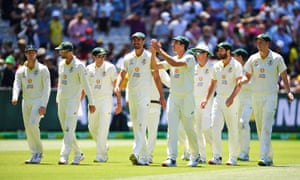 Updated

20:14
Joe Root speaks
"Credit to Australia, they blew us away last night and they've outplayed us in this series so far. We've got a lot of hard to work to do to make sure we come back strongly in the last two games.
"It's not ideal [the Covid outbreak in the camp] – I thought the way we bowled yesterday was outstanding, as good as we've been on this tour. We've just got to do things for longer. There have been small pockets [of playing well] but nowhere near long enough. We need to look at the next two games as a real opportunity to take something away from this tour."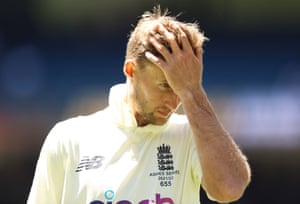 Updated

20:10
That was England's lowest total in Australia since 1902. There will be stats galore in the next few hours, most demonstrating the poverty of England's batting. Here's one: England's average of 24.13 runs per wicket in 2021 is their lowest in a calendar year since 1950.
20:06
England came to the ground today needing a miracle. Instead they were on the wrong end of a fairytale: Scott Boland, aged 32, took the cheapest debut five-for in Test history, and on his home ground as well. Look at these figures: 4-1-7-6. You'd have to be a seriously sour England fan not to find joy in that. (Also, given Boland's figures, there's a line about England being at sixes and sevens, but I can't make it work.)
Updated

20:02

Rob Smyth
Thanks Jonathan, morning everyone. If you had 15.4 overs in the sweep, congratulations. That's how long it took Australia to pick up the last six England wickets. The daft thing is that England started pretty well – Ben Stokes and Joe Root played positively and with authority until Stokes was cleaned up by a jaffa from Mitchell Starc. Once that happened, the rest was just admin.
Updated

19:56

Jonathan Howcroft
I'm off for a lie down in a cool room. Rob Smyth is here to conduct the post mortem.
19:55
But before the obituaries are drafted, let's celebrate Australia. This is a serious bowling unit. Potent, deep, superbly led by Pat Cummins. Scott Boland was the hero today, but they have all dovetailed brilliantly all series.
19:54
Anderson with the ball, Root with the bat, both deserve better. These are awfully dark days for English cricket.
19:51
Australia win by an innings and 14 runs – and retain the Ashes
Clinical from Australia. Abject from England.
Updated

19:50
WICKET! Anderson b Green 2 (England 68 all out)
Full. Straight. Anderson misses. Green hits. Wicket. Ashes.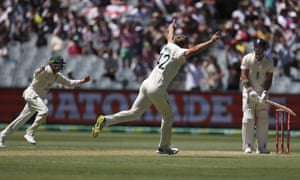 Updated

19:47
27th over: England 67-9 (Buttler 4, Anderson 2) Anderson sees off Boland's remaining deliveries, and milks a couple of runs for his troubles. Boland has figures of four overs, six for seven. Lol.
19:45
Rob Smyth (who is primed to take over here on the OBO) informs me that this is the best five-for on debut (and presumably the best six-for) in Test history by Boland.
6-15 Charlie Turner, 1886-87
5-15 Vernon Philander, 2011-12
Full list here.
19:43
WICKET! Robinson c b Boland 0 (England 65-9)
Make that a six-for! Another length delivery, thick edge from Robinson, straight to Labuschagne at third slip. Easy as that.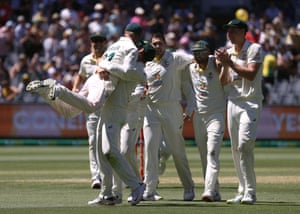 Updated

19:41
This is grim from England. Even accounting for all the mitigating factors, form, quality of Australia's attack etc etc, this is very very grim.
19:40
WICKET! Wood c&b Boland 0 (England 65-8)
Boland has a five-for on debut. Another length delivery, blocked back in his direction by Wood and the big Victorian holds onto the catch in his follow-through.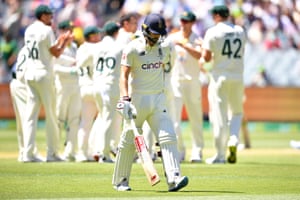 Updated

19:39
26th over: England 65-7 (Buttler 4, Wood 0) A rare bad ball from Green, allowing Buttler to punish a full toss through the covers for four.
"If Joe Root does step down as captain (and he definitively should) I'd make Jos Buttler captain," argues Peter Kelly. "Any runs he could get down the order would be a bonus. Would not want Stokes to take over captaincy. England seem to make their best batsman captain and it affects their batting. And there isn't enough strength in depth to cope with that. There isn't enough strength full stop. I think when Root steps down he can focus fully on his batting and he will end up as one of the top three run-scorers of all time."
19:36
25th over: England 61-7 (Buttler 0, Wood 0) Magnificent over from Boland, every ball probing. Wood was mostly an onlooker from his share over the spell after Root's dismissal. Four for five from three overs. Incredible figures on debut.
Updated

19:33
WICKET! Root c Warner b Boland 28 (England 61-7)
No records for Root. No miraculous escape for England. Just the continuation of a dream debut for Scott Boland. Perfect seam bowler's line and length from the Victorian, sending an RSVP for a cover drive that Root accepted a fraction late, sending the ball straight to David Warner at first slip. Who fancies a long lunch?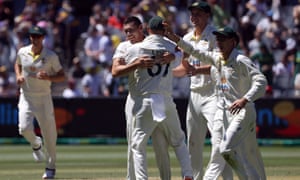 Updated

19:29
24th over: England 61-6 (Root 28, Buttler 0) Just a single to Root from Green's latest over. I'm a bit dazed, to be honest.
19:27
23rd over: England 60-6 (Root 27, Buttler 0) Boland rips his first delivery at Buttler past the outside edge. The MCG is alive once more. Not like last night, but the tempo is back, and England are on their knees.
Another block in the jenga tower of misery that is English cricket.