Whether you want to make Halloween special by pairing your costume with your pooch or just want to make your pet look adorable on All Hallows' Eve; there are plenty of DIY dog Halloween costumes to consider. Numerous dog costumes are available on the market but there's something exceptional about creating one by hand for your pal.
Listed below are a few easy DIY dog Halloween costume ideas for your pooch. Most of these can be made effortlessly using common supplies available at home. Therefore, they are ideal last-minute options in case you don't have much time at hand.
Ensure your pet's safety when designing a dog costume at home. For this, you need to make sure that the prepared costume is not heavy. Moreover, it does not restrict your pet's natural movements. If you see your dog is distressed or uneasy, take off the costume immediately.
Also Read: 10+ Celebrity Pet Halloween Costumes You Will Love to Steal
Keep your dog under close supervision when in a Halloween costume to ensure a spooky celebration without stress. Keeping these instructions in mind, let's jump into the exciting DIY dog Halloween costume ideas with their tutorials below.
If you are a proud owner of a lovely dog, here's a simplistic Halloween dog costume idea for your pooch. You can easily create a DIY Angel headband. Just choose your naughtier pup as the 'devil' for Halloween fun. Full Tutorial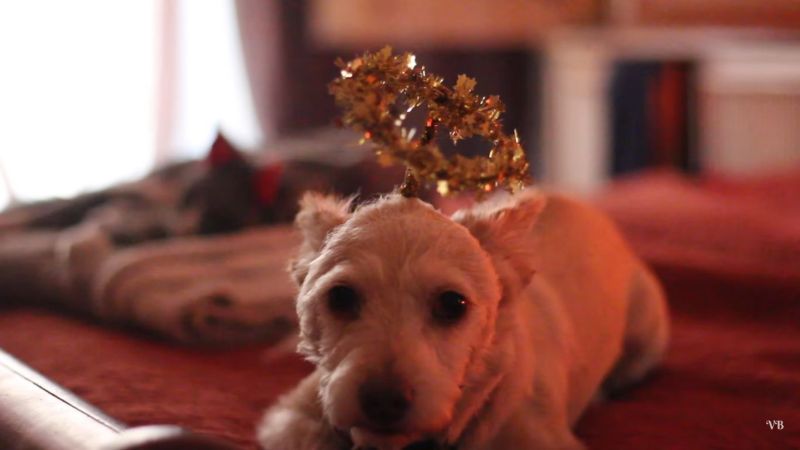 Are you super crunched for time? One of the perfect DIY dog Halloween costumes is the Beanie Baby Tag! If you are a 2000s kid, you'd be no stranger to the Beanie Baby. Plus, it's a quick DIY craft. Full Tutorial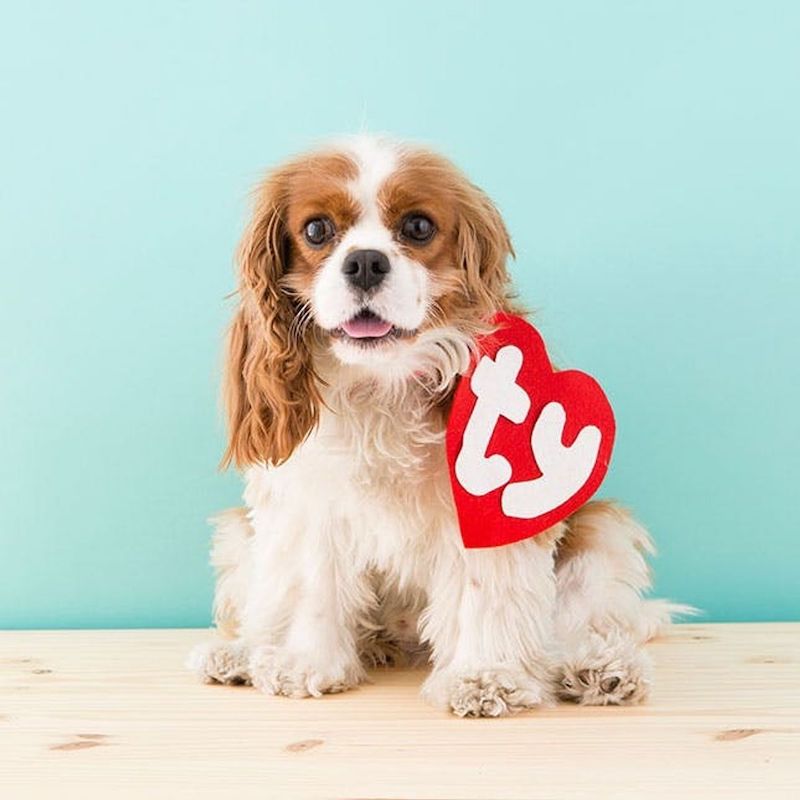 Turn your four-legged friend into the actual magical guy, Harry Pawter! This DIY dog costume won't take you over five minutes to curate. Moreover, it is very light for a pet to wear all day without feeling uncomfortable. Full Tutorial
How about DIY Bloody Bandana for your dog this Halloween? It would be a good solution for dogs who dislike wearing an overall costume. This DIY idea would suit dogs with light-colored fur. Full Tutorial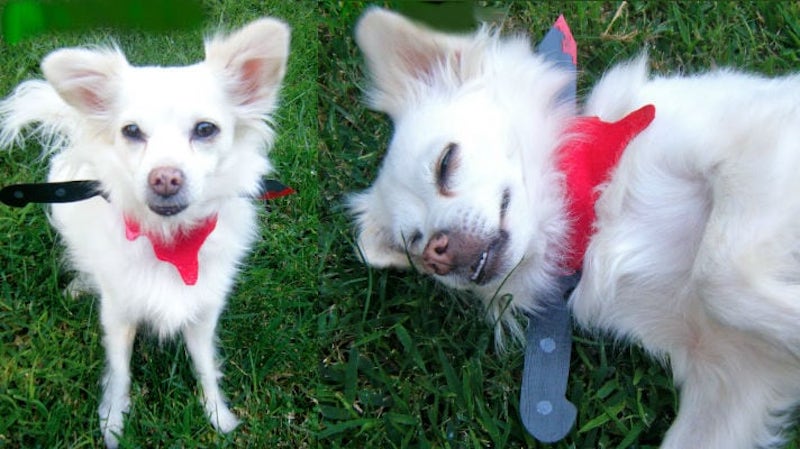 Are you a parent who's obsessed with books and movies with stories revolving around a serial killer? If so, why not give a fun take to your obsession with your dog's DIY 'Cereal' Killer Costume? The best part is that it is a very effortless DIY option to curate with an empty cereal box. Full Tutorial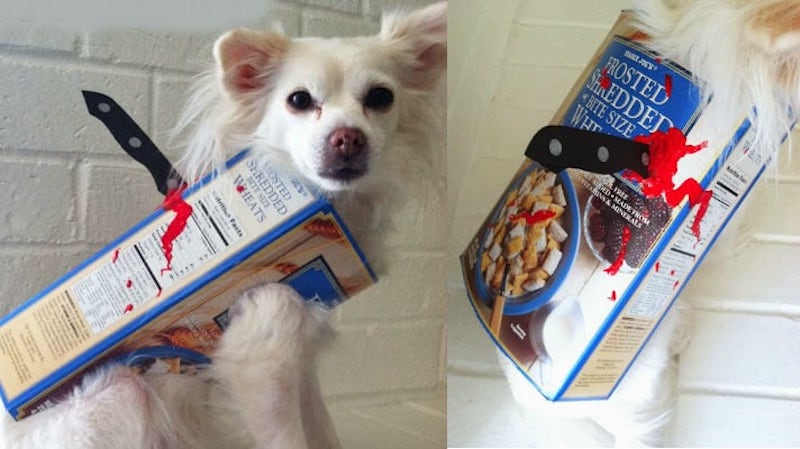 Turn your furry child into a Dog-osaurus this Halloween. It is another easy-to-create dinosaur dog costume. Best part? This costume is easy to scale for any dog size. All you require is a fabric to fit your dog. Full Tutorial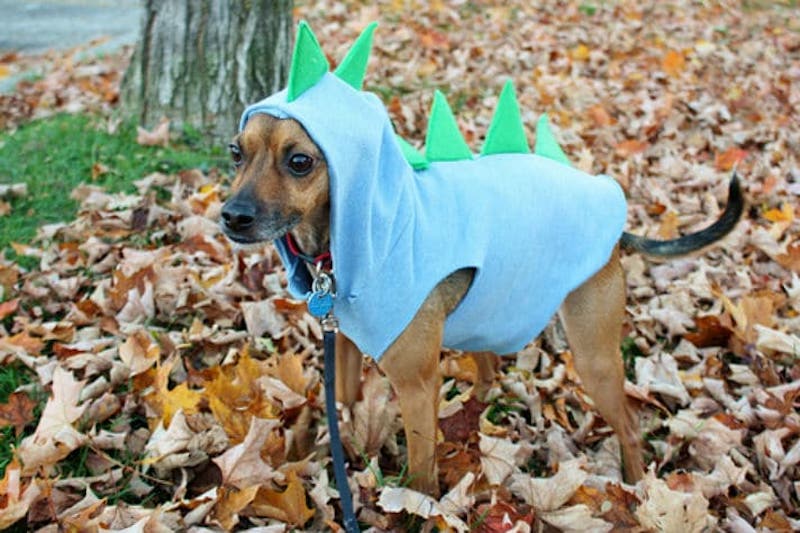 Another super fun DIY dog costume is Dog's Shark Fin. You need to outline the shape of the shark fin on a foam board and then cut it out. After that, paint the fin gray on either side. While this fin dries out, cut foam board in two rectangular shapes for making the bottom of the fin. Full Tutorial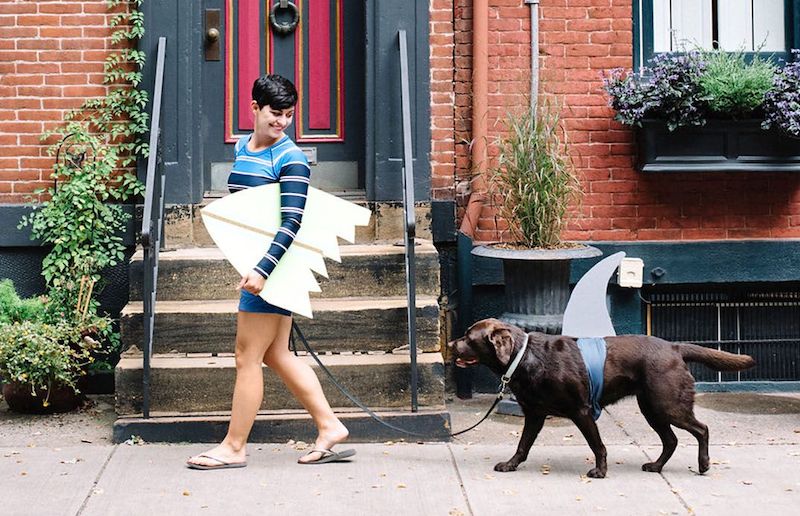 Halloween and spiders often go hand-in-hand. So, why not deck up your pet as a furry arachnid for the day? We're sure it will give heebie-jeebies to almost everyone who sees such a huge spider roaming around your house. Full Tutorial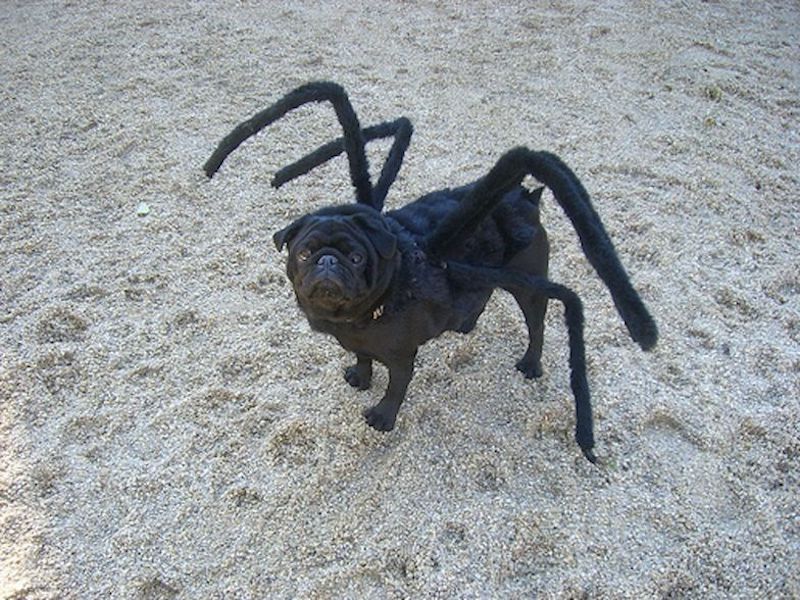 Here is an affordable DIY Jetpack Dog Costume for those who don't want to overspend money on a costume that your dog won't need after the holiday. This DIY idea seems as if it will take your dog over the moon during the spooky party. Full Tutorial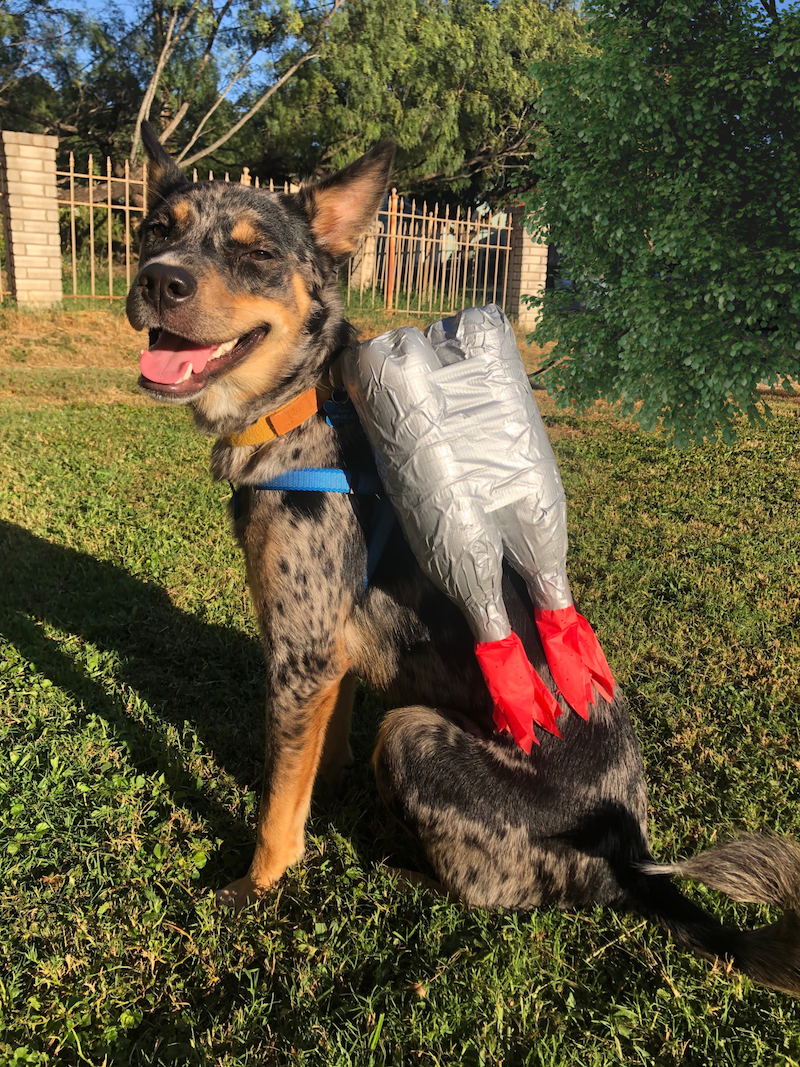 This DIY Bat Dog costume is perfect for black dogs and is very uncomplicated to prepare. All you need is hot glue, a dog's harness, and scissors to get the outcome. Full Tutorial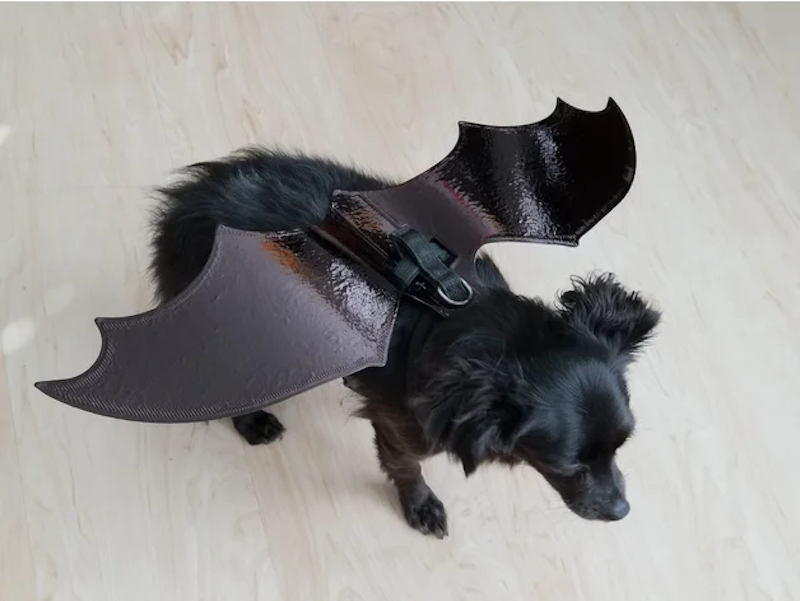 Want to match your Halloween costume with your pet? You can consider DIY Robber With Cash idea. You will dress up as a robber and your dog as a cash bag. It is super easy to create and also gives you a good excuse to bring your pooch to every Halloween party you attend. Full Tutorial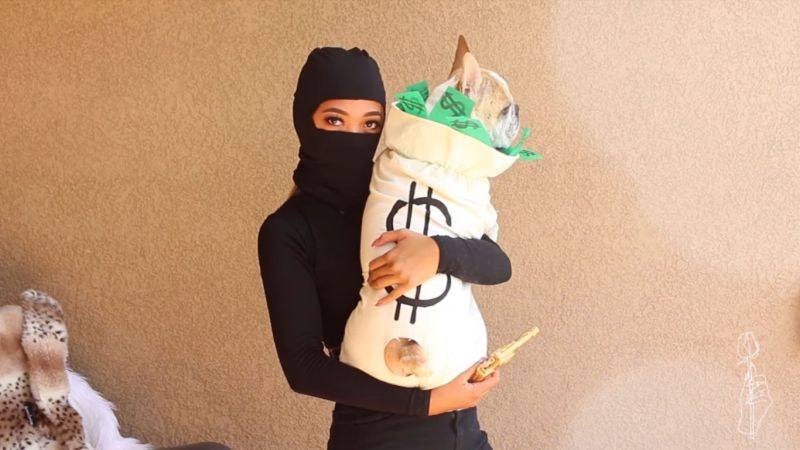 How about turning your dog into your favorite Starbucks Latte? You will need a few simple supplies and a Starbucks logo from any of the containers you've ordered in the past. Full Tutorial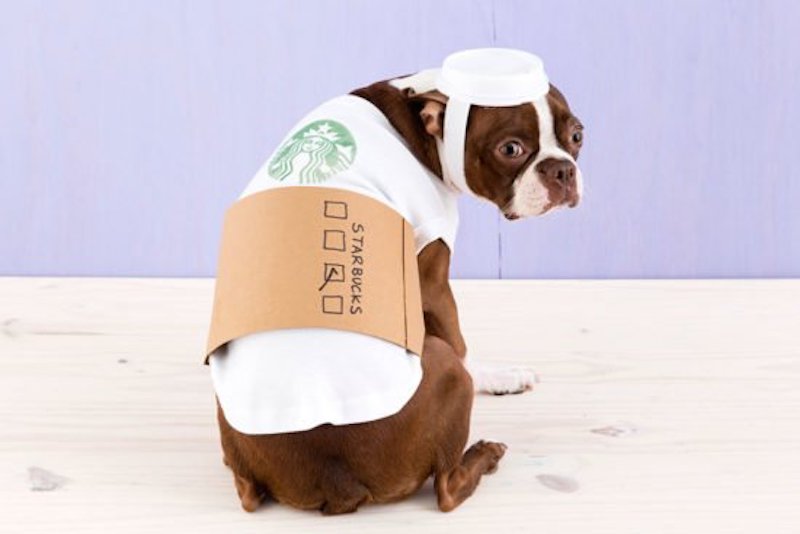 Dog Martini Halloween Costume is a cool idea to dress up your pup as your favorite cocktail. Here we're sharing a tutorial for a dog martini costume. But you can consider making a margarita or any other drink of choice. Full Tutorial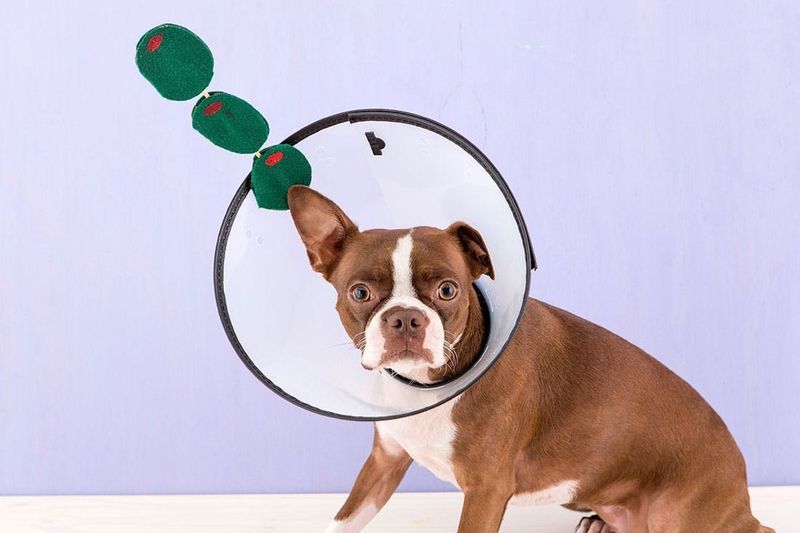 Summer is over, but don't give up on your love for pineapples. Try this fun DIY Dog Pineapple Costume to make your cute pooch look like a summer fruit. We're sure nobody will be able to keep their eyes off of your fruity pup. Full Tutorial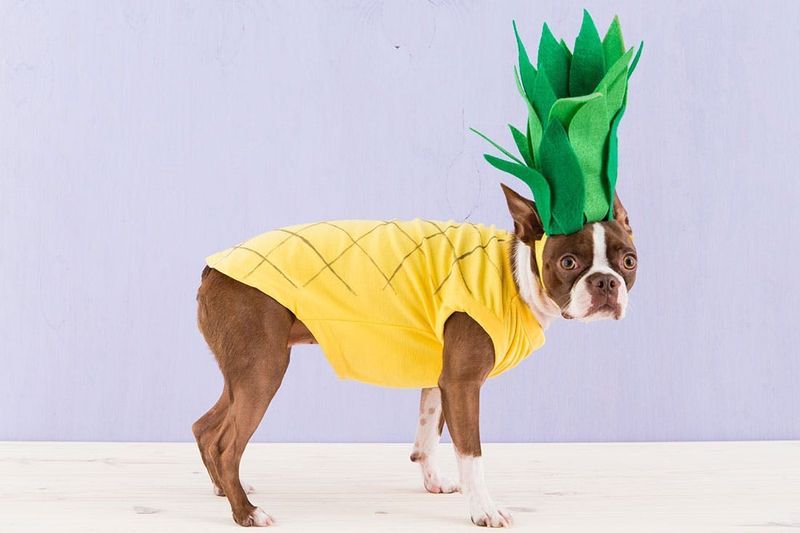 To prepare DIY Ghost Dog Costume, you need a simple white fabric to make a cape and a hat that appears like a scary dog ghost face. You may use a red nose to make it appear like The Nightmare Before Christmas' Zero ghost dog. Full Tutorial