Cakes, costumes and clowns might be the heart of any Halloween party but witches are its soul. I am not talking about any witch costumes that you might be planning to wear, rather I am discussing witch décor ideas that would spell spookiness to your home.
From adorning your front door with a witch wreath to allocating an enchanter animatronics in your backyard, here are some of the best witch-themed décor ideas that will help you decorate your space for Halloween, both inside and outside. Some of these items can be availed from online shopping stores while others are DIYs.
Wicked Witch Animatronics in Your Garden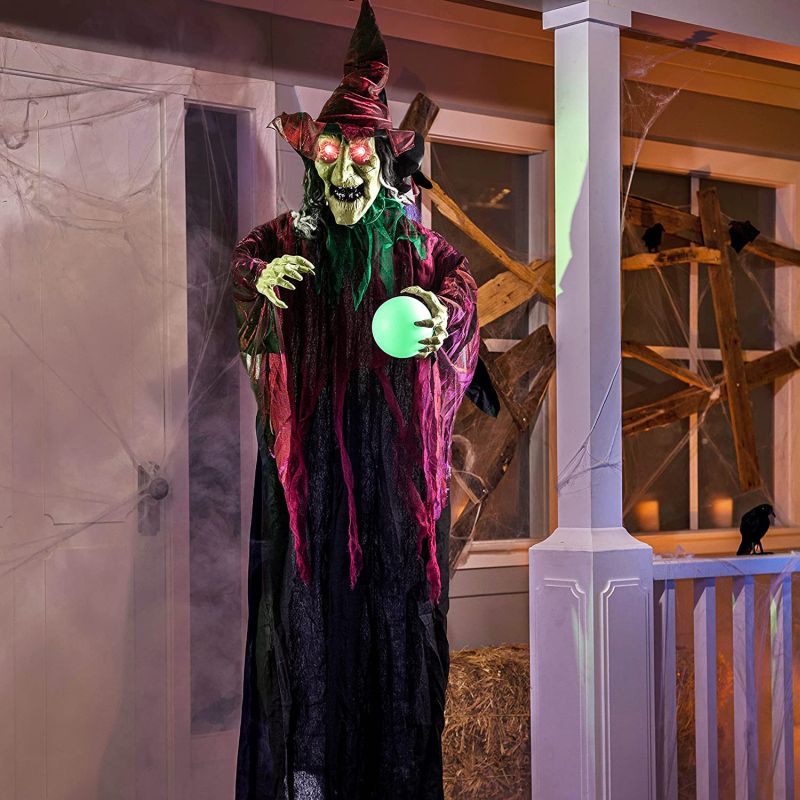 Just imagine the sight of a 5-ft tall witch animatronic standing upright in your garden. The adjustable arms and motorized head of the witch can scare anyone from a school-going kid to retirees. These animatronics are available on e-commerce sites like Amazon and Target. It is not affordable as other witch décor items but is worth trying considering it adds eeriness to your Halloween evening.
Witches Halloween String Lights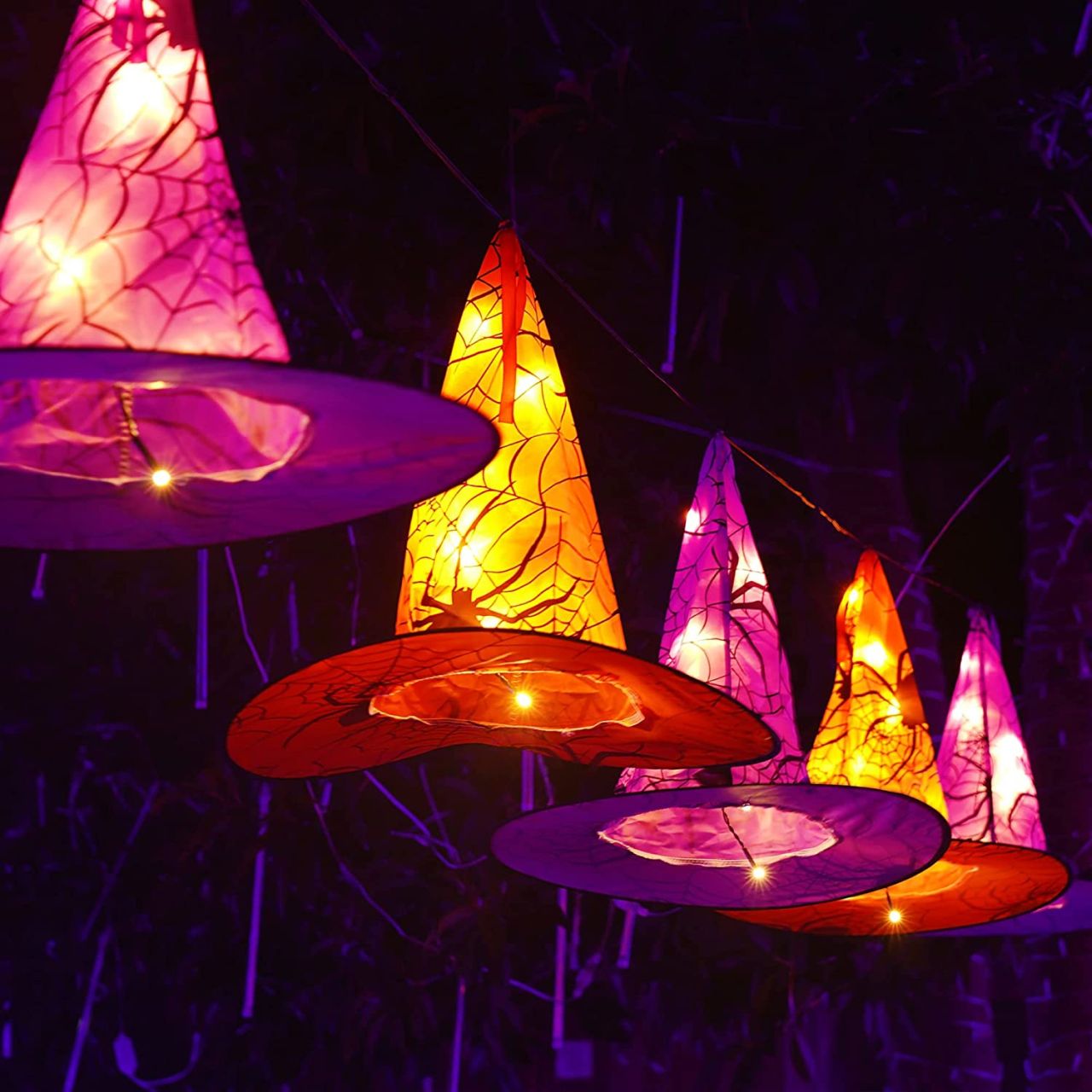 Adding witch-themed charm may not necessary revolve around adding brooms, hats and animatronics. It can also dive into lighting space. Another amazing idea that you should definitely look forward to trying this Halloween is adding Halloween string lights to your party. These string lights can either be in shape of a witch or witch hats.
Witch Legs Doormat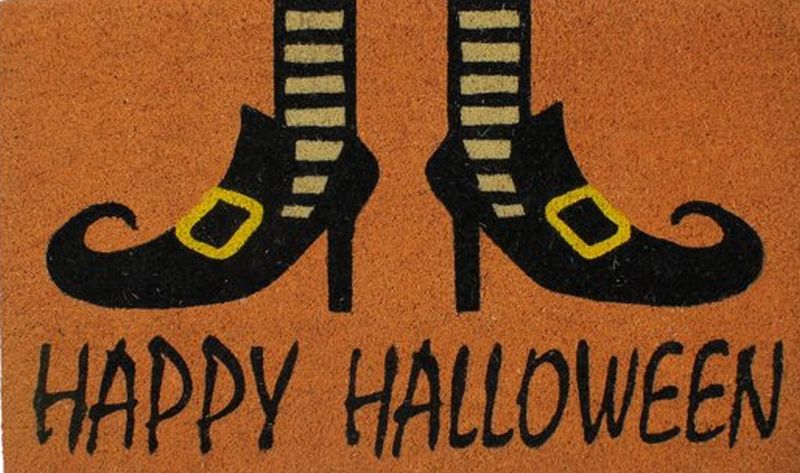 We all love having doormats, don't be? However, we do underestimate their importance and dismiss them as an unnecessary home décor item. But, a doormat does more than just trapping dirt and moisture. This Halloween season, it's probably time you revive doormats status to its old glory, where they were an important essential in home décor. A witch leg doormat will intrigue kids and will add a new flair to your All Hallows Eve party. Buy a witch leg doormat online or purchase one from a nearby store and lay down a bewitching welcome to your guest.
Witch Wreath Strung on Your Front Door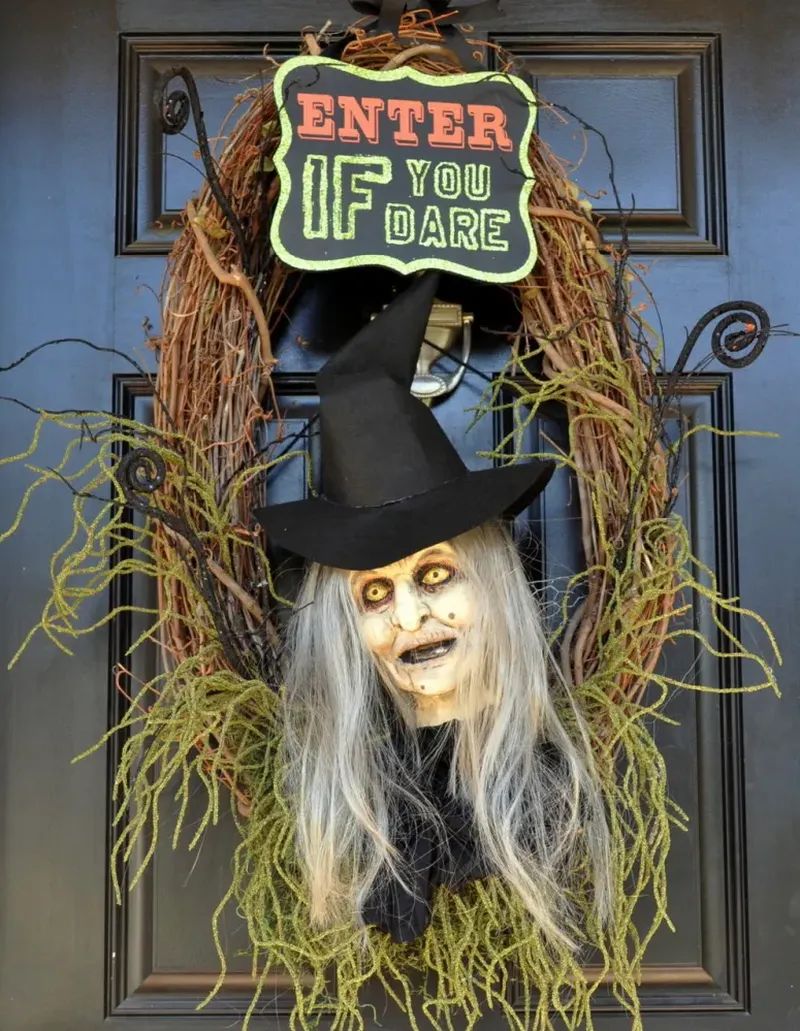 Whenever we talk of witch decoration for Halloween, it would be a downright insult to ignore wreaths. A witch wreath strung on your front door can freak any living soul. We have already presented a list of scary witch wreath ideas that will add spookiness to your house. In a nutshell, there is no better witch décor idea than a wreath to your front door or wherever you please.
Witch Halloween Inflatable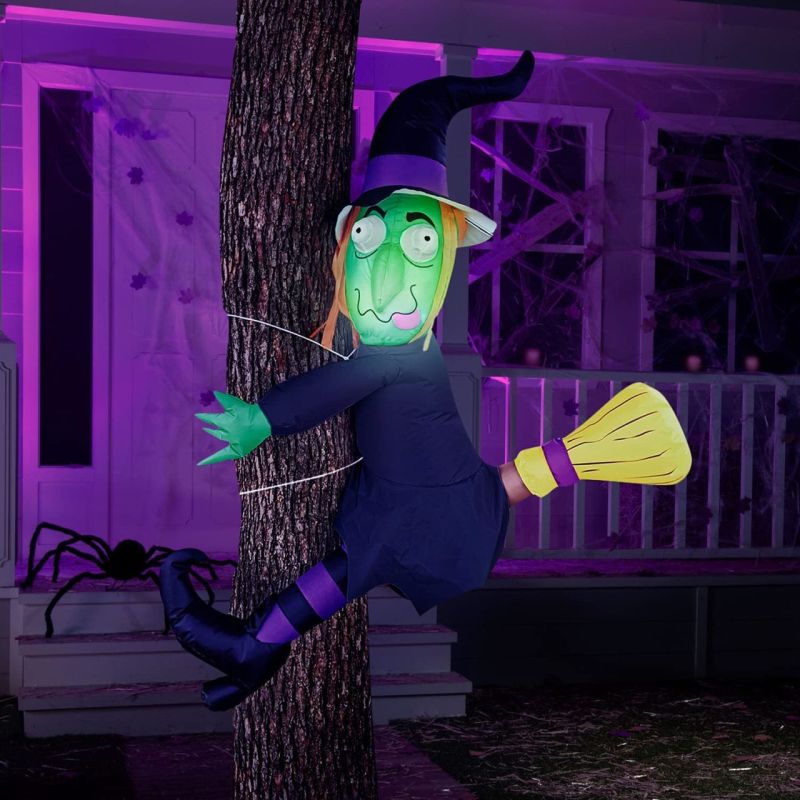 An inflatable is necessary to elevate your outdoor Halloween decor. There are multiple Halloween inflatables that you can try, but a witch Halloween inflatable will be the best pick in my opinion. The whole idea is to add a witch inflatable to lighten up your compound as many of these inflatables come with built-in LEDs.
Witch Mason Jars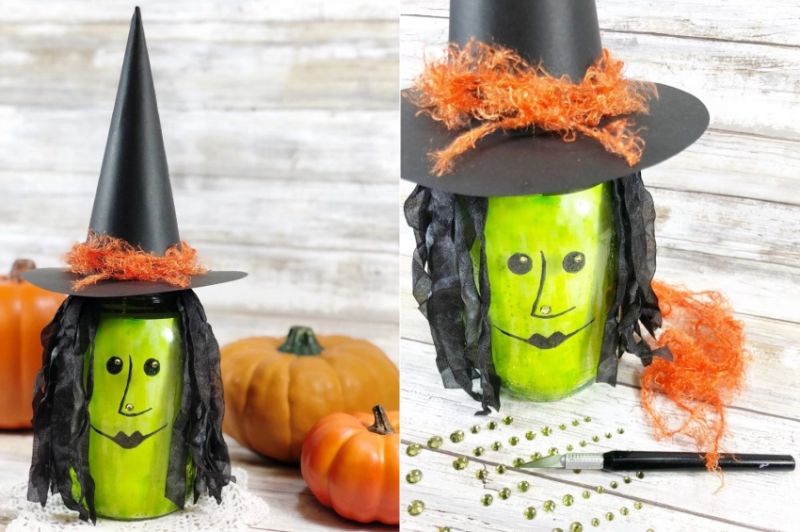 A lot of witch decorations whirl around buying items from e-commerce store. Now, I thought its time I should bend a little and bring something for DIY enthusiasts. The idea is to have a witch Mason jar lantern adorning your shelf. All you need is a binding ribbon which you must tie to the neck of the jar and a black cardstock that features the hat of the witch. You can read the full tutorial at Creatively Beth.
Witch Tiered Tray Decoration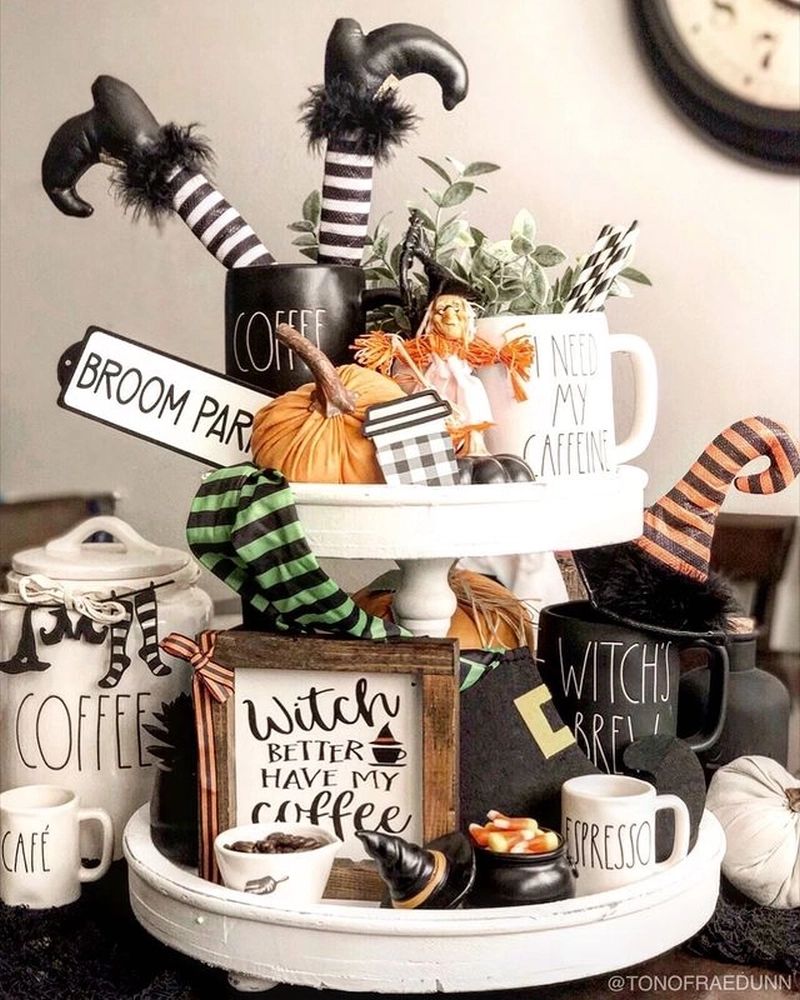 One of the hottest trend in Halloween home décor is tiered trays. A witch-themed tiered tray would not only function as a centerpiece on your dining table but also take your home décor to new heights. You can make one on your own with a witch soft toy, hats and spooky jars and assembling them as a centerpiece.
Also Read: 10 DIY Halloween Garlands to Make This Festive Season
Witches' Gowns, Hats and Brooms in the Entryway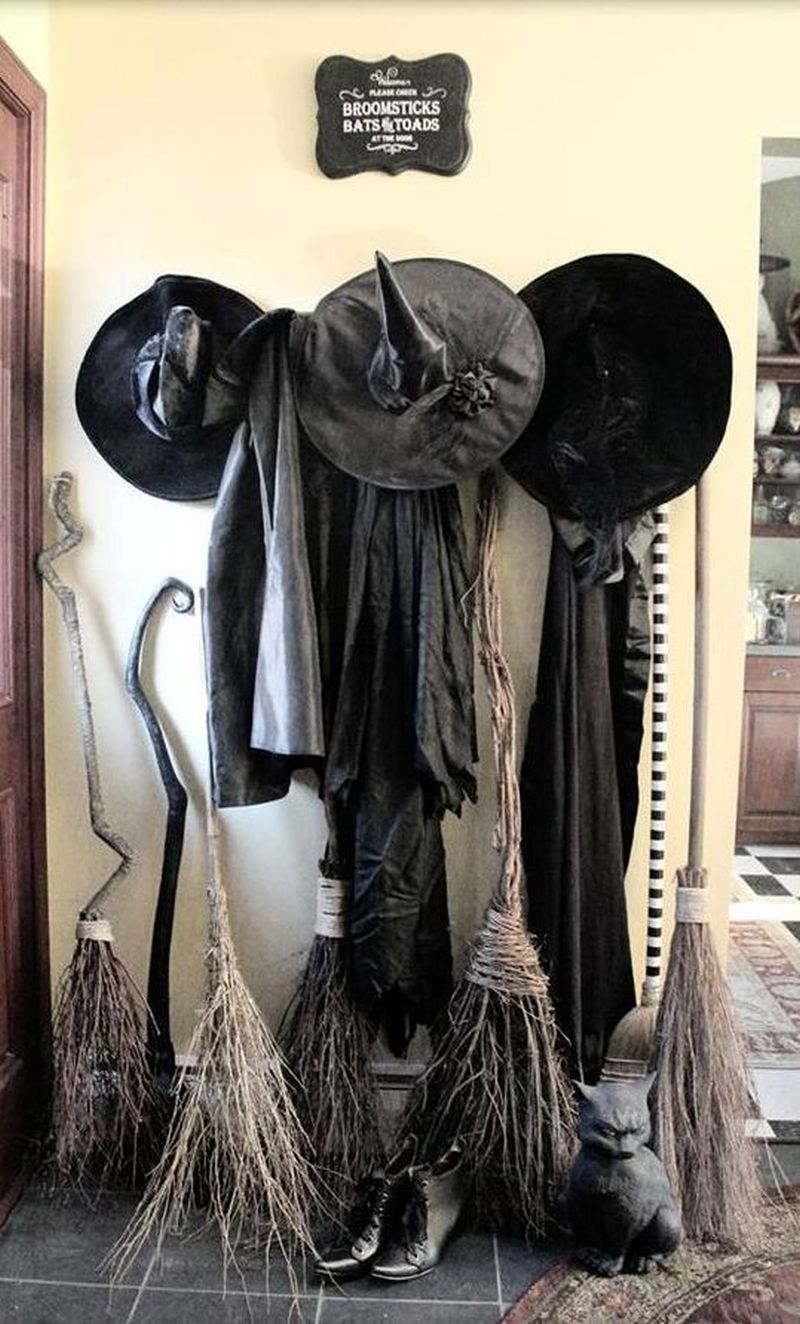 Nothing is spookier than welcoming your guests with witches' gowns, hats and brooms placed at the entryway. The very sight of these items would make your visitors feel like they are entering a covenstead instead of a house. This simple yet whacky idea would definitely spell creepiness to your Halloween party.
Motion Activated Window Witch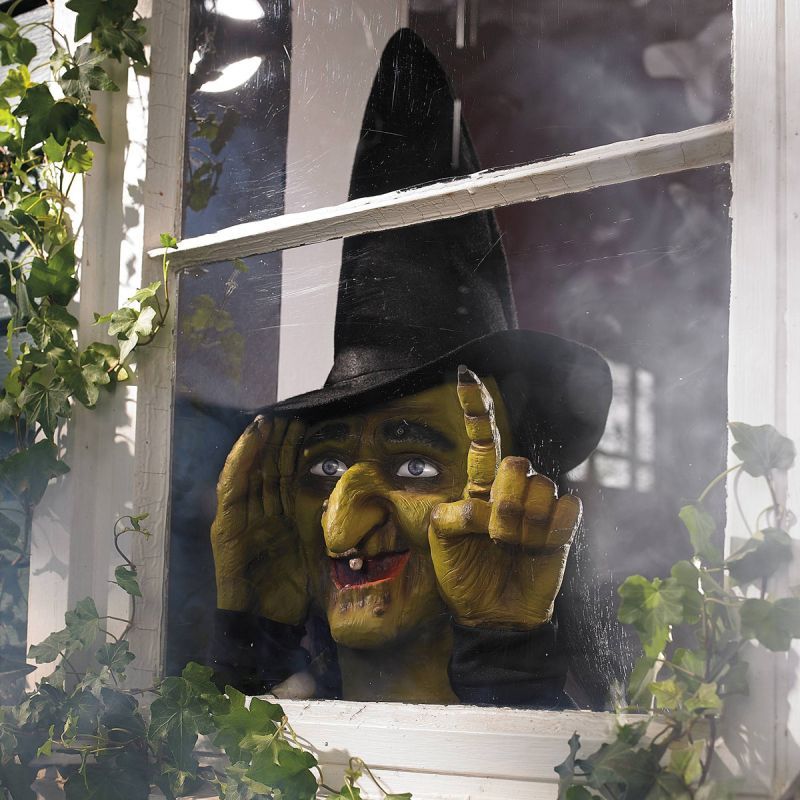 We have already discussed a witch animatronic above that would a worthy addition to your compound but a motion activated witch is even better. We are talking of witch décor ideas here and what's better than a witch gazing inside your room from a window?
Witch Crochet Pattern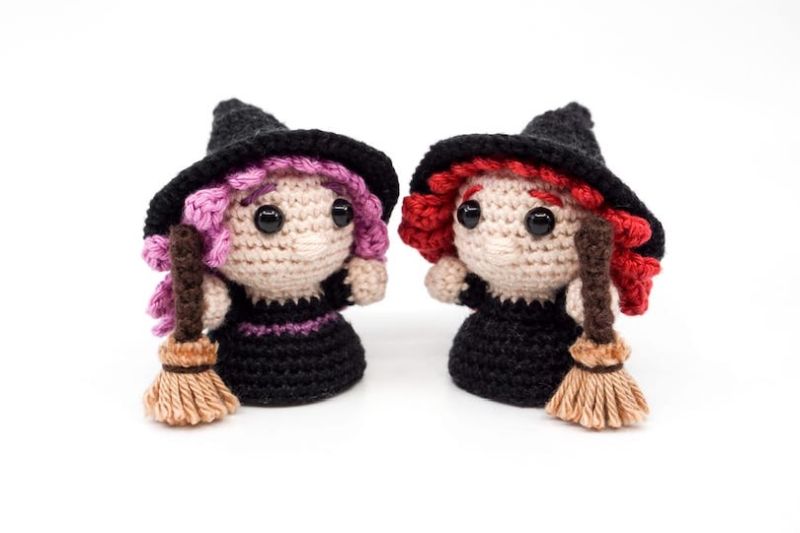 Halloween décor is not just about creepy looking witches. It can include cute looking witch crotchet patterns too. Kids absolutely love witch dolls and these little witch crochet patterns will add a cute and spooky charm to your house. No matter what pattern you choose, they would be a enchanting addition to your Halloween décor.
Witch Cauldron on Tripod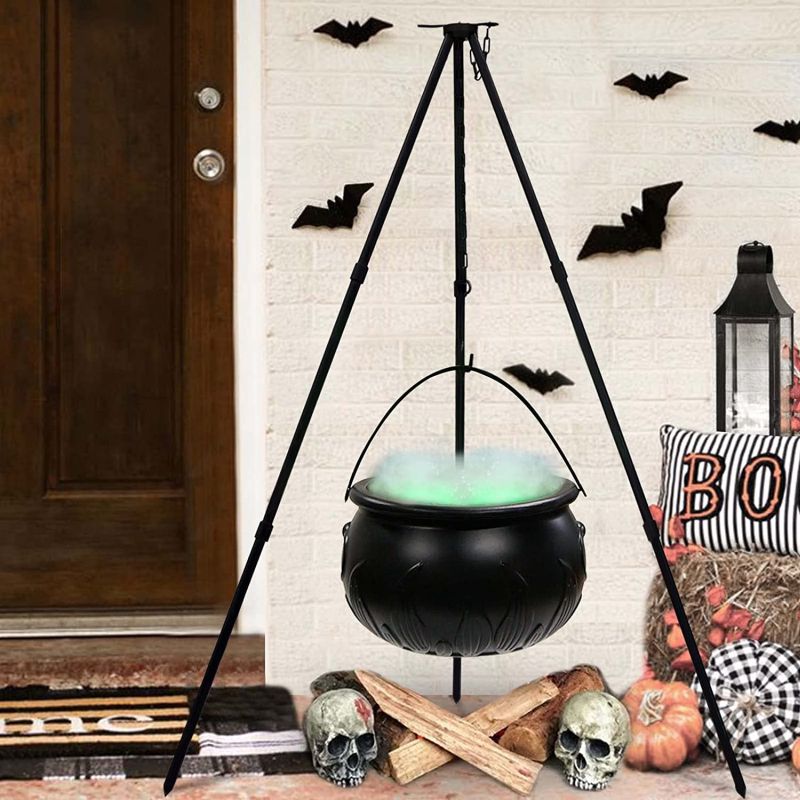 The next amazing idea I am introducing is a witch cauldron on tripod with green lights. It is perfect for outdoor decoration and would also be loved by the children. I'd suggest you to place it in your garden to terrify passersby and phantoms alike. In case you are wondering where will you get it. Check Amazon to bring home this witch cauldron.
Witch Table Décor
A table is the main attraction of any room so making a table centerpiece that pays an ode to the creepiest of creature would be a cool idea. It can be done by incorporating a witch figurine or tray over the table. It serves as a tabletop ornament that complements Halloween theme.