I happen to recall a poem by DH Lawrence where the poet mistook Swallows flying in the twilight air at dusk. To his chagrin, these little flying creatures were actually bats, which he considers vindictive and disparaging. It's not just the author who envies these flying mammals. Even in popular culture, bats have always been associated with evil.
With Halloween at our doorstep, interior decoration is a big headache and may leave your pockets shredded. By simply following these easy DIY Halloween bat decorations, you get to save plenty of money and also clad your house with these scary bat crafts.
DIY Halloween Bat Wreath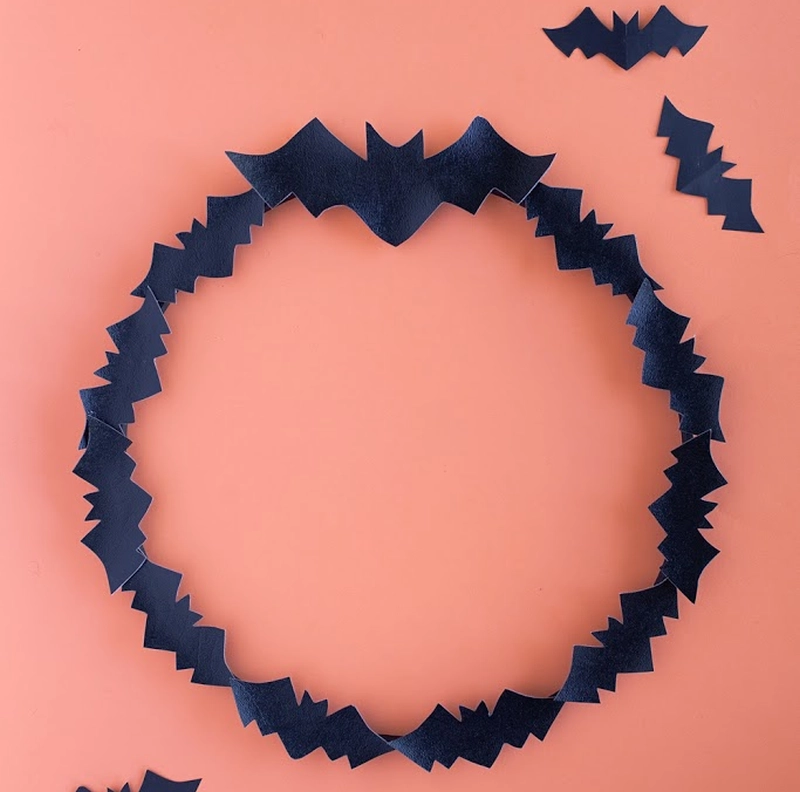 Decorating your home with cute wreaths has become essential in the recent past. We have already introduced you to witch wreath ideas for Halloween décor but you can also fancy a bat wreath as an alternative. A bat wreath can add décor to your interior decoration and can simply be placed on a wall.
This interesting bat wreath we'd be talking today can be crafted in a span of ten to fifteen minutes. All you require is paper, embroidery hoop, scissors, and some paintbrushes. In case you want to make sure your wreath lasts long, try substituting paper with vinyl or leather. As far as the DIY process is concerned, all you need to do is paint the embroidery hoop black, trace bats on paper and carve them out to place them wherever you like.
Tutorial: Tell Love and Party
Halloween Bat Decorations For the Wall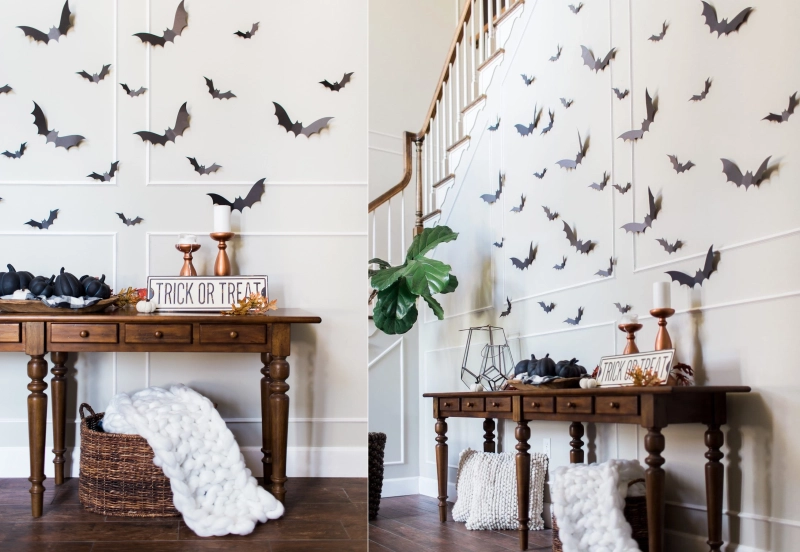 In case you are not willing to have a wreath and want to clad the entire wall, try this DIY bat wall décor available on Space Coast Living. These superbly crafted bats not only look fancy on your entrance wall but also add a tinge of horror to your Halloween party.
To make these little DIY spooky bats, you would need black card stock, scissors cutting machine and dual-sided mounting tape. These bats on the wall surely become an instant attraction for your guests. Moving to the DIY process, all you need to do is cut desired number of bats using the bat template on a paper. Next step involves you to bend their wings and apply to the wall with aid from a double sided tape. Once Halloween is over, you can easily take them out without destroying your walls.
Tutorial: Space Coast Living
DIY Trash Bag Bats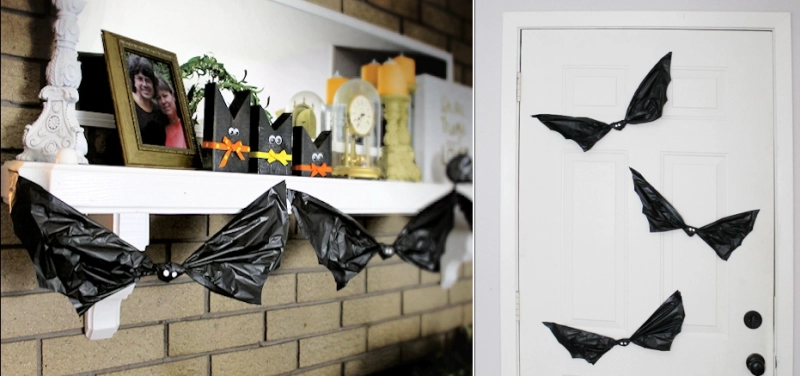 Who would have thought that trash bags can be productive in a number of ways rather than just being used in a waste bin? A large trash bag can make a full-sized bat. Thanks to the black color of these dumpsters, they easily transform into blood-sucking monsters. All one needs is to fold the trash bags into desirable bat shape and paint some eyes to spook children. These trash bag bats can feature on the entrance, kitchen or anywhere else you prefer.
Tutorial: Craft Your Happiness.
DIY Bat Garland For Halloween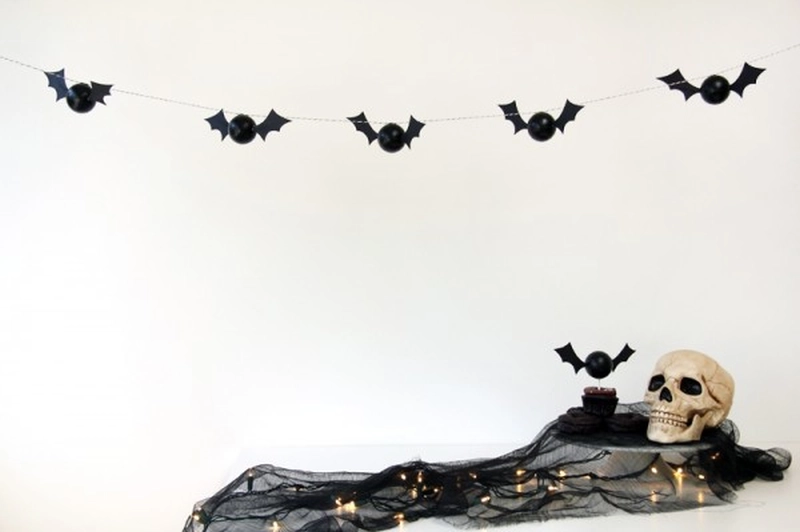 Halloween garlands have always fascinated kids and DIY bat garland will be a great addition to your Halloween house party. To make such DIY bat garlands, you would require a handful of smooth foam balls which form the center body of the bat and black card stock alongside other accessories. This garland could very well feature in your kid's room and can be used at the entrance as well.
Tutorial: Studio DIY
DIY Halloween Tree With Bats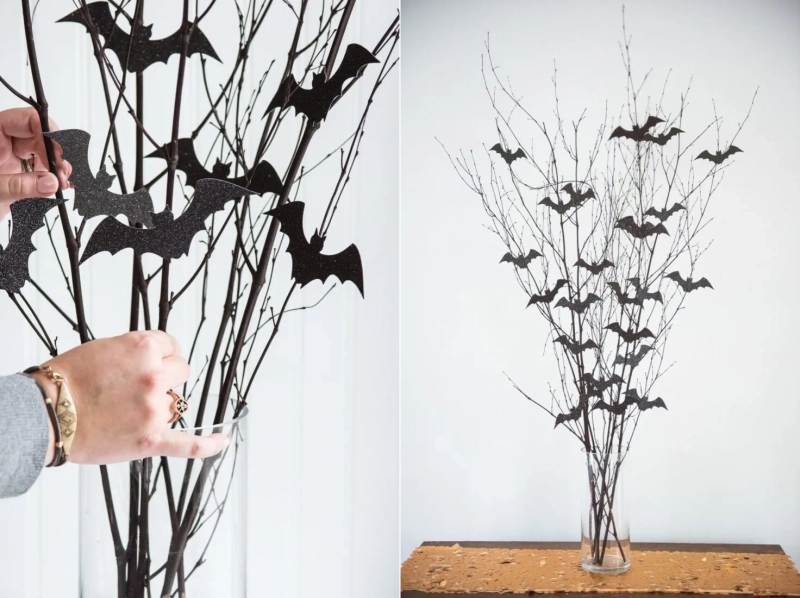 Lest you have not planned on buying a Halloween tree, you can try this DIY tabletop tree project and save hundreds of dollars. It can feature at your entry or can be a perfect addition to your balcony too. It would hardly take you twenty minutes to assemble such a bat Halloween tree. You will need a handful of thin branches, bat cutouts, glue stick and a vase to poise the branches on.
Tutorial: The Sweetest Occasion
Also Read: Best Halloween Mason Jar Crafts: 20 Ideas for DIY Enthusiasts to try
Bats Flying Across a Pumpkin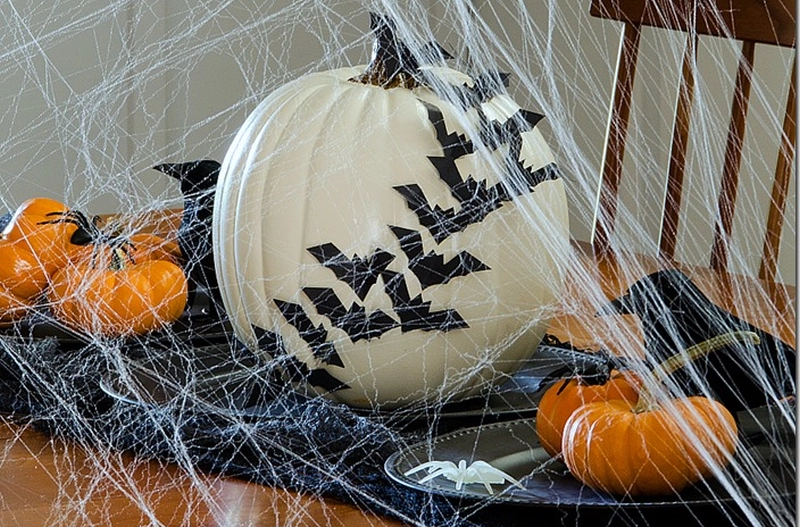 When we have introduced you to bat-themed garlands, trees and wreaths, it will be a sin to leave pumpkins out. With this in mind, you can make your own decorative pumpkin with flying bat cutouts. Keep handy a black poster board that is requisite in making this creepy Halloween display. These bat cutouts easily stick to your faux pumpkin. The art could very well feature in your dining room or hallway.
Tutorial: It All Started With Paint
Toilet Paper Tube Bats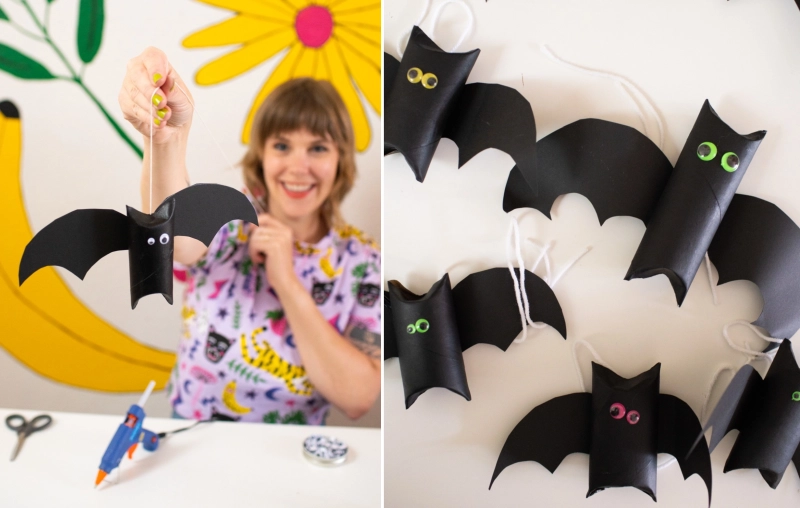 A washroom is the last place where we expect the spookiness to creep under the skin. But this Halloween decoration by Jennie Lennick is made up of upcycled toilet paper tubes and can be displayed in the living room as effectively as in the bathroom. Banish the ghost of the past by making these bats from black paper, toilet paper tubes and some additional assistance from scissors and hot glue.
Tutorial: Jenny Lemons
DIY Wooden Halloween Bats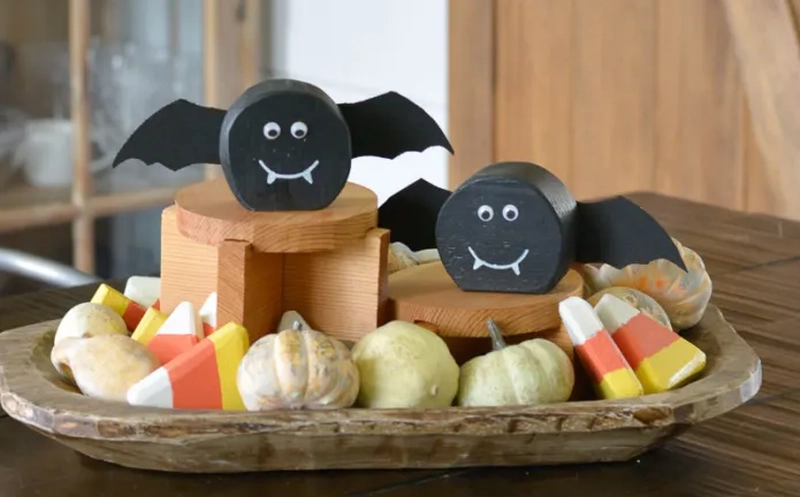 Made up of wood and painted black, this DIY Halloween bat decoration could easily feature in your dining space. Two razor-sharp teeth and button eyes make it looks cute and spooky at the same time. For DIY process, you would require lumber, paint pen, glue stick and other accessories to give shape to this beautiful Halloween décor. Now the question arises how do you make wooden bat décor for Halloween? Well, you need to trace the bat bodies on wood, paint them black and cut them precisely.
Tutorial: Farm Life DIY.
DIY Halloween Bat Mobile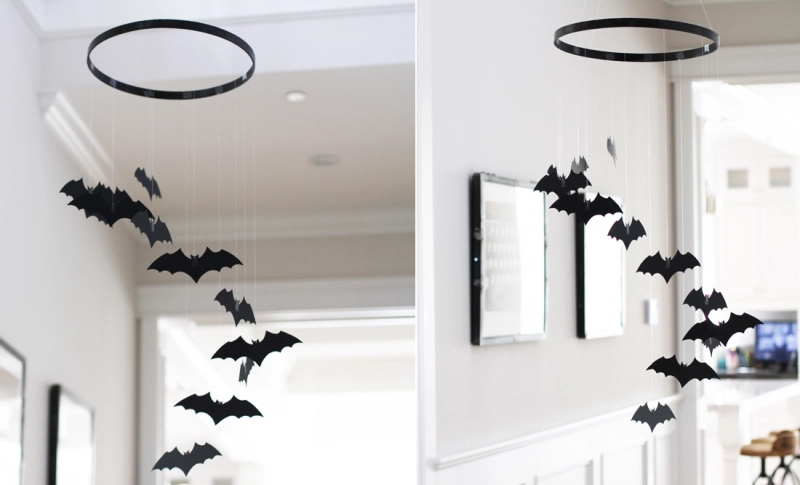 Before you confuse Bat Mobile with a mobile phone or the Dark Knight's ride, we would like to mention that this DIY décor for Halloween has nothing to do with your smartphone or a batmobile. The bat mobile is basically a decorative structure that can be suspended in the air to rotate freely. These wickedly easy-to-make bat mobiles can be made by tracing bats on black construction paper. Hang these awesome bats you've cut out in your living or bedroom and unfurl the spookiness.
Tutorial: Jessie Daye
DIY Bat String Light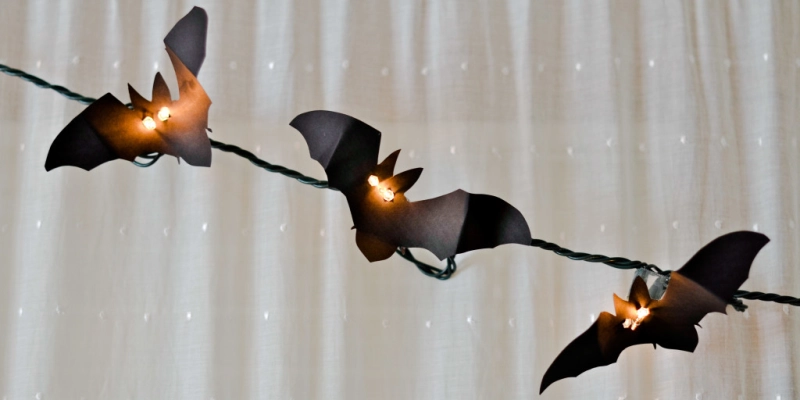 Just in case you want to decorate your house and light it up at the same time we have got you covered with a bat string light. All you require is white card stock, bat template and a string light and give your home a retro feel. With the bat garland light shining bright in your kitchen it will surely make your neighbors feel a little jealous. Just like any other DIY bat decoration, all you need to do print bat templates and cut out those bat shapes to insert bat lights into it.
Tutorial: Bright Women.