We are sure that you have put on your devilish hats and started preparations for the spookiest holiday of the season. However, decorating your house for Halloween can be tricky as it can get overwhelming with an abundance of decorations to choose from and it can take quite some time. That's why we bring you some fun and creepy spider Halloween decorations for decking up your home extraordinarily on All Hallows' Eve.
Since spiders and Halloween go hand-in-hand, these eerie decor pieces won't disappoint you. You can easily find all the mentioned spider decorations on Amazon. All of them come with instructions to use, so putting them around your home would be super easy. Let's jump into the Halloween spider decorations without any further delay.
Also Read: Best Halloween Inflatable Archways to Buy This Spooky Season
Giant Spider Decoration
This gigantic Halloween spider decoration is very lifelike and this is what makes it incredibly creepy. However, it's perfect to help you create out-of-the-world decorations. It comes with big red eyes and is ideal for every house. Stick on the wall, hang, or put on a yard – the choice is yours. We believe that it's a must-have piece for any home that needs spooky touch this Halloween.
Buy: $17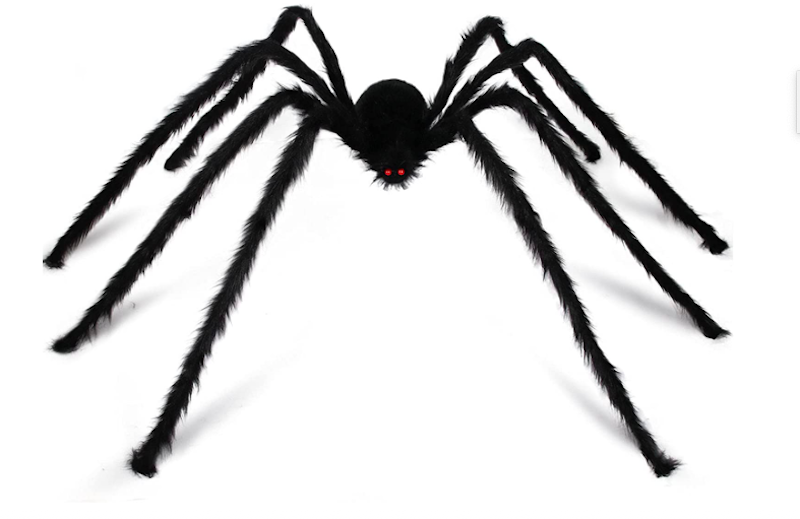 Solar Halloween Yard Decorations
Want to give spiders the company of bats this Halloween? Consider these solar stake lights that include spiders and bats to create a super scary yet fun atmosphere in your yard or garden. It is perfect for Halloween scenes, parties, haunted houses, carnivals, masquerade parties, etc. There is also an on/off switch on the rear side of the solar panel to illuminate spider and bat figures.
Buy: $23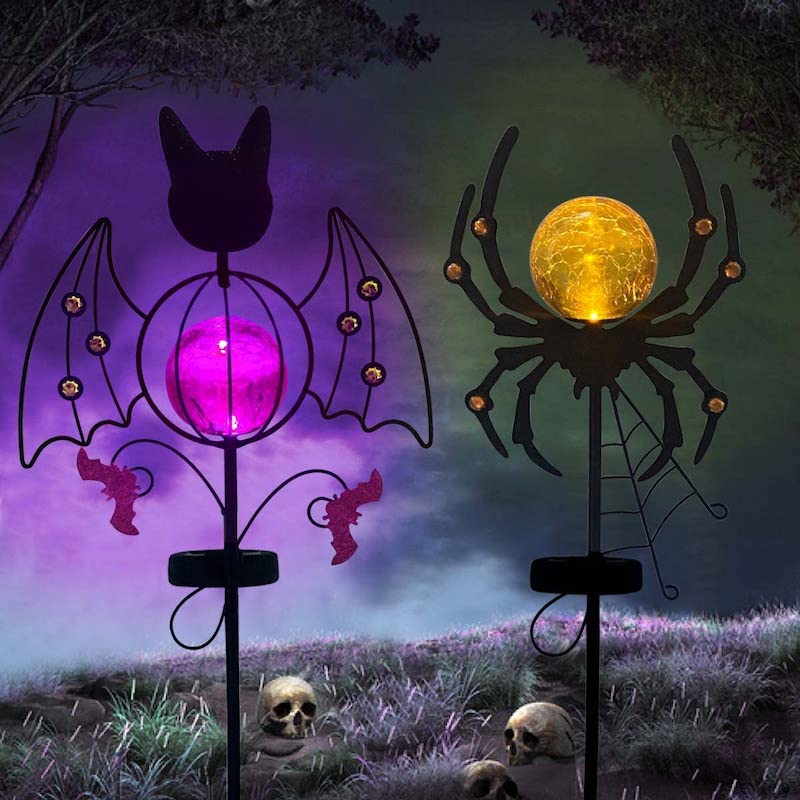 Halloween Spiders and Bats
These spiders and bats are made of durable, odorless, and non-toxic plastic. This makes them safe for kids to play with. These are lightweight and unbreakable, so easier to hang around your house during Halloween. Since these are available in black, you can put them anywhere for a perfect haunted house effect. You can also put them in the corners along with small scary bugs.
Buy: $14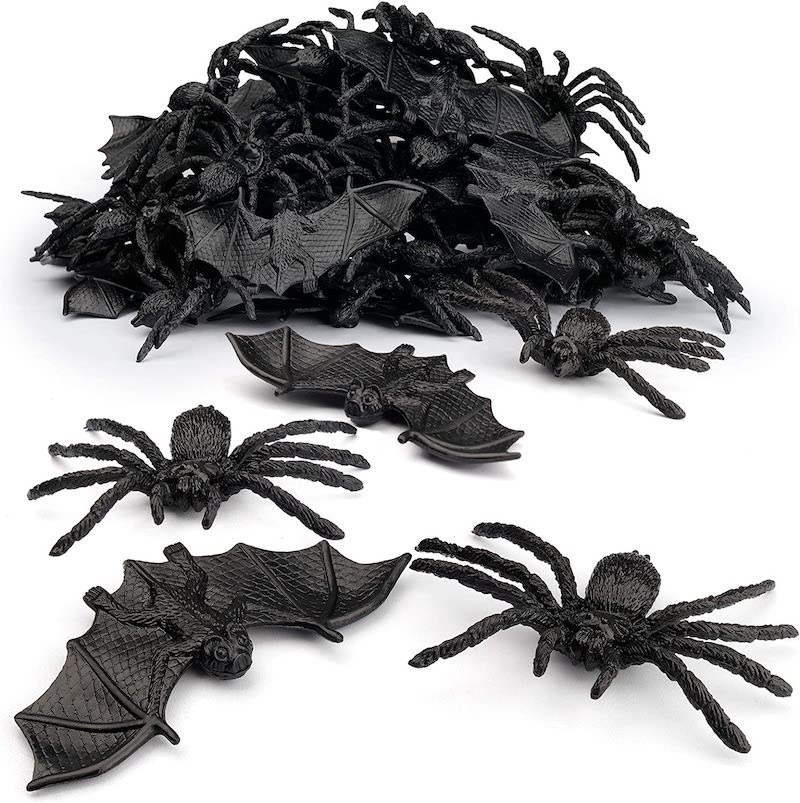 Spider-Shaped Purple Lights
Looking for a distinct Halloween theme this year? How about creating a black and purple haunted scene? If so, you'll need these spider-shaped purple lights to complete your decoration. This string includes a total of 30 spider-like LEDs to make your house glow purple in a scary yet fascinating manner. The minute you turn on these lights, they will instantly produce a creepy atmosphere anywhere you want.
Buy: $14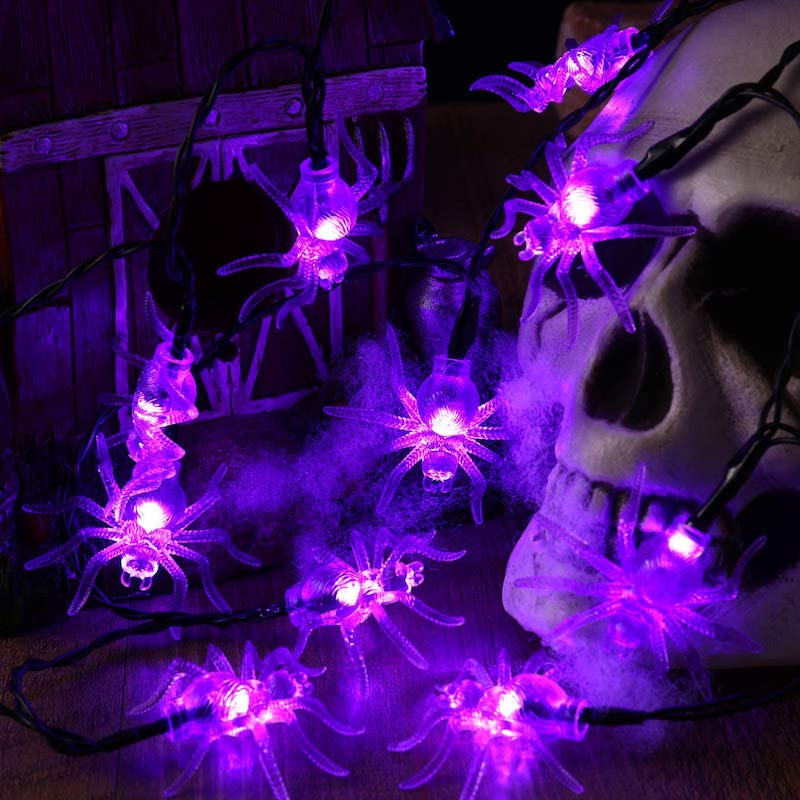 Spiders in Web
Curated with scary red eyes and realistic furry black bodies, these lifelike black spiders look good for setting up a scary Halloween atmosphere. They are perfect for any interior and outdoor decor. Designed to withstand bad weather, they can be hung outdoors even when it's raining. You can even bend the giant legs and adjust them to any desired shape. This way, you can easily put them on your doors, windows, fences, walls, trees, etc. to create various Halloween scenes.
Buy: $17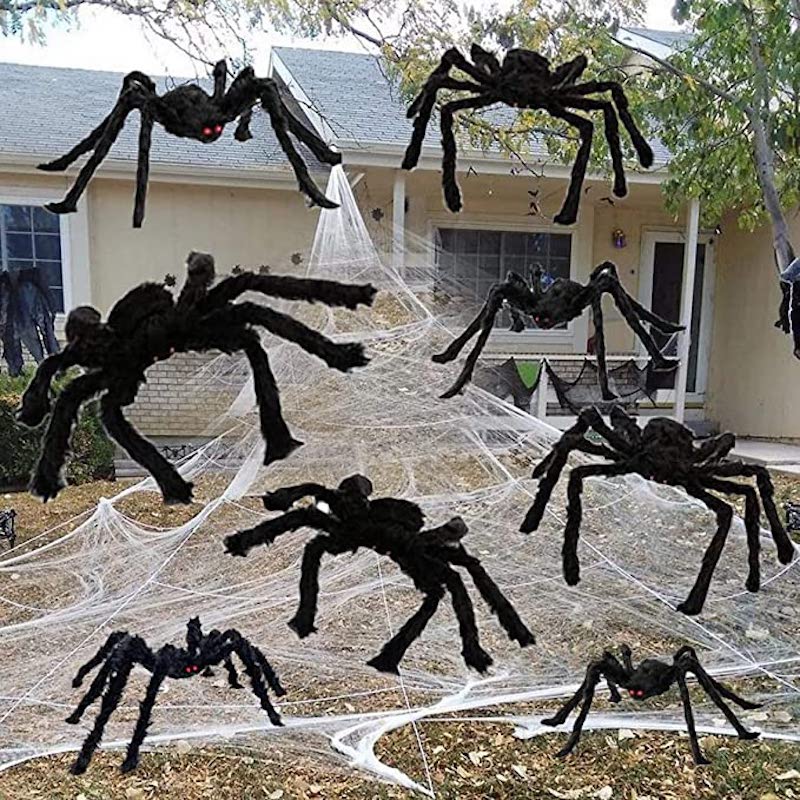 Voice-Activated Halloween Spider
Consider this voice-activated Halloween spider set for decoration. It comes integrated with a touch sensor, meaning it can respond to talking, clapping, yelling, touching, or singing. But for these actions, you need to add 3x AA batteries into it. This decorative spider also comes with curved foldable and bendable legs. So, it's convenient to stretch or bend it into different poses.
Buy: $14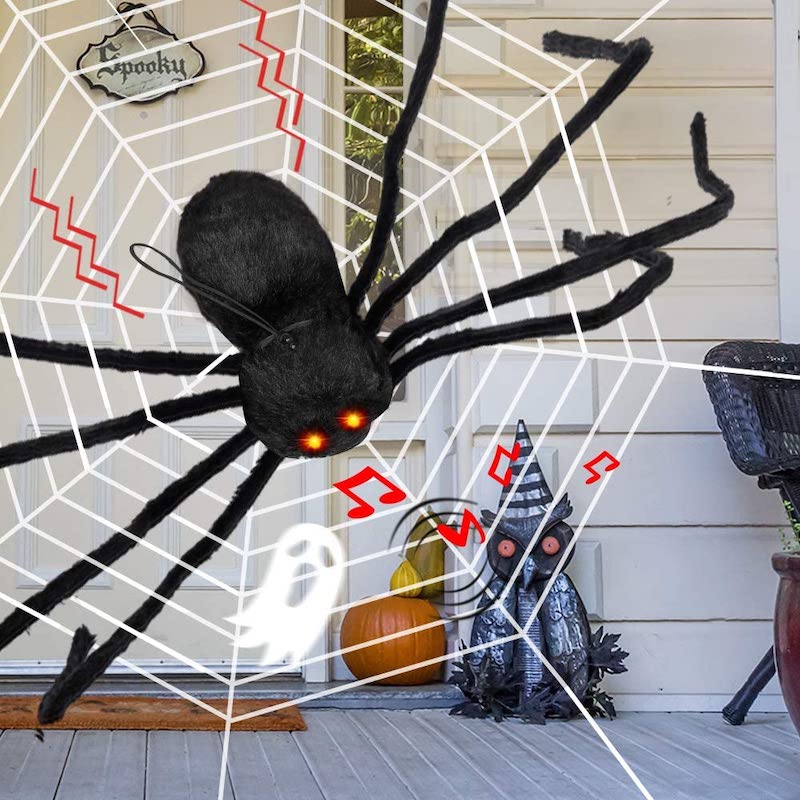 Hanging Spider Decoration
Here is a big hanging Halloween spider decoration along with its own cocoon. It seems ideal to add up a devilish atmosphere in your neighborhood. What's fun is that it also comes equipped with a sound sensor. It will activate its red flashing eye lights with a horrifying sound. It is a good Halloween prop for graveyard scenes, home yard, or Halloween party.
Buy: $23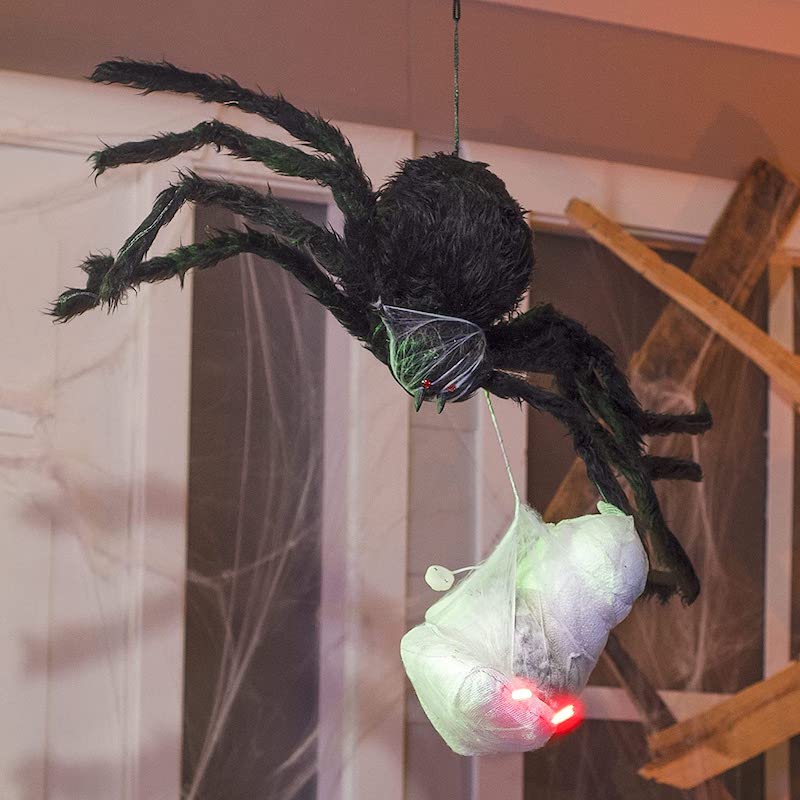 Inflatable Outdoor Spider
Have a look at this 8-feet inflatable Halloween spider decoration that comes with ropes and stakes for securing it on a wall or tree. The built-in vibrant lights glow at night to create a scary and festive atmosphere. You can create a fun atmosphere around your house during Halloween party or form different haunted scenes with it.
Buy: $43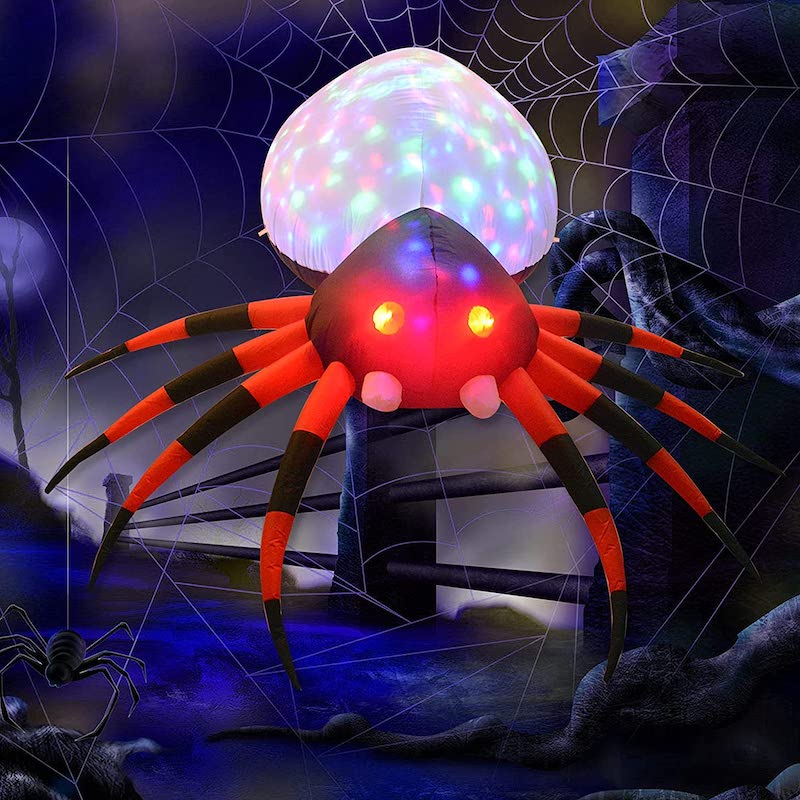 Spider Wall Decal
Give your walls a creepy effect with this impactful scary spider wall decal. This spider sticker is easy to put on any wall to set a frightful Halloween atmosphere. The wall decal boasts a silhouette of a typical spider, which will be a good backdrop decoration. Once you put it up on the wall, this good-quality sticker will last for a long time until removed. When removed, it won't remove any sticky residue on the wall.
Buy: $15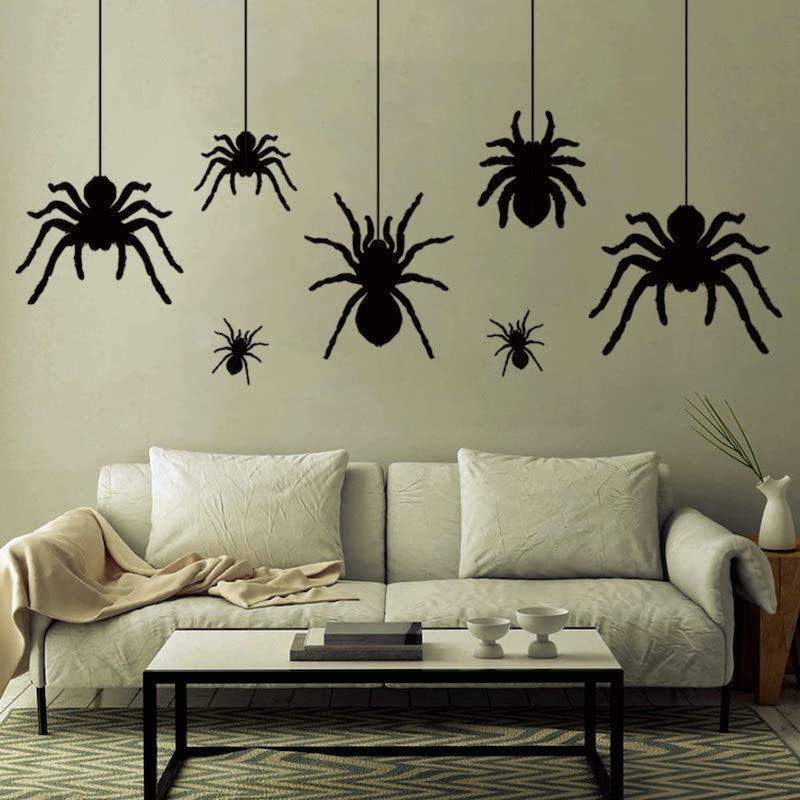 Plastic Spider Toys
These plastic spider toys look so realistic. You can hide them in gift boxes, drawers, tables, dishes, or beds to prank your family members and friends. Be ready to hear some screams and laugh aloud. There are spider rings included in the pack. These frightening spiders are a good option for kids during Halloween or even April Fool's day.
Buy: $9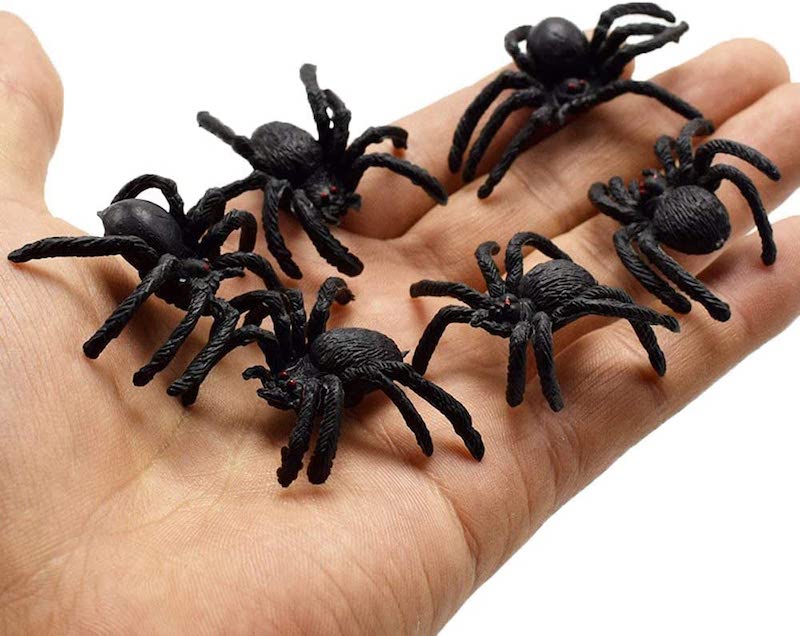 Lace Spiderweb Fireplace Mantle
Spruce up your living space using this lace spiderweb. Simply drape it on a fireplace mantle for a gothic design or use it as a backdrop. This would add a sense of mysterious touch to Halloween decorations. It gives you an effective way to convert your fireplace to a haunted entity in no time. You may even put it over the interior doorway, buffet, or hutch.
Buy: $20